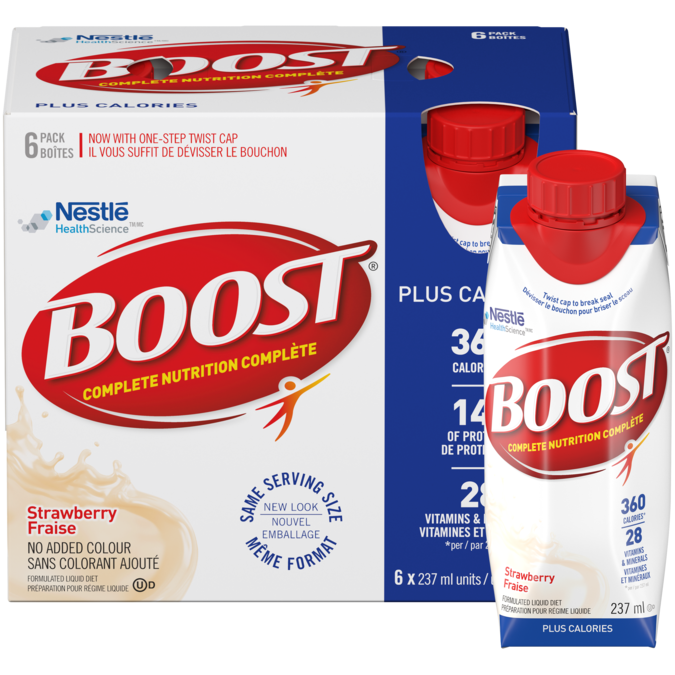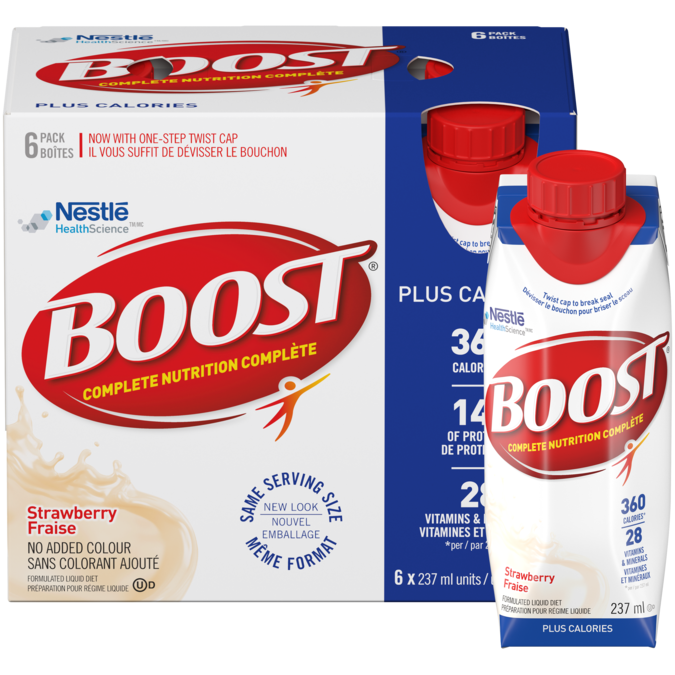 BOOST Plus Calories - Strawberry
BOOST® PLUS Calories Strawberry Formulated Liquid Diet Drink (6 x 237 ml) provides complete nutrition with 360 calories, 28 vitamins and minerals and 14 g of protein per 237 ml. Plus, our recipe has no added colour with a guaranteed great taste* you will love. Also available in Vanilla and Chocolate.
For oral use. Use under medical supervision.
*Terms and conditions apply. For more information: https://www.madewithnestle.ca/boost/tasteguarantee
BOOST Plus Calories - Strawberry
Features and Benefits
NEW LOOK! Same size serving, now with one-step twist cap

Complete and balanced nutrition with 360 calories per 237 ml serving

14 g protein per 237 ml

28 essential vitamins and minerals including Calcium and Vitamin D

Guaranteed great taste or your money back*

Our new packaging sources wood fibres from responsibly managed forests and is Forest Stewardship Council (FSC) certified
BOOST Plus Calories - Strawberry
Nutrition Information
Per 237 ml
**BOOST Meal Replacement provides 240 calories/237 ml
BOOST Plus Calories - Strawberry
Ingredients
Water, Corn Syrup, Sugar, Modified Milk Ingredients, Vegetable Oils (Canola, High Oleic Sunflower, Corn), Soy Protein Isolate, Acacia Gum, Oligofructose, Inulin, Salt, Vitamins (Vitamin A Palmitate, Beta-Carotene, Vitamin D3, DL-Alpha-Tocopheryl Acetate, Vitamin K1, Ascorbic Acid, Sodium Ascorbate, Thiamine Hydrochloride, Riboflavin, Niacinamide, Calcium Pantothenate, Pyridoxine Hydrochloride, Biotin, Folic Acid, Cyanocobalamin, Choline Bitartrate), Minerals (Potassium Citrate, Potassium Hydrate, Potassium Chloride, Tricalcium Phosphate, Dimagnesium Phosphate Trihydrate, Magnesium Chloride, Ferrous Sulphate, Zinc Sulphate, Manganese Sulphate, Copper Sulphate, Potassium Iodide, Sodium Selenite, Sodium Molybdate, Chromium Trichloride), Soy Lecithin, Carrageenan, Artificial Flavour, Dimethylpolysiloxane. Contains milk and soy.


For complete nutritional information or other questions, please call Nestlé Health Science Consumer Service at 1 800 565-1871.