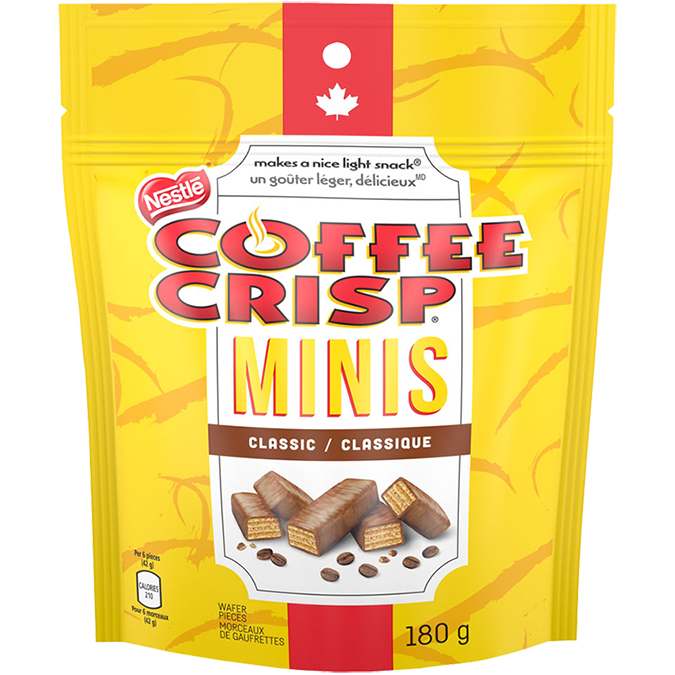 COFFEE CRISP Minis
Introducing new COFFEE CRISP Minis, your favourite Canadian treat, now available in miniature pieces with the same classic flavour you love. With a harmonious balance of crispy wafer, coffee crème centre and thin chocolatey coating, these delightful bite-sized indulgences are perfect as a treat and for sharing. COFFEE CRISP makes a nice light snack®.
For more MINIS, click here!
Shop Now
Features and Benefits
Nutrition Information
Ingredients
COFFEE CRISP Minis
Features and Benefits
The classic taste of crispy wafer, coffee crème centre and a thin chocolatey coating in two-bite pieces.

Made with real coffee and natural flavours.

We purchase 100% Sustainably Sourced Cocoa certified by UTZ, as part of the NESTLÉ COCOA PLAN.

We work with UTZ and farmers to improve the quality of their products and strengthen their communities.

COFFEE CRISP is a uniquely Canadian treat that's been a favourite for decades, produced in Toronto, Ontario.

Re-sealable pouch makes it easy to share – or save for later.

We proudly support Kids Help Phone! NESTLÉ Canada has raised more than $10.2 million in support of Kids Help Phone over the last 28 years.
Description
Features and Benefits
COFFEE CRISP Minis
Nutrition Information
In the event of any discrepancy between the information listed on this website and on each individual package, please refer to the information listed on package.
COFFEE CRISP Minis
Ingredients
,
Modified Palm and Vegetable Oils
,
,
Modified Milk Ingredients
,
,
,
,
,
,
,
,
Polyglycerol Polyricinoleate
,
.
COFFEE CRISP Minis
is rated out of
5
by
26
.
Rated

2

out of

5
by
Winnie8
from
They are okay ... but I loved the bites better.
I got hooked on Coffee Crisp bars when I was dating my hubby(who is from Canada). Then got really hooked on the Coffee Crisp Bites, they were soooooo good! Great coffee and chocolate taste. But on our recent trip we couldn't find the bites for sale anymore and only found these mini bites. Very disappointed ... the great coffee flavor isn't there. Really would like the Bites back please!!!
Date published: 2018-05-15
Rated

5

out of

5
by
Teej
from
Delicious
Perfect chocolate to wafer ratio. So glad they changed from the sphere version :)
Date published: 2018-05-14
Rated

5

out of

5
by
Monica336
from
Great taste, just in miniature form!
Coffee crisp minis! Yum! Same great taste as the regular size, just in a small size to pop in to your mouth. Because they are small, they are less messy than a full sized bar. You can give a few out at a time to the kids and they get less-messy... I love that they come in a resealable bag as well. There are lots of them in the bag, so will last for a bit... hopefully! Note that if you are looking for individually wrapped bars, these are not. Overall I think we'd get these again to share.
Date published: 2018-04-04
Rated

5

out of

5
by
Sarah686
from
Yum Yum Yum!
Nestlé's COFFEE CRISP Minis Reclosable Pouch (180 gram) is amazing! I absolutely love the original Coffee Crisp and these minis taste even better, not even sure how that is possible. I love the center of these little bars. I appreciate the recloseable bag so nothing goes stale and you don't feel the need to eat it all in one sitting - unless of course you want to :)
Date published: 2018-04-04
Rated

5

out of

5
by
Jessica690
from
Great format for snacking
Coffee Crisp is one of my favourite chocolate bars. I enjoyed trying Coffee Crisp Minis with a reclosable pouch (180 grams) because this format allowed me to have as much or as little as I wanted at any given time. The reclosable works well to seal in freshness, so the mini bars don't dry out. I also appreciated that this reclosable pouch means that there was less packaging to contend with than if I had bought a tray of snack size bars. I used this package of Coffee Crisp minis with a reclosable pouch on a recent car trip, and I loved how one pouch lasted me the entire weekend. I will purchase this again!
Date published: 2018-04-04
Rated

5

out of

5
by
Cheryl652
from
Love coffee crisp minis!
I love coffee crisp! One of my top 3 chocolate bars to consume and these are no different! Same delicious taste just smaller. These were the classic taste i know and love but in a different format. I really liked how small these were and the reclosable bag, however after a few sittings they were all gone! I feel these are better for snacking as they are the perfect size to pop in your mouth and you don't have to hold a large bar
Date published: 2018-04-04
Rated

5

out of

5
by
Penelope423
from
Delicious snack
I was very excited to try this product as I love the large Coffee Crisp bars, so I expected to like these too. However, I found that I like them even more than the regular sized bars. Because of the smaller size, there is more chocolate in every bite, which is always a good thing. And since the bag is resealable, it is easy to grab just one or two pieces and have a guilt-free snack, knowing that the others will still be fresh later on.
Date published: 2018-03-21
Rated

5

out of

5
by
Eric243
from
Even better
Nestle's Coffee Crisp Minis Reclosable Pouch is fantastic! The reclosable pouch is perfect so nothing goes stale and you don't feel the need to eat all the chocolate in one sitting. These mini versions of Coffee Crisp are even better than the originals in my opinion! Perfect snack with a coffee. Recommend for everyone!
Date published: 2018-03-21