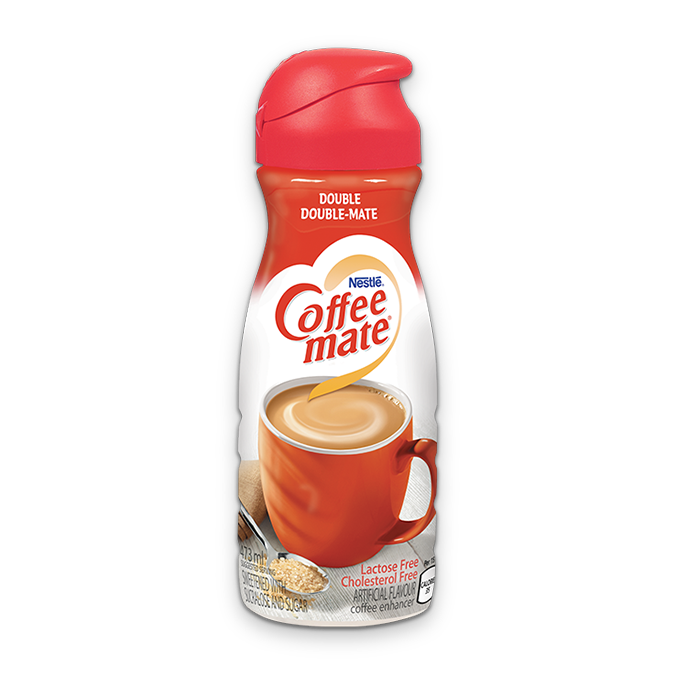 COFFEE-MATE Double Double-mate
Rich and creamy coffee with a splash of Canadian pride. It's a win-win, eh?
Features and Benefits
Nutrition Information
Ingredients
COFFEE-MATE Double Double-mate
Features and Benefits
Lactose free
Cholesterol free
Description
Features and Benefits
COFFEE-MATE Double Double-mate
Nutrition Information
In the event of any discrepancy between the information listed on this website and on each individual package, please refer to the information listed on package.
COFFEE-MATE Double Double-mate
Ingredients
,
,
, sodium caseinate (
) ,
flavour and artificial flavour
,
,
,
,
acetylated tartaric acid esters of mono- and diglycerides
.
COFFEE-MATE Double Double-mate
is rated out of
5
by
71
.
Rated

1

out of

5
by
Rocky
from
What happened to my double double mate
My wife and I have been using the original double double mate for a couple of years, we noticed the package changed , so we assumed they wouldn't have changed a good product, boy were we wrong, they have replaced the coconut oil with high oleic soy oil, did they think we don't know how to read! What a disappointment, tastes like a burnt metallic chemical , absolutely gross, I guess it's back to cream and sugar, thanks nestle!
Date published: 2016-06-08
Rated

5

out of

5
by
Maria
from
No longer availabable
I have just been advised by Nestle that this product is DISCONTINUED. It has been replaced with a sucralose version. Please check the label carefully. This is unacceptable and very disappointing. The taste has been altered with the sucralose and it tastes awful. Nothing like the original product we have been enjoying. And why wouldn't they keep both products available if that was the case? Not all of us are okay with sucralose in our foods.
Date published: 2016-05-19
Rated

1

out of

5
by
michelle
from
it is a very horrible taste now.
i bought 5 of these double double mates a month for my coffee, now by changing the recipee it tastes awefull. i thought i had purchased a bad bottle and returned it to the store. waited a week and purchased another and the same awefull taste. yep i wasted $15 hard earned bucks on this junk. now your company lost $50 bucks a month of my money, thats well over $500 of my hard earned money a year. oh well your loss.
Date published: 2016-07-14
Rated

1

out of

5
by
Lou Lou
from
Not happy with the changes
We were having to buy this product 3-4 bottles at a time because it was so hard to find in stock at stores. Now with the new recipe we will no longer have to worry as we will not be purchasing it anymore, taste is awful.
Date published: 2016-06-08
Rated

1

out of

5
by
Very dissapointed
from
Why mess with a good product????
I wrote your company several years requesting for this product to be made available in the 946 ml size like all the other flavors. It took a few years , but I was happy to finally see it on the shelves. The only problem was , I was still struggling to find a store who could keep it in stock. It was selling out regularly and the shelves were always empty for double double mate. (other varieties always stocked). So clearly a very high demand for this product!! When I find them in stock I purchase 4 at a time and imagine others are doing the same. I recently purchased this product and noticed a new label. Never thought to compare ingredients . The past week my coffee has been tasting terrible and I actually thought I was suffering some sort of health condition that leaves a tin like taste in your mouth. It wasn't until this morning that I asked another family member to taste it to see if was just me. The look on their face said it all !!!! They too agreed it had a tin like taste to it. That's when I compared the ingredients to another bottle from the old stock I had in my fridge. While I would love an explanation as to why you would mess with a great product that is in high demand , I will no longer be purchasing this product unless it is changed back to the original ingredients. I know I am not alone based on some of the other comments here.
Date published: 2016-06-05
Rated

1

out of

5
by
KMSC
from
Changed the recipe
I used to love this product: was the only creamer I'd buy. But you changed the recipe --- it now includes sucralose. Yuck.
Date published: 2016-05-20
Rated

1

out of

5
by
MommaH
from
Sad that the ingredients have been changed
This product now includes carrageenan. I won't be buying anymore. Was my favourite. Container has been changed too.
Date published: 2016-05-23
Rated

1

out of

5
by
Nattttty
from
No!!!!!!!!
Double double mate was my favourite creamer, imagine my surprise when I picked up the new bottle brought it home and got a nice taste of a disgusting new reciepe! You should really put a label on this product advising consumers of the 'new taste' I for one do not like it and will no longer be purchasing this product. Bring back the old creamer
Date published: 2016-06-09