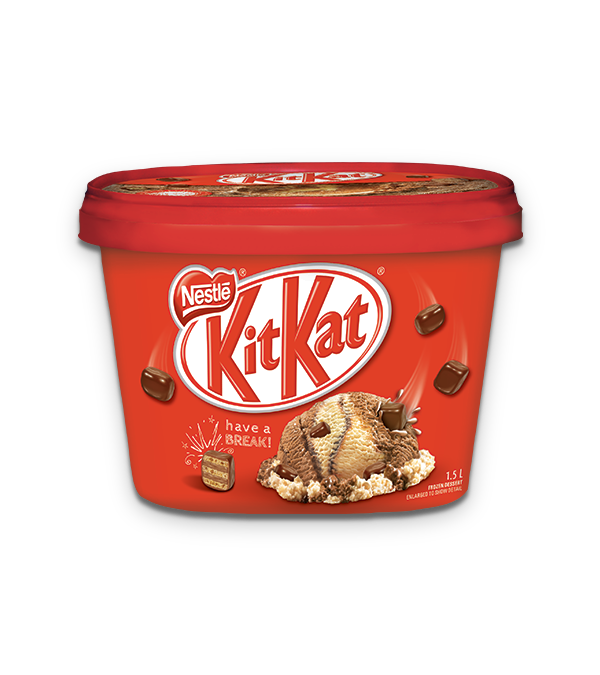 KIT KAT
Take a brrreak with a delicious KIT KAT frozen treat!
Features and Benefits
Nutrition Information
Ingredients
KIT KAT
Features and Benefits
The KIT KAT taste you know and love, in a frozen treat
Great for sharing
Description
Features and Benefits
KIT KAT
Nutrition Information
In the event of any discrepancy between the information listed on this website and on each individual package, please refer to the information listed on package.
KIT KAT
Ingredients
Modified milk ingredients
,
,
,
,
,
,
,
, hydrogenated vegetable oils (
) ,
,
,
propylene glycol monostearate
,
,
,
,
,
,
,
,
,
,
,
,
.
May contain peanuts and tree nuts.
KIT KAT
is rated out of
5
by
16
.
Rated

3

out of

5
by
Molly Chen
from
average
I love kit kats so I thought that this kit kat ice cream must be amazing! It wasn't the best. It had little kit kat bites which I thought made it taste a little better. But the chocolate ice cream didn't taste the best. It was all right overall. But, I probably wouldn't buy it regularly.
Date published: 2016-11-13
Rated

1

out of

5
by
Pinangut
from
A unfortunate complete disappointment
I bought this a month ago from Loblaw's and with all due respect to their chocolates, it tasted disgusting. I felt like I was eating sand. I gave some to my siblings and parents and they all agreed. I was completely disappointed. I have had KitKats and I love them, but I cannot believe this. To be honest, now every time I try to buy any of your 'Frozen Desserts', I do not know what to expect. I usually get Oreo ice cream and it always tastes so good, and when I found out there was a KitKat version, I was psyched. Too bad it was not what I expected at all.
Date published: 2018-01-13
Rated

3

out of

5
by
RyanCMS
from
Tastes Like Coffee Crisp
I still have this in the freezer but the ice cream tastes like Coffee Crisp and the actual chocolates inside taste stale
Date published: 2016-11-13
Rated

1

out of

5
by
giraffespots
from
Dont break me off a piece of that kit kat...
I've had chocolate from around the world and my favorite will always be a Kit Kat. I couldn't resist buying this ice cream when I saw it but I wish I had. Cheap tasting chocolate ice cream, a weird sandy like swirl, and pieces of candy that didnt even taste like Kit Kats. Super disappointed.
Date published: 2018-04-12
Rated

1

out of

5
by
dembones
from
not even close to kitkat
i love kitkats especially the chunky, but this ice cream tastes more like corn pops then kitkat. I have to say this is the worst ice cream i have ever tried. Nestle dropped the ball on this one...........
Date published: 2017-07-08
Rated

5

out of

5
by
Kidbd7
from
Tastes just like the chocolate bar
I ate more than I should have, it was so good. Bought this for a treat for my grand children and I ended up loving it. We finished it up in no time.
Date published: 2016-11-16
Rated

5

out of

5
by
Gilly7
from
yummy treat!
I tried this for the first time last week and wow, this product will be making regular appearances on my grocery shopping lists!
Date published: 2016-11-11
Rated

4

out of

5
by
Becca604
from
Yummy Kit Kat Icecream
This is a great icecream treat. Love the little bits of Kit Kat and sweet flavour. Kit Kat fans would love.
Date published: 2016-11-09