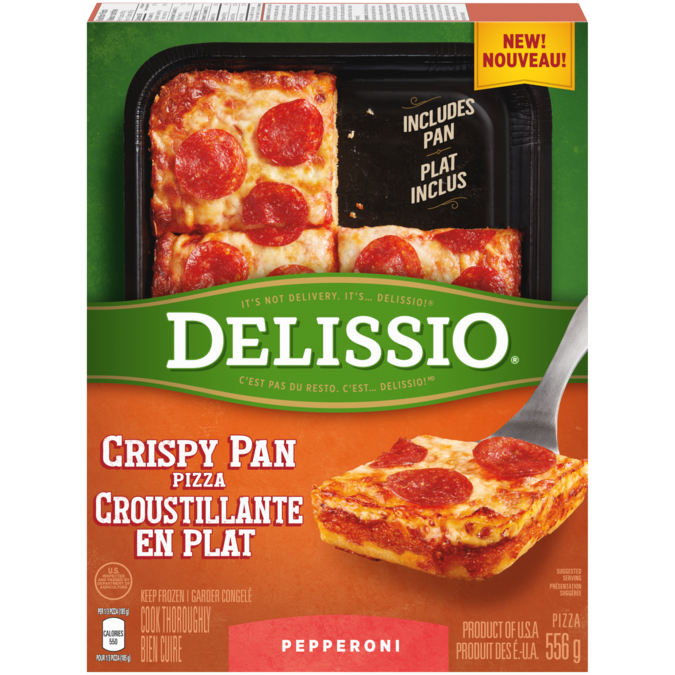 New
DELISSIO Crispy Pan Pepperoni
Indulge in deliciousness and irresistible crust with DELISSIO Crispy Pan Pepperoni Pizza – loaded with toppings, cheese, and pure pizza satisfaction. This classic pizza is loaded with pepperoni and cheese. Plus, whatever toppings you want to add yourself. It's all ready to bake in its own pan for edge-to-edge cheese and crispy caramelized crust. IT'S NOT DELIVERY, ITS DELISSIO!
Features and Benefits
Nutrition Information
Ingredients
Instructions
DELISSIO Crispy Pan Pepperoni
Features and Benefits
Loaded with classic pepperoni and cheese

Comes ready-to-bake in a pan for edge-to-edge cheese & has a crispy, caramelized crust

Crust is crispy on the exterior, soft and tender on the inside

Made with only high-quality ingredients for a fresh-baked taste

IT'S NOT DELIVERY, IT'S DELISSIO!
Description
Features and Benefits
DELISSIO Crispy Pan Pepperoni
Nutrition Information
In the event of any discrepancy between the information listed on this website and on each individual package, please refer to the information listed on package.
DELISSIO Crispy Pan Pepperoni
Ingredients
Crust (
,
,
,
,
,
,
,
,
,
) , part-skim mozzarella cheese (
,
,
,
) , sauce (
,
,
,
,
,
) , pepperoni (
,
,
,
,
,
,
,
,
, smoke
,
,
) .
DELISSIO Crispy Pan Pepperoni
Instructions
Keep pizza frozen while preheating. Do not eat without cooking. Product must be cooked thoroughly to a minimum internal temperature of 160°F (71°C) for food safety and quality. Adjust oven rack to centre position. Your oven temperature may vary so adjust baking time and oven temperature as necessary. Pizza is done when cheese is melted and edges are golden brown. Let stand 5 min. before serving. Caution: Pizza will be very hot. Handle with care.
Cook thoroughly.
BAKING
Directions
1. Preheat oven to 400°F (205°C).
2. Remove film from pan.
3. Place pan directly on centre oven rack. Bake 22–24 minutes. Extra crispy crust: Add 3 minutes.
4. Remove pan from oven & place on heat-resistant surface. Let stand 5 minutes.
5. Remove pizza from pan with spatula before cutting.