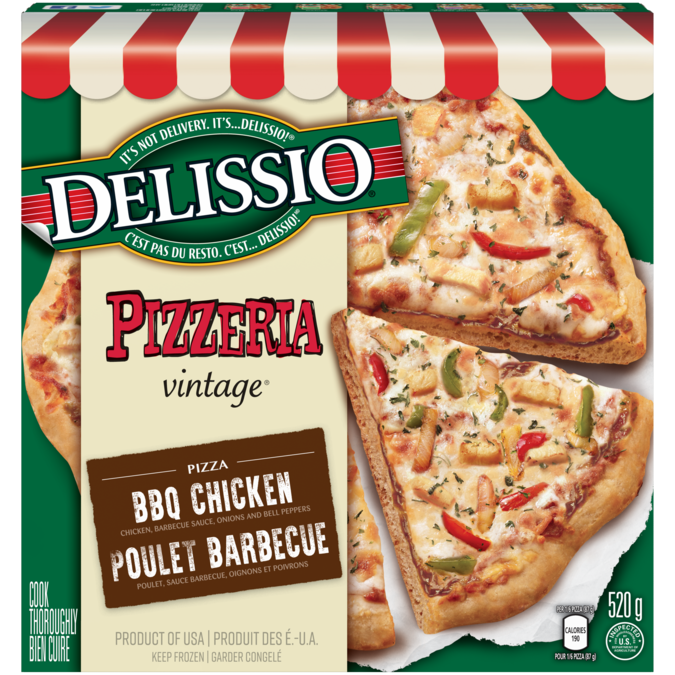 DELISSIO Pizzeria Vintage BBQ Chicken
DELISSIO® Pizzeria Vintage BBQ Chicken brings the whole family to the table without having to say a word. With authentic pizzeria-style crust, this pizza is topped with barbecue sauce, chicken, onions and bell peppers. Sounds appetizing? Just wait until you smell it bake!
Features and Benefits
Nutrition Information
Ingredients
DELISSIO Pizzeria Vintage BBQ Chicken
Features and Benefits
Crisp and airy pizzeria style crust

No artificial colours or flavours

Made with high quality ingredients

Easy to bake

Authentic Vintage Pizzeria flavour

Try it on the BBQ for a summertime pizza night
Description
Features and Benefits
DELISSIO Pizzeria Vintage BBQ Chicken
Nutrition Information
In the event of any discrepancy between the information listed on this website and on each individual package, please refer to the information listed on package.
DELISSIO Pizzeria Vintage BBQ Chicken
Ingredients
Crust (
,
,
,
,
,
,
) , Toppings (Part-Skim Mozzarella Cheese (
,
,
,
) , Cooked Seasoned Vegetables (
Red and Green Bell Peppers
,
,
,
) , Seasoned Cooked Chicken (
,
,
,
,
,
,
,
,
,
) ,
) , Barbecue Sauce (
,
,
,
,
,
,
,
,
,
,
,
,
,
,
,
) .
DELISSIO Pizzeria Vintage BBQ Chicken
is rated out of
5
by
31
.
Rated

5

out of

5
by
Shellsmiley
from
My FAV Delissio Pizza!!
Ever since this Pizza came out, it's the only one I've been purchasing. It's my absolutely favourite and I don't purchase frozen pizzas ever, this was the only exception. I'm sad now though as all the stores in my town have said this pizza has been discontinued, just as I was about to buy 10 of them to keep in the deep freezer for quick meal ideas. I've literally called all of the stores in and around my city. I hope you decide to bring it back!!
Date published: 2017-08-29
Rated

5

out of

5
by
cidirv
from
Better then take out
this pizza is delicious taste better then take out very delicious and tastes homemade
Date published: 2016-10-20
Rated

4

out of

5
by
Digger
from
Almost perfection
I LOVED this pizza! Great taste and crust was perfect for my liking. I would have given it 5 stars except for one thing that seemed to be missing - the CHICKEN! After a closer inspection I did find it but it was very sparse at best. I think I counted 12 tiny bits of chicken for what is usually an 8-piece pizza. I think you can do better than that!
Date published: 2017-02-05
Rated

4

out of

5
by
Fuzzyfur
from
Delicious - but where did Butter Chicken go?
I love the Pizzeria Vintage pizzas - they are great quality. Last fall/winter I tried a Butter Chicken version that was so yummy - my whole family loved it. When I went back to the store to buy more there were none, and I've been looking for it ever since. If you've discontinued it, please bring it back. I don't think it was on the shelves long enough for people to give it a chance!
Date published: 2017-11-16
Rated

3

out of

5
by
Ryan
from
False Advertising
It was a good frozen pizza as they go. HOWEVER! the box clearly shows a pizza full of peppers, meat ect... Yet when you open the box it's got less then a handful of topings. Just cheese for the most part. I understand that the cover of the box is going to show an idealized version of the product but the differences were extreme. Not very satisified :(
Date published: 2016-12-11
Rated

5

out of

5
by
Storm
from
Decided to try something different
I normally buy whichever pepperoni and cheese pizza that is on sale. This time, I decided to broaden my horizons and try something new. This pizza was the best frozen pizza that I've ever tried. To be honest, it's even better then some I've purchased from popular local pizza chains.
Date published: 2017-08-21
Rated

1

out of

5
by
Double D
from
teaspoon of chicken
Bought the pizza, went to put it in the oven, looked at it, couldn't immediatley find the chicken, then there they were, about a teaspoon of chicken. Unbelievable. Why even use the word chicken. After reading the ingrediant list I found it was the very last ingrediant. What a rip.
Date published: 2017-01-07
Rated

5

out of

5
by
Wldfire
from
Our Favorite Pizza Hands Down!!!!!!
When this pizza was first released we tried it and instantly it became our family favorite. We do not look at any other flavors or brands this is our go to pizza! Just the right combination of ingredients in this pizza and the sauce has to be tried to understand how good it is!
Date published: 2016-11-06