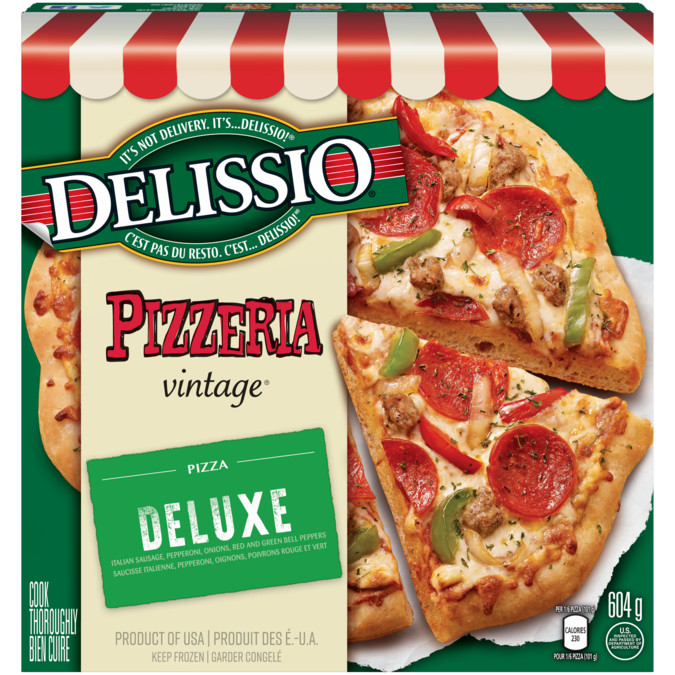 DELISSIO Pizzeria Vintage Deluxe
DELISSIO® Pizzeria Vintage Deluxe is the best of everything, all on one pizza! This authentic pizzeria-style crusted pizza Is topped with our finest tomato sauce, grated cheese, Italian sausage, thin-sliced pepperoni, onion, and bell peppers. If we could fit any more high-quality ingredients on this pizza – we would!
Shop Now
Features and Benefits
Nutrition Information
Ingredients
Instructions
DELISSIO Pizzeria Vintage Deluxe
Features and Benefits
Crisp and airy pizzeria style crust

No artificial colours or flavours

Made with high quality ingredients

Easy to bake

Authentic Vintage Pizzeria flavour

Try it on the BBQ for a summertime pizza night
Description
Features and Benefits
DELISSIO Pizzeria Vintage Deluxe
Nutrition Information
In the event of any discrepancy between the information listed on this website and on each individual package, please refer to the information listed on package.
DELISSIO Pizzeria Vintage Deluxe
Ingredients
Crust (
,
,
,
,
,
,
) , Toppings (Part-Skim Mozzarella Cheese (
,
,
,
) , Cooked Seasoned Vegetables (
Red and Green Bell Peppers
,
,
,
) , Cooked Italian Sausage (
,
,
,
,
,
,
,
,
,
) , Pepperoni (
,
,
,
,
,
,
,
,
,
, Smoke
,
) ,
,
) , Sauce (
,
,
,
,
,
,
,
,
,
,
) .
DELISSIO Pizzeria Vintage Deluxe
Instructions
Cook thoroughly. For food safety and quality, product must be cooked thoroughly to a minimum internal temperature of 160°F (71°C). Your oven temperature may vary so adjust cooking time and temperature as necessary. Keep pizza frozen until ready to bake. Caution: Pizza will be very hot.
BBQ Instructions:
Pre-heat the barbeque to medium-low heat or approximately 400°F (205°C).
Place frozen pizza directly on grill. Close lid and cook for 8 minutes, rotate 90°, and cook for an additional 8 minutes or until the crust is golden brown and the cheese is melted. Let stand for 2 minutes before serving
DELISSIO Pizzeria Vintage Deluxe
is rated out of
5
by
28
.
Rated

5

out of

5
by
Daniel s Pizza
from
Taste Great !!! ...Is it Moms ???
Today got a Pizza from Super Value I was really impress I toke it from the package ,full of ingredients looks very appetizing. Tonight I did that for supper for me and my wife, The smell in the house mmm I taught it was mom`s pizza The crust was thick and taste very good,love the sauce,full of chesse,pepp. Full of ingredient . The way I love it.. I will tell to all my family and friends and especially my mom ;-) About your pizza,very very satisfied and will get more for shore. Continue the great product ps. d`ont forget to advise your employes about the good product there doing. sincerely , Daniel`s Pizza
Date published: 2018-05-04
Rated

5

out of

5
by
Rawlu
from
WOW! so much better! ;)
I always hated Delissio pizza mostly because of the crust. this new Vintage pizza is my new favorite! closest thing to the real made in front of you from scratch yet frozen pizza I've ever had, just love it! :)
Date published: 2016-04-27
Rated

5

out of

5
by
Pizzaboy
from
Best frozen pizza!
I love pizza. Frozen pizza is usually a last resort when I have so many other options in the city. But this pizza is better than many I've eaten in restaurants or by takeout! It is absolutely delicious, I especially like the crust. Delissio nailed it!!!
Date published: 2016-08-10
Rated

5

out of

5
by
Wsharris62
from
Perfect in every way
I absolutely love this pizza. It is one of the few frozen products I buy, and the only type of pizza we eat.
Date published: 2016-12-10
Rated

2

out of

5
by
Sophia
from
what happened
I bought this Nov 20, 2016. A pizza should be round, rectangular or square not shaped like a flower. The crust was difficult to cut even with a steak knife. I remember the pizza being bigger before. This comes across as one of those cases where the product shrinks in size yet pay the same or more.
Date published: 2016-11-21
Rated

5

out of

5
by
Garfunkelus
from
Can't believe this is frozen pizza.
I've never been a fan of frozen pizza, but picked one of these up on a whim because it was on sale. WOW. Put a number of pizzerias to shame. Amazing quality, regardless of price - but when you can get it for $5.00 on sale...it's an absolute no-brainer. Great pizza - my wife loves it too.
Date published: 2017-02-02
Rated

4

out of

5
by
Md123
from
Loved the pizza, would like other package options
This USB just the sort of thing I like to keep on hand. I like the toppings and the soft crust. I would like the option to purchase different sizes. A package of multiple pizzas would also be a great option and would reduce waste a little.
Date published: 2016-12-06
Rated

5

out of

5
by
Krisha4444
from
Number one pizza choice
I am so happy we found the vintage line and is now the only pizza we buy. Our favorite is the deluxe. Absolutely delicious, the crust is perfect and we fine better than any restaurant
Date published: 2016-12-08