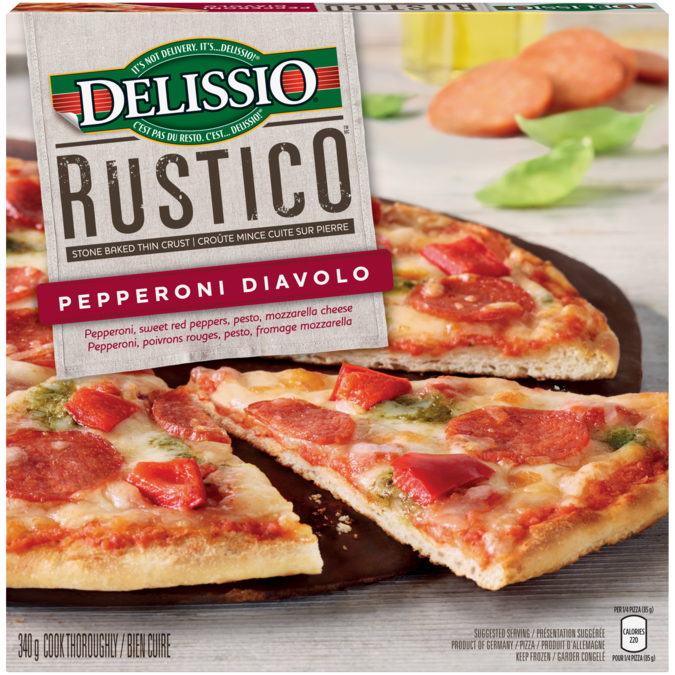 DELISSIO Rustico Pepperoni Diavolo
Experience a pizza so inspired by Italy you can almost taste the accent! We topped a stone baked sourdough crust with pesto, grated mozzarella cheese, thinly sliced pepperoni, and sweet red peppers
Features and Benefits
Nutrition Information
Ingredients
Instructions
DELISSIO Rustico Pepperoni Diavolo
Features and Benefits
Inspired by the authentic Italian experience
Perfect for a "me time" moment
220 calories per quarter pizza (85 g)
Balance your plate with a side salad and fruit for dessert

Cook it on the BBQ for a summertime #pizzanight!
Description
Features and Benefits
DELISSIO Rustico Pepperoni Diavolo
Nutrition Information
In the event of any discrepancy between the information listed on this website and on each individual package, please refer to the information listed on package.
DELISSIO Rustico Pepperoni Diavolo
Ingredients
Crust (
,
,
,
,
,
,
,
,
,
,
,
,
,
,
) , sauce (
,
,
,
,
,
) , mozzarella cheese (
,
,
,
) , pepperoni (
,
,
,
,
,
,
,
) ,
,
,
,
,
,
,
,
,
,
,
.
,
,
,
.
DELISSIO Rustico Pepperoni Diavolo
Instructions
Cook thoroughly. For food safety and quality, product must be cooked thoroughly to a minimum internal temperature of 160°F (71°C). Your oven temperature may vary so adjust cooking time and temperature as necessary. Keep pizza frozen until ready to bake. Caution: Pizza will be very hot.
Instructions:
(1) Preheat oven to 425°F (220°C).
(2) Remove frozen pizza from all packaging.
(3) Place frozen pizza directly on middle rack of preheated oven. Bake for 14-16 minutes or until cheese is melted and crust is golden brown. Let stand for 2 minutes before serving.
BBQ Instructions:
Preheat the barbeque to medium heat, approximately 400°F.
Remove the pizza from all packaging and place the frozen pizza on a baking sheet. Place the baking sheet on the barbeque and close the lid.
Cook for 7 minutes and then rotate the pizza 90 degrees and cook for another 8-10 minutes until crust is golden brown and cheese is melted.
DELISSIO Rustico Pepperoni Diavolo
is rated out of
5
by
11
.
Rated

5

out of

5
by
milton574
from
Absolutely delicious
Have bough quite a fw different Rustco pizzas and so far our favourite one is this one. It is the perfect size for our lunch and it has quite a few ingredients ON it as opposed to some other brands. Sometimes we get it on sale for a very good price which makes it an even better deal. We have recommended this brand and type of pizza to a number of friends and relatives.
Date published: 2016-11-05
Rated

5

out of

5
by
Jacqui
from
Best Ever
Low Calorie. Amazing pesto taste. Not cheap with the cheese. My only dilemma is that many stores don't carry this Flavor of Rustico. Local stores carry Funghi, Greek, Four cheese , Margherita but never Pepperoni Diavlo! Help me Nestle! I'll buy a commercial freezer and order a palette directly from you!
Date published: 2017-01-02
Rated

5

out of

5
by
Sjfairy
from
Light & crispy
My family had these for dinner last night, everyone loved them! They cooked nice & evenly, not burnt around the edges & raw in the center like some other frozen pizzas...Perfect blend of toppings, & amazing light, crispy crust! We'll definitely be buying more of these!
Date published: 2016-11-08
Rated

5

out of

5
by
pizzalover89
from
SOOO DELICIOUS!!!
Tried a couple of samples of this when Delissio had a pop-up shop in Toronto. Couldn't help but go back for more. The pesto and thin crust just makes this the perfect pizza!
Date published: 2016-11-14
Rated

5

out of

5
by
bonnieunger
from
Family favourite !
our new go to pizza for quick suppers on the go , little bit of spice makes all the difference. Only wish is was a little bit bigger in size
Date published: 2016-11-22
Rated

4

out of

5
by
bojac
from
better than Dr. Oetker!
Had one of these not long ago. Was pleasantly suprised. Better than Dr. Oetker thin crust pizzas.
Date published: 2016-11-06
Rated

5

out of

5
by
sylvia36
from
Rustico Is The Best
This Rustico Pepperoni will be a hit with my grandsons. Love Pepperoni
Date published: 2016-11-29
Rated

5

out of

5
by
Susan
from
Great
The rustico brand of delissio pizzas are quickly becoming my favourite.
Date published: 2016-11-28