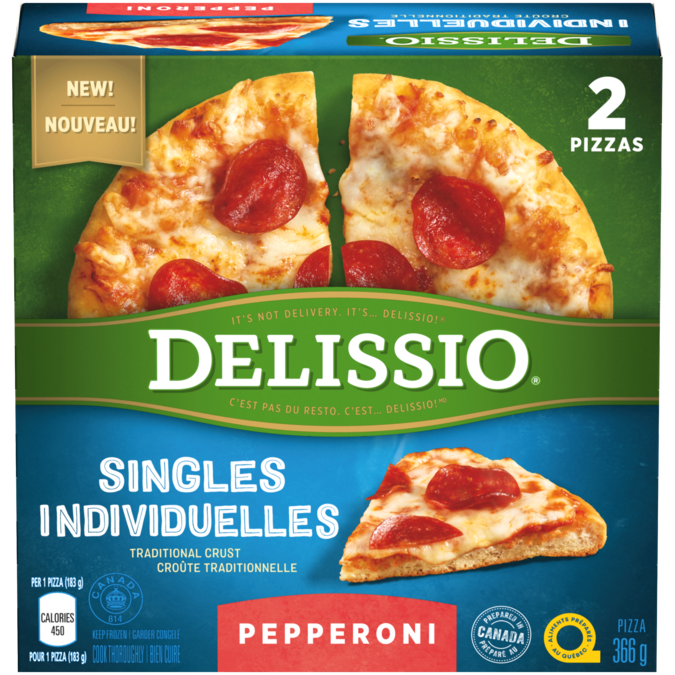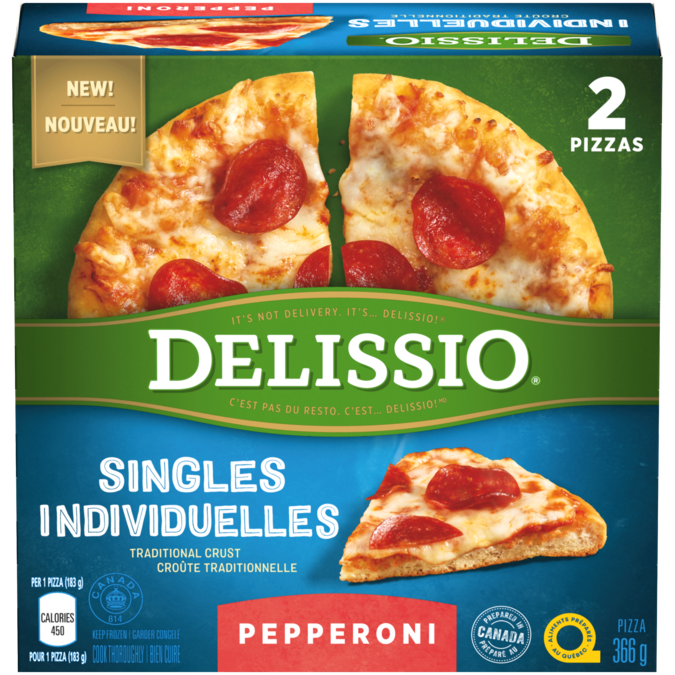 DELISSIO Singles Pepperoni Pizza
There's no fighting over the last slice with these personal-sized pizzas. New DELISSIO Singles Pepperoni Pizzas are 2 individual-sized pizzas packed with big taste. Each pizza is loaded with all the ingredients you crave – pepperoni and part skim mozzarella – topped over a traditional golden crust. It may be small, but it sure packs a mighty punch. Plus, it's prepared with pride, with quality ingredients, right here in Canada. IT'S NOT DELIVERY. IT'S DELISSIO!
DELISSIO Singles Pepperoni Pizza
Features and Benefits
Two individual-sized pizzas topped with part skim mozzarella, cheddar, and parmesan

DELISSIO Singles 3 Cheese Pizzas are made with only high-quality ingredients

Proudly prepared in Canada

Small, but packs a mighty, traditional pizza punch

IT'S NOT DELIVERY. IT'S DELISSIO!
DELISSIO Singles Pepperoni Pizza
Nutrition Information
DELISSIO Singles Pepperoni Pizza
Ingredients
Crust (wheat flour, water, canola oil, toasted wheat crumb, modified palm oil, yeast, sugar, salt, flavour, carotene), sauce (water, tomato paste, canola oil, salt, dried garlic, sugar, herb, spices), part skim pizza mozzarella cheese (part skim milk, bacterial culture, salt, calcium chloride, microbial enzyme), pepperoni, salt.
Cook thoroughly.
For food safety and quality, product must be cooked thoroughly to a minimum temperature of 160°F (71°C). Your oven temperature may vary so adjust cooking time and temperature as necessary.
BAKING
Cooking Directions
We do our best to ensure product consistency. However, some toppings may have moved during transportation. We recommend placing these toppings to your preference before baking.
1. Preheat oven to 400°F (205°C).
2. Remove frozen pizza from all packaging.
3. Place frozen pizza directly on the middle rack of preheated oven. Bake for 16–17 minutes or until cheese is melted and crust is golden brown. Let stand for 5 minutes before serving.