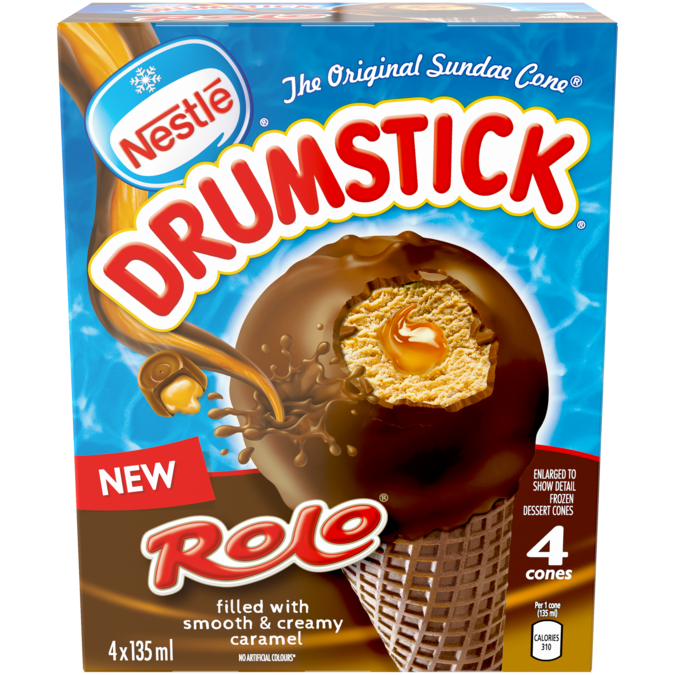 DRUMSTICK ROLO®
Canada's iconic ROLO candy has been transformed into an irresistible frozen treat. New DRUMSTICK ROLO Cones are the ultimate blend of caramel and chocolate. Each cone features creamy caramel frozen dessert, a rich caramel centre, and our signature chocolatey coating, packed into a crispy chocolate cone. If you're a fan of NESTLÉ® ROLO®, you'll love the incredible caramel indulgence that comes with every bite of these cones. Plus, they're made with dairy from Canadian cows, and contain no artificial colours.
Features and Benefits
Nutrition Information
Ingredients
DRUMSTICK ROLO®
Features and Benefits
Creamy caramel frozen dessert with a rich caramel centre and a chocolate cone.

ROLO is one of Canada's most iconic and popular chocolate brands

Smooth chocolatey coating that tastes just like ROLO

Made with Canadian dairy, with no artificial colours

DRUMSTICK has been THE ORIGINAL SUNDAE CONE® for over 80 years!
Description
Features and Benefits
DRUMSTICK ROLO®
Nutrition Information
In the event of any discrepancy between the information listed on this website and on each individual package, please refer to the information listed on package.
DRUMSTICK ROLO®
Ingredients
Modified milk ingredients
,
, chocolatey coating (
,
,
,
modified milk ingredients
,
,
,
,
) ,
,
,
,
,
,
,
, brown
,
,
,
,
,
,
,
,
,
,
propylene glycol monostearate
,
,
,
,
, flavour and artificial
,
.