Packaging and Design Change for Carnation Breakfast Essentials
Tuesday, January 25, 2022
If you need to advise us of a product safety or concern, click here
Our packaging has been updated, with you and the environment in mind; but it's the same great CARNATION® BREAKFAST ESSENTIALS that you know and love.
Our packaging has changed; and we've done this with you, and the environment in mind.  
What has changed? 
Compact Packaging: In our commitment to a better tomorrow, our new compact packaging uses responsibly sourced paper, certified to meet the environmental and social standards of the Forest Stewardship Council (FSC). To learn more about FSC and responsible forest management, visit www.ca.fsc.org. 
Recyclability: As part of our sustainability journey, our Tetra Prisma® will transition from a RED cap to a WHITE cap. Moving to white caps reduces the use of dyes and has broader applications after recycling. 
Nutritional Information Panel: New Health Canada Labelling Regulations have resulted in a few changes to % Daily Values and how some nutrients are reported in the nutritional information panel. The following products have updated packaging design and nutrition information panels: 
CARNATION® BREAKFAST ESSENTIALS Ready-to-Drink (6 x 237ml), Powder (10x40g and 880g) 
Packaging Design: Carnation Breakfast Essentials packaging has been refreshed for a modern look and feel.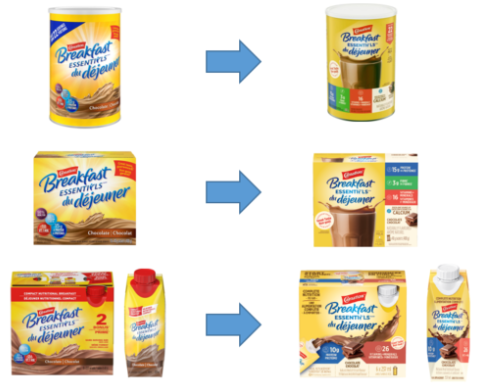 What has NOT changed? 
Did you find this answer helpful?