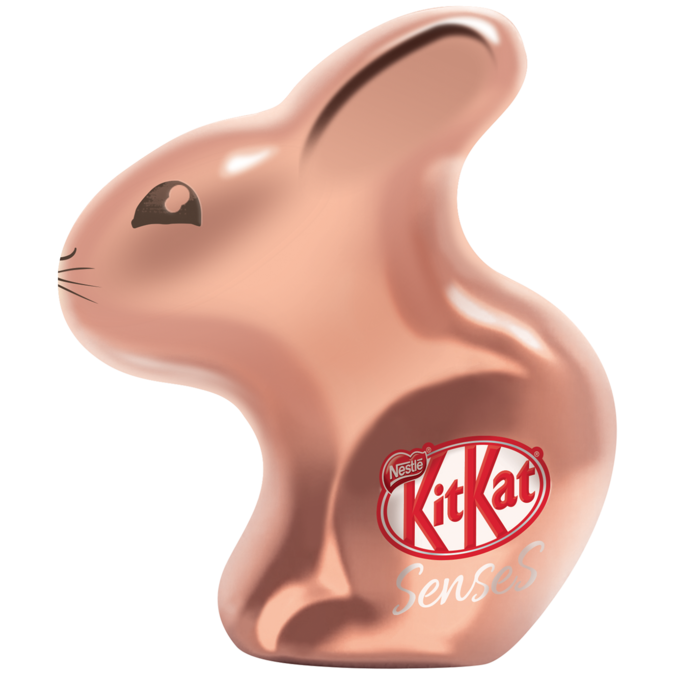 Seasonal
KIT KAT Senses Easter Bunny Tin
Could there be a more adorable and delicious gift for the Easter season? The KIT KAT SENSES™ Easter Bunny Tin is an adorable rabbit-shaped tin that has been filled with individually wrapped pieces of KIT KAT SENSES™ bars. A special recipe of delicious chocolatey truffle filled with hazelnut pieces covering classic KIT KAT wafers, smothered by a smooth milk-chocolatey layer. Plus, it's packaged in a reusable Easter-themed tin, making it perfect for gifting, hiding, and filling up an Easter basket. It's the ultimate break experience – accentuated by a hazelnut truffle (and your generosity). Made with 100% sustainably sourced cocoa, and only natural flavours, it's the perfect gift to treat someone special during the blossom of the Easter season. HAVE A BREAK, HAVE A KITKAT.
Features and Benefits
Nutrition Information
Ingredients
KIT KAT Senses Easter Bunny Tin
Features and Benefits
Presented in an adorable bunny tin – perfect for gifting someone with a special treat this Easter

Miniature KIT KAT wafer fingers with a hazelnut-praline topping, covered in a layer of smooth milk chocolatey coating

Made with only natural flavours, and no artificial colours

We purchase 100% Sustainably Sourced Cocoa certified by UTZ, as part of the NESTLÉ COCOA PLAN. We work with UTZ and farmers to improve the quality of their products and strengthen their communities

NESTLÉ has proudly raised over $10 million for Kids Help Phone over the past 28 years
Description
Features and Benefits
KIT KAT Senses Easter Bunny Tin
Nutrition Information
In the event of any discrepancy between the information listed on this website and on each individual package, please refer to the information listed on package.
KIT KAT Senses Easter Bunny Tin
Ingredients
,
modified milk ingredients
,
,
,
,
,
,
,
,
,
,
,
,
.
May contain peanuts and other tree nuts

.
Recipes
KITKAT Bunny Cup Cake
Recipes
KITKAT Bunny Carrot Cake
Recipes
Smarties Chocolate Pretzel Nests
These nests are delicious, visually appealing and fun to make.