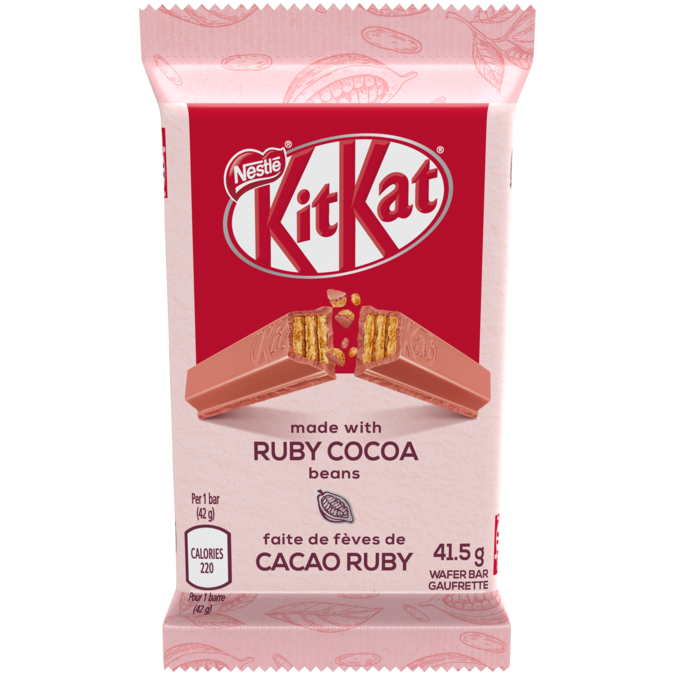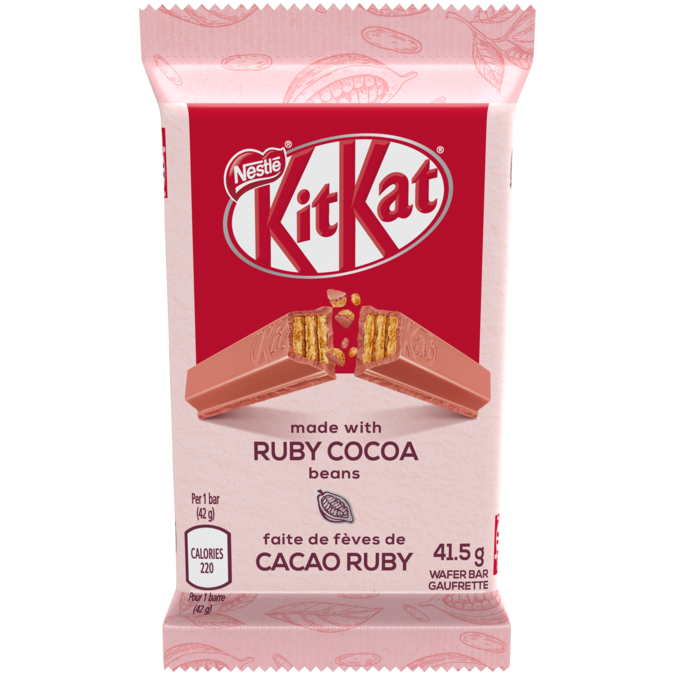 KIT KAT Ruby Cocoa Chocolate
Announcing the biggest discovery in chocolate in over 80 years – Ruby Cocoa!
KIT KAT Ruby Cocoa Chocolate Wafer Bar is crisp KIT KAT wafer coated in rich chocolate made with the Ruby Cocoa bean. Innovative chocolatiers discovered the new chocolate, made with specially selected cocoa beans from diverse cocoa-growing countries. Simply put, this is the FOURTH type of chocolate –  next to dark, milk, and white. KIT KAT Ruby Cocoa Chocolate has a smooth, distinctive, berry-fruitiness without the addition of any artificial flavours or colours. Made from NESTLÉ COCOA PLAN sustainably-sourced cocoa, these unique cocoa beans go through a process to unlock the flavour and tone naturally present in the beans.
Be the first to discover THE new chocolate that's a must-try for every chocolate lover. HAVE A BREAK, HAVE A KIT KAT.
KIT KAT Ruby Cocoa Chocolate
Features and Benefits
Crispy 4-finger KIT KAT wafer covered in a smooth and delicious Ruby-cocoa chocolate coating

KIT KAT Ruby Cocoa Chocolate Wafer Bar is made without any artificial colours or flavours – the Ruby colour is all natural!

Ruby chocolate is the newly-found 4th type of chocolate, after dark, white, and milk

Made with 100% sustainably sourced cocoa, certified by UTZ as part of the NESTLÉ COCOA PLAN. We work with UTZ and farmers to improve the quality of their products and strengthen their communities

We proudly support Kids Help Phone! NESTLÉ Canada has raised more than $10.2 million in support of Kids Help Phone over the last 28 years
KIT KAT Ruby Cocoa Chocolate
Nutrition Information
KIT KAT Ruby Cocoa Chocolate
Ingredients
Sugar, cocoa butter, wheat flour, modified milk ingredients, modified palm oil, unsweetened chocolate, cocoa powder, natural flavour, sunflower lecithin, citric acid, salt, calcium sulphate, baking soda, protease, xylanase.