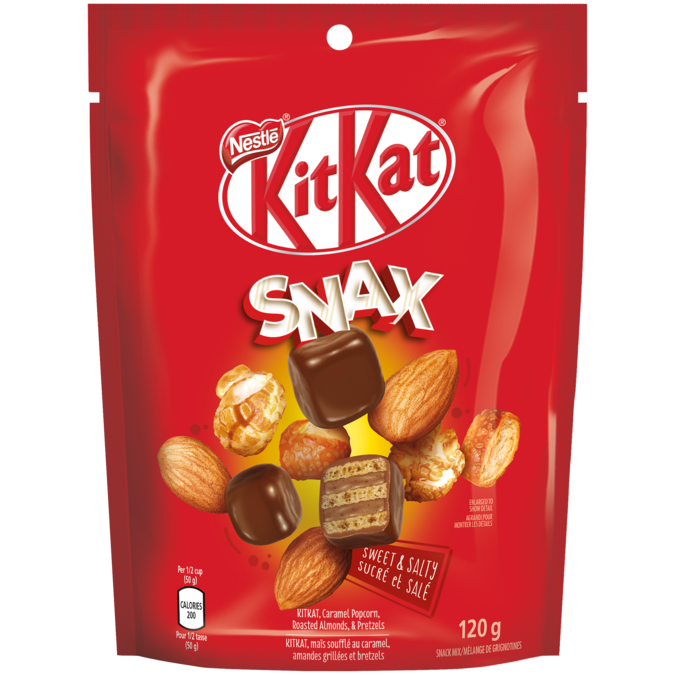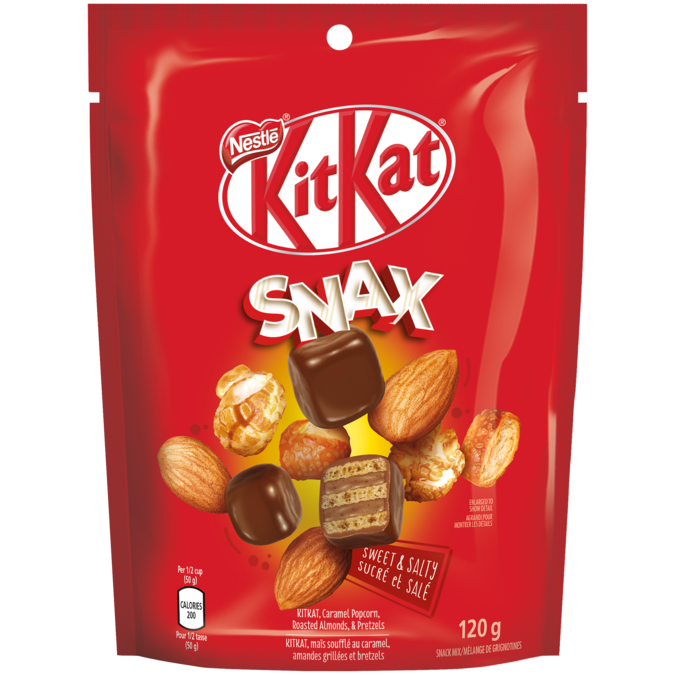 KIT KAT Snax
Get Snax, Go Nuts! KIT KAT Snax combines the irresistible tastes of KIT KAT, Caramel Popcorn, Roasted Almonds, and Pretzels together into one incredible snack mix. Made with 100% sustainably sourced cocoa and natural flavours, this is the perfect snack to grab'n'go. A little sweet, a little salty, and a whole lotta crunch!
KIT KAT Snax
Features and Benefits
A blast of flavours, we mix KIT KAT, Caramel Popcorn, Roasted Almonds, and Pretzels into one incredible, on-the-go treat!

KIT KAT Snax are delicious and made with natural flavours

Shake it up with a perfect portion for taking on-the-go

We purchase 100% Sustainably Sourced Cocoa certified by UTZ, as part of the NESTLÉ COCOA PLAN. We work with UTZ and farmers to improve the quality of their products and strengthen their communities

HAVE A BREAK, HAVE A KIT KAT Snax when it's time to grab'n'go!
KIT KAT Snax
Nutrition Information
KIT KAT Snax
Ingredients
Wheat flour, sugar, almonds, modified milk ingredients, cocoa butter, palm, palm kernel, coconut and vegetable oils, corn, glucose syrup, brown sugar, unsweetened chocolate, cocoa powder, salt, malt, maltodextrin, soy and sunflower lecithin, gum arabic, shellac, natural flavour, baking soda, protease, xylanase. May contain peanuts and other tree nuts. Small candies may pose a choking hazard.