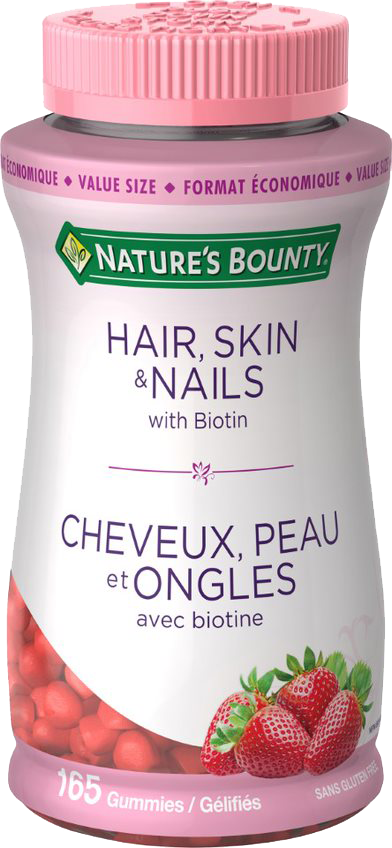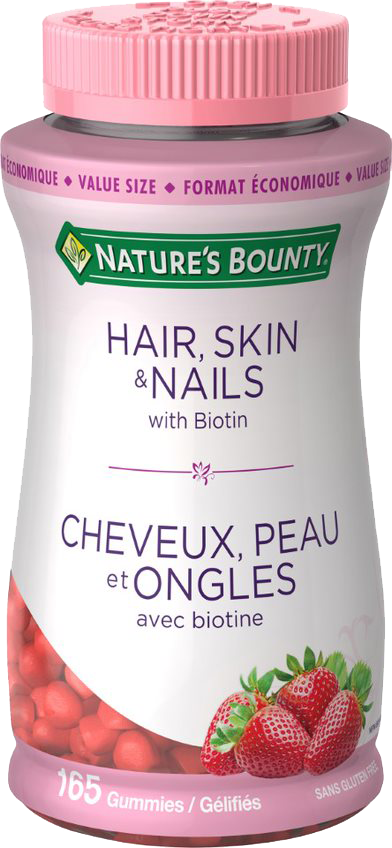 Hair, Skin & Nails Gummies 165
Our delicious Hair, Skin & Nails Gummies were created for women, by women, to provide a unique way to help support your natural beauty from within. Naturally flavoured in strawberry, you'll look forward to adding them to your daily routine.
Hair, Skin & Nails Gummies 165
Features and Benefits
Helps to maintain health of normal hair and skin

Helps to support nail health

Helps in the development and maintenance of bones, cartilage, teeth and gums

Helps in connective tissue formation

Helps in wound healing

An antioxidant for the maintenance of good health
Hair, Skin & Nails Gummies 165
Nutrition Information
Hair, Skin & Nails Gummies 165
Ingredients
NON-MEDICINAL INGREDIENTS: Carnauba Wax, Citric Acid, Corn Syrup, Dicalcium Phosphate, Fruit and Vegetable Blend, Gelatin (Bovine and/or Porcine), Lactic Acid, Maltodextrin, Pectin, Silicon Dioxide, Strawberry Cream Flavour, Sugar, Vegetable Oil, Water. Gluten Free.
DIRECTIONS: Adults, take two (2) gummies per day.
WARNING: Consult a healthcare practitioner prior to use if you are pregnant or breastfeeding.
KEEP OUT OF REACH OF CHILDREN. Keep tightly closed at room temperature in a dark, dry place. Security seal.