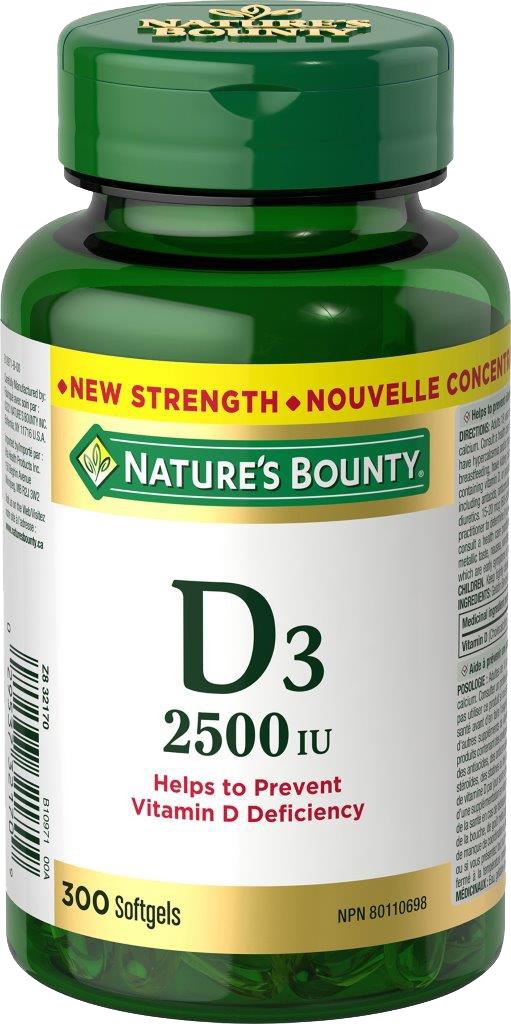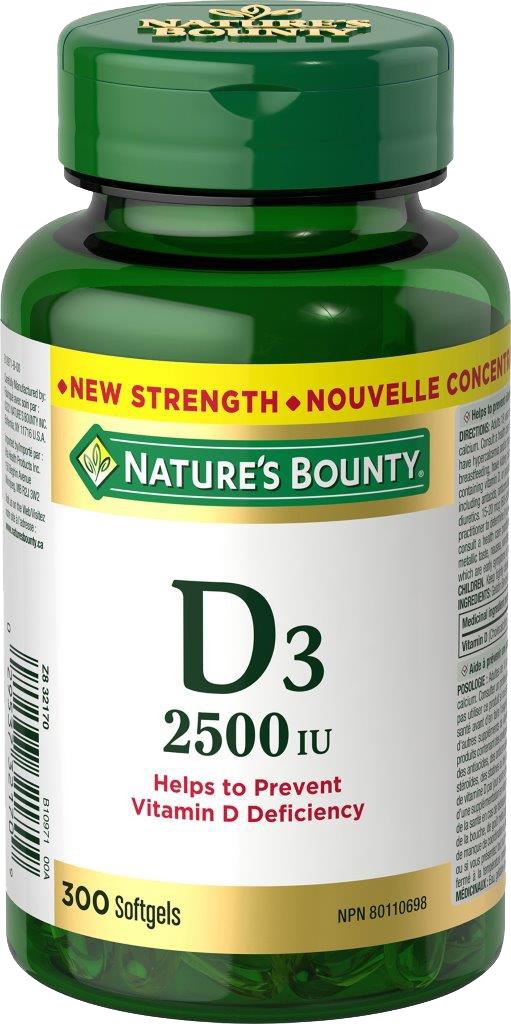 Vitamin D3 2500 IU 300 Softgels
Vitamin D, also known as the Sunshine Vitamin, is an essential nutrient that the body creates by converting cholesterol in the body via sunshine. Supplementing with Nature's Bounty Vitamin D3 is an easy way to help increase your daily intake of this important nutrient, which helps in the development and maintenance of bones and teeth.
Also available in value size & mega value size.
Vitamin D3 2500 IU 300 Softgels
Features and Benefits
Helps to prevent vitamin D deficiency. Gluten Free. Dairy Free
Vitamin D3 2500 IU 300 Softgels
Nutrition Information
Vitamin D3 2500 IU 300 Softgels
Ingredients
NON-MEDICINAL INGREDIENTS: Gelatin (Bovine and/or Porcine), Glycerin, Soybean Oil, Water.
DIRECTIONS: Adults 18 years and older, take one (1) softgel per day. To be taken with an adequate intake of calcium. Consult a health care practitioner for use beyond 6 months. WARNING: Do not use this product if you have hypercalcemia and/or hypercalciuria. Consult a health care practitioner prior to use if you are pregnant or breastfeeding, have kidney disorders or if you take other vitamin D supplements, multivitamin supplements containing vitamin D, or products containing vitamin D analogues or if you take any prescription medications including antacids, anticonvulsants, digoxin, cholestyramine, colestipol, mineral oil, steroids, statins or thiazide diuretics. 15-20 mcg (600-800 IU) of vitamin D per day is adequate for most individuals. Consult a health care practitioner to determine if you would benefit from additional vitamin D before taking this product. Stop use and consult a health care practitioner if weakness, fatigue, drowsiness, headache, lack of appetite, dry mouth, metallic taste, nausea, vomiting, vertigo, ringing in the ears, lack of coordination and muscle weakness occur which are early symptoms of hypercalcemia or if you have any other side effects. KEEP OUT OF REACH OF CHILDREN. Keep tightly closed at room temperature in a dark, dry place. Security seal.