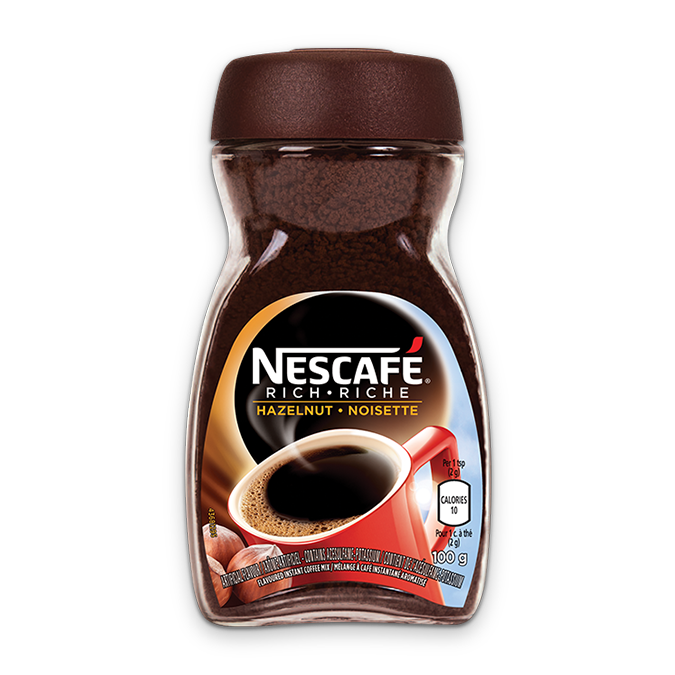 NESCAFÉ Rich Hazelnut
NESCAFE Rich with a sweet hazelnut finish. In other words, perfection in a cup.
Shop Now
Features and Benefits
Nutrition Information
Ingredients
NESCAFÉ Rich Hazelnut
Features and Benefits
Only 10 calories per serving
Description
Features and Benefits
NESCAFÉ Rich Hazelnut
Nutrition Information
Not a significant source of other nutrients.
In the event of any discrepancy between the information listed on this website and on each individual package, please refer to the information listed on package.
NESCAFÉ Rich Hazelnut
Ingredients
,
,
flavour and artificial flavour
, acesulfame-potassium (
) .
NESCAFÉ Rich Hazelnut
is rated out of
5
by
15
.
Rated

4

out of

5
by
Beckyjo
from
Disappointed
Just like the last post I am very disappoint in the jar size and pricing of the Hazelnut and French Vanilla coffees why can't you sell this produce in the large tins like the regular coffee making it more affordable for us regular users. My family has been drinking your coffee for over 10 years and feel like we are really getting ripped off. I have always recommended your coffee to friends and family but now with this drastic change to your product I don't believe we will be using it much longer in these hard times it is not affordable. Please consider selling in bulk size packaging so we the average person can afford to enjoy your produce.
Date published: 2016-05-16
Rated

5

out of

5
by
Evie
from
Disappointed and angry
I am really upset that both this and the hazelnut flavour coffee have been changed from its 150 gram bottles to only 100 grams ones. Also I can not find the hazelnut flavour anywhere in Toronto, ON, when is it going to be back on the shelves? PLEASE BRING BACK THE 150 GRAM BOTTLES BACK!!!
Date published: 2016-04-24
Rated

1

out of

5
by
josie_anne81
from
Same price but 33% less??
I have been drIinking your coffee for over 4 years now, I love it, but really? Instant coffee for that price? This is just ridiculous, I will definetely consider looking for another provider for my morning coffees. This is incredibly disappointing...
Date published: 2016-06-11
Rated

1

out of

5
by
Sylvainjodi
from
Size difference
The size difference is ridiculous since we are paying the same price. We are paying the same price and losing 1/3 of the coffee.....the rise of cost of coffee or you guys to make a bigger buck and produce less product. Hazelnut one is the only one I will drink and when I saw the 100g bottle for the same price, I decided to go with a competitor as they were cheaper price.....Thanks for removing me from your product!
Date published: 2016-06-16
Rated

5

out of

5
by
oxnatxo
from
This is my new morning cup of joe!
This instant coffee is amazing! It doesn't taste like a typical instant coffee. It is full flavoured with a hint of hazelnut! It's my new favourite at-home coffee. Pair this coffee with Nestle Coffee-mate and you'll have a perfect, delicious cup of coffee every time! Convenient, quick and easy to prepare. Your coffee is ready is no time at all. I love everything about this Nestle Nescafe rich hazelnut coffee!
Date published: 2016-11-30
Rated

5

out of

5
by
Zach
from
Yummy hazelnut
Whenever this instant coffee goes on sale at Shopper's, I buy a bottle or two. Although I don't like adding sugar to my coffee for health reasons, coffee tends to be too bitter as a result. Not this product! The hazelnut flavour helps to offset the bitterness and makes it yummier.
Date published: 2016-10-29
Rated

5

out of

5
by
Mmmz
from
Delicous
It's the one and only coffee I drink. It lights up my day.
Date published: 2016-04-21
Rated

1

out of

5
by
Sandra DS
from
Bottle size is a problem.
My family and I have been drinkers of the hazelnut instant coffee for many years, but now we often go to other brands because the tiny bottle feels like a rip off. Plus, it is so not environment friendly. Why not create a bigger size bottle for the people who would prefer to pay more and buy bigger quantities... This tiny bottle is just causing my family and me to be letting go of this brand... We buy a lot less of it now...
Date published: 2017-10-05