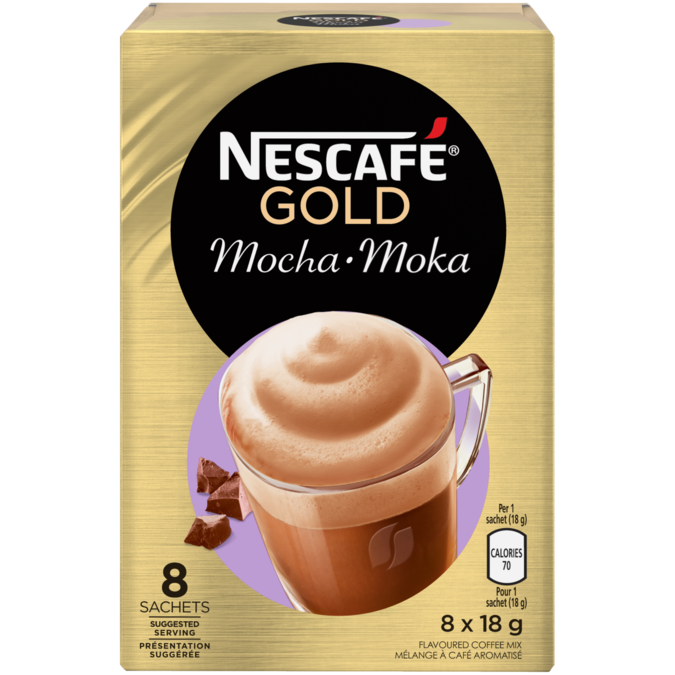 NESCAFÉ GOLD Mocha
Discover indulgent moments brewed with the perfect balance of select, high-quality ingredients. NESCAFE GOLD Mocha Flavoured Coffee Mix easily crafts a delicious, smooth coffee with decadent chocolate flavours and mouthwatering foam – with no barista required. A great way to serve up and share a creamy delight or a delectable chocolate treat.
Shop Now
Features and Benefits
Nutrition Information
Ingredients
NESCAFÉ GOLD Mocha
Features and Benefits
8 sachets for sharing a perfectly foamy and creamy chocolate delight

Each sachet whips up two favourite tastes in a single cup: decadent chocolate flavours and cappuccino flavoured coffee

70 calories per serving

Pre-dosed, so there's no other ingredients required

Made with high-quality ingredients to exceed your expectations for instant coffee
Description
Features and Benefits
NESCAFÉ GOLD Mocha
Nutrition Information
In the event of any discrepancy between the information listed on this website and on each individual package, please refer to the information listed on package.
NESCAFÉ GOLD Mocha
Ingredients
,
,
,
,
,
,
,
,
,
,
,
,
.