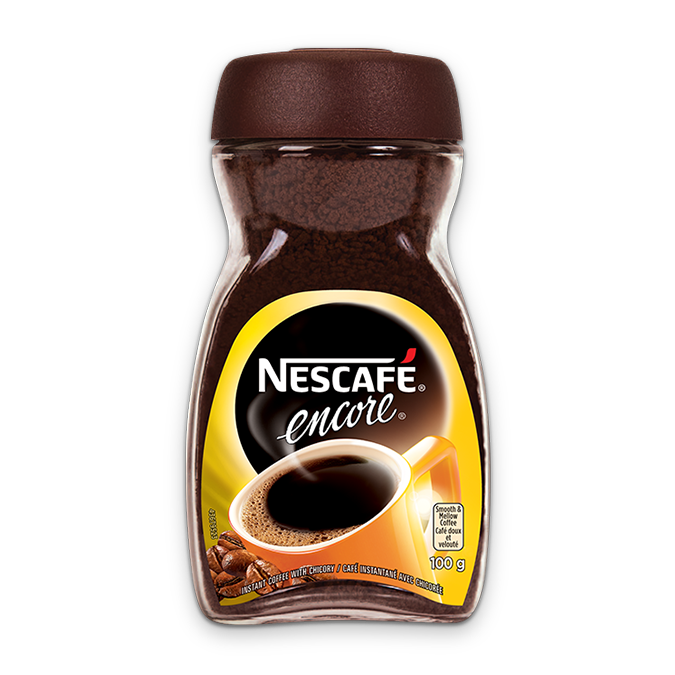 NESCAFÉ Encore
A delicious blend that's big on flavour but gentle enough to pour yourself another.
Shop Now
Features and Benefits
Nutrition Information
Ingredients
NESCAFÉ Encore
Features and Benefits
Description
Features and Benefits
NESCAFÉ Encore
Nutrition Information
Not a significant source of other nutrients.
In the event of any discrepancy between the information listed on this website and on each individual package, please refer to the information listed on package.
NESCAFÉ Encore
Ingredients
NESCAFÉ Encore
is rated out of
5
by
27
.
Rated

1

out of

5
by
AnnieD
from
Warped Logic
I've been an Encore drinker all my life. Imagine my surprise when my husband picked up my brand on sale, only to come home and realize it's 1/3 the size. I've read your response to several complaints: "...to balance the increasing cost of coffee with our commitment to a high quality product, without having to raise the price of a single jar. We felt this would be easier on our consumers' household food budgets than raising the price of a 150g jar." Seriously? So my having to buy more coffee sooner than expected - one third sooner - is not going to affect my household budget? Having to buy coffee sooner is going to end up costing me the same as if you increased the price for the old format.
Date published: 2016-12-09
Rated

2

out of

5
by
Finn
from
A Sad Way To Do Business
I grabbed an armful of my Encores the other day. I was in a rush but thought to myself that they felt lighter. I realized when I got home that they were actually a third lighter...literally. Consumers are used to companies reducing package sizes hoping that we won't notice - but 50 grams less? I would suggest that simply increasing the price would be a little more of a transparent way to recover your costs and maintain your prophet margin. We would still grumble about a orice increase but at least we would not feel deceived. Sad.
Date published: 2016-07-07
Rated

5

out of

5
by
Juan Baldez
from
smaller size
Have been drinking this brand everyday for 5 yrs, however now that the size has been reduced by 33% for the same price( that's a little too much!) I will have to change to another brand of coffee...and re-think nestle cream also. regards, Juan Baldez
Date published: 2016-05-22
Rated

5

out of

5
by
Lionel
from
I love the taste
While I do love the taste I went to the store today and bought 4 jars of encore as usual. They looked so small and when I compared them to my old jar at home I could no believe it! From 150g down to 100g at the same price. Rip off! Robbery! I guess I'm done with Nescafé. It was nice knowing you. Lionel
Date published: 2016-05-28
Rated

1

out of

5
by
Shaya65
from
HOW TO LOSE A CUSTOMER
I've been drinking Encore for many years because I like the mellow taste. Selling less of it at the same price is just the sort of practice consumers REALLY dislike. Needless to say, I won't be buying it any more. I hope you lose lots of customers.
Date published: 2016-06-26
Rated

4

out of

5
by
Mickey007
from
long time Encore drinker
I've been drinking Encore for more than 25 years. I was shocked to see that the packaging went from 150g to 100g HOWEVER the price remains the same. Perhaps Nescafe didn't think that we would notice BUT WE DID. What's up? This is truly disappointing!
Date published: 2016-06-05
Rated

5

out of

5
by
joker1234
from
Resized????
We love Encore, but one third less for the same price!!! If we can't find a super sale we'll switching brands.
Date published: 2016-06-12
Rated

1

out of

5
by
Carolynn
from
Encore coffee
I have been drinking encore for many many years. How disappointing that you made the jar smaller. From 150 to 100g. But yet you post "because of the price of coffee" But yet you have cheaper brands?? Are they not made from coffee? Another rip-off for the consumer. The price is higher, so what are I gaining? Nothing. Your company is. Very sad. Will be finding another coffee.
Date published: 2016-08-05