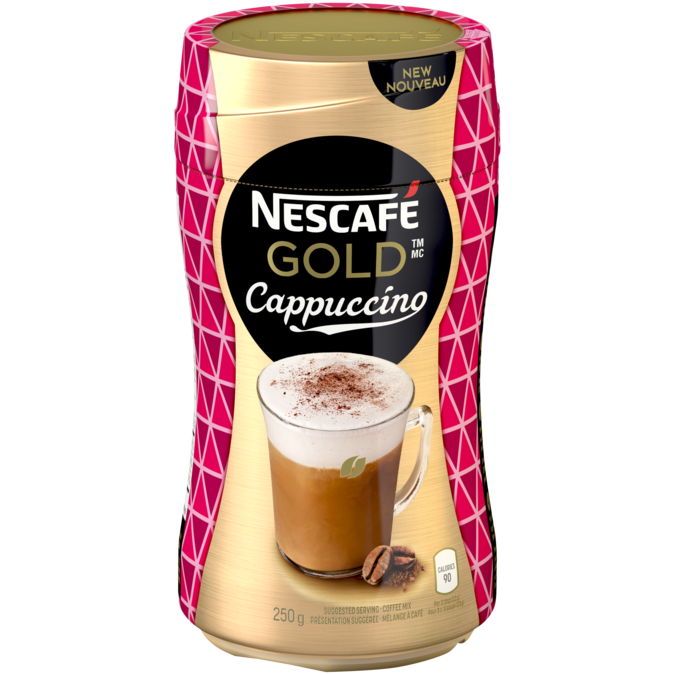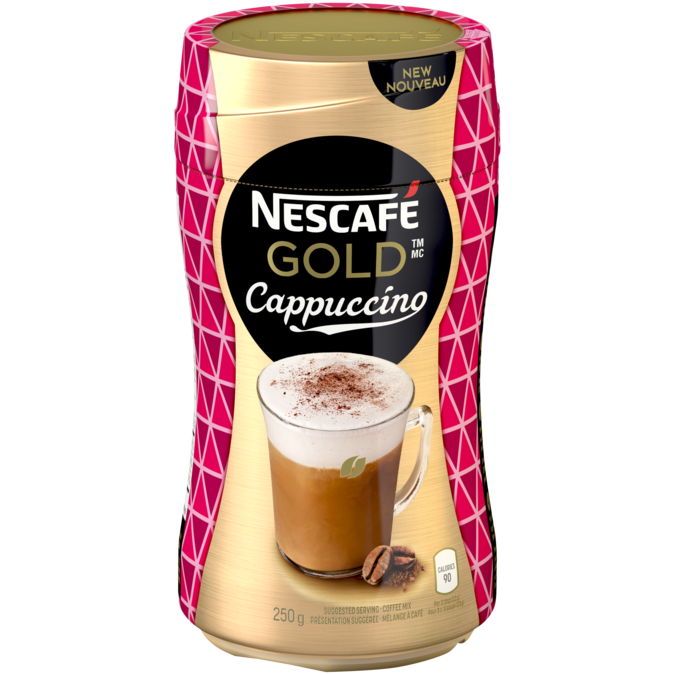 NESCAFÉ GOLD Cappuccino Instant Coffee
Warm up to a NESCAFÉ GOLD Cappuccino Coffee (250 g), a carefully selected blend of milk and high-quality Arabica and Robusta coffee beans. When you're looking for a little special something, this is the perfect drink to sit down to after a hectic day. One serving crafts a rich, frothy, coffee-shop inspired cappuccino that you can conveniently make at home – no barista required! An expertly crafted recipe, it's a great way to serve up and share a delightful combination of smooth coffee and mouth-watering foam.
NESCAFÉ GOLD Cappuccino Instant Coffee
Features and Benefits
NESCAFÉ GOLD Cappuccino Coffee (250 g) is a smooth blend of Arabica and Robusta coffee and a velvety layer of coffee crema

A delicious, coffee-inspired cappuccino you can whip up at home

90 calories per serving

Pre-dosed, so there's no other ingredients required

High-quality ingredients to exceed your expectations of instant coffee
NESCAFÉ GOLD Cappuccino Instant Coffee
Nutrition Information
NESCAFÉ GOLD Cappuccino Instant Coffee
Ingredients
Sugars (sugar, glucose syrup, lactose), milk ingredients, instant coffee, roast and ground coffee, coconut oil, salt, dipotassium phosphate, sodium polyphosphate, sodium citrate.
RECIPES
Middle Eastern Cauliflower Bites with Coffee Tahini Dip
Tahini, or toasted ground sesame seeds, comes from Persia, where it was called "ardeh." For hundreds of years, only the aristocracy and wealthy could obtain the ingredients to make tahini – in some cultures, tahini was used as currency! Enjoy this delicious healthy appetizer that gets extra depth of flavor from Nescafé Gold.
RECIPES
Coffee-Marinated Korean Short Ribs
Korean short ribs, otherwise known as "galbi," refers to a strip of beef cut across the bone from the chuck end of the short ribs. Unlike American- and European-style short ribs, which include a thick slice of bone-in beef, Korean-style short ribs are cut lengthwise across the rib bone. The lengthwise cut helps to soak up the rich, Korean flavor–infused coffee marinade and serves to help grill it up quickly.