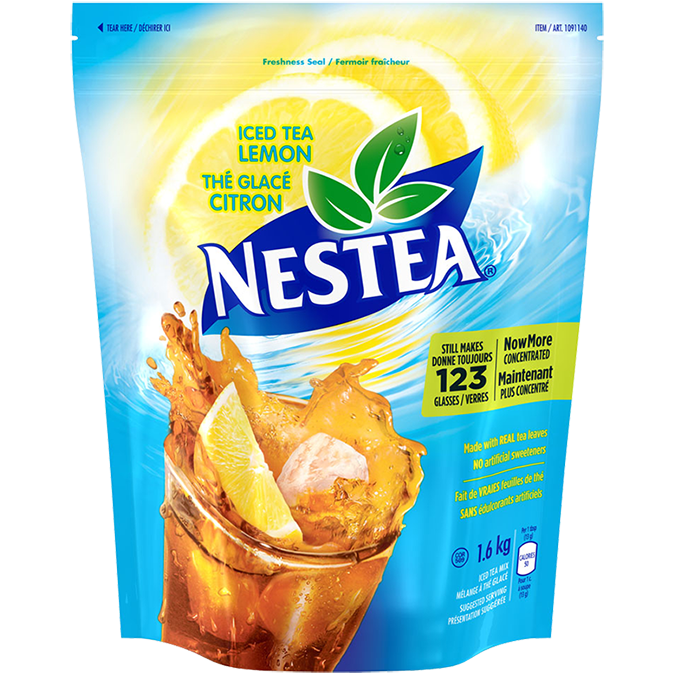 Discontinued
NESTEA Lemon Iced Tea Mix
The NESTEA Iced Tea you love, now more concentrated!
Features and Benefits
Nutrition Information
Ingredients
NESTEA Lemon Iced Tea Mix
Features and Benefits
Makes 123 glasses

Made with real tea leaves

No artificial sweeteners

Now has 25% less sugar than the original per 250ml serving
Description
Features and Benefits
NESTEA Lemon Iced Tea Mix
Nutrition Information
In the event of any discrepancy between the information listed on this website and on each individual package, please refer to the information listed on package.
NESTEA Lemon Iced Tea Mix
Ingredients
Recipes
Mango Peach Iced Tea Pops
Chunks of mango and peach slices add fresh flavour and bright colour to these refreshing summery tea pops
Recipes
Blended Iced Tea Berry Blast
Treat the family to this blended summer iced tea – bursting with berry flavours!
Recipes
Watermelon and Basil Iced Tea Punch
Watermelon and fresh basil create a refreshing and sophisticated drink that's perfect for every occasion.