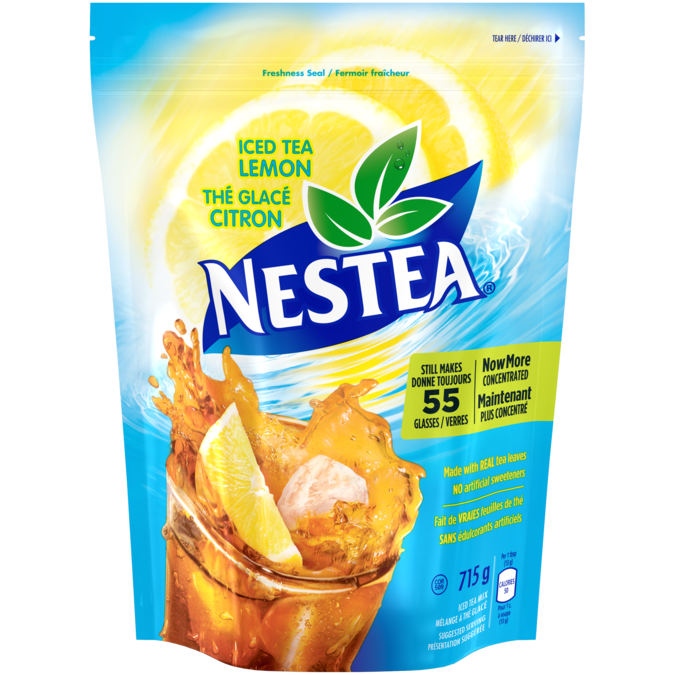 NESTEA Lemon Iced Tea Mix
The NESTEA Iced Tea you love, now more concentrated!
Features and Benefits
Nutrition Information
Ingredients
NESTEA Lemon Iced Tea Mix
Features and Benefits
Makes 55 glasses

Made with real tea leaves

No artificial sweeteners

Now has 25% less sugar than the original per 250 ml serving
Description
Features and Benefits
NESTEA Lemon Iced Tea Mix
Nutrition Information
In the event of any discrepancy between the information listed on this website and on each individual package, please refer to the information listed on package.
NESTEA Lemon Iced Tea Mix
Ingredients
Recipes
Watermelon and Basil Iced Tea Punch
Watermelon and fresh basil create a refreshing and sophisticated drink that's perfect for every occasion.
Recipes
Mango Peach Iced Tea Pops
Chunks of mango and peach slices add fresh flavour and bright colour to these refreshing summery tea pops
Recipes
Blended Iced Tea Berry Blast
Treat the family to this blended summer iced tea – bursting with berry flavours!
NESTEA Lemon Iced Tea Mix
is rated out of
5
by
11
.
Rated

1

out of

5
by
CrystalM
from
Terrible tasting new formula
The new formula tastes terrible. Regardless of how much time and research went into it, it does indeed taste sour, with a bad aftertaste. I've tried adding more water, less water, more power less powder etc. nothing works to get back that taste of the old product. Not matter what, it's tastes bad. Indeed like there is something artificial to it and lacking that "ice tea" flavor. I would just like to echo what everyone else is saying, it's just gross, so disappointing, please go back to the old product. At least with the old formula, one could actually adjust for taste + desired sugar amount, but this new one tastes horrible no matter what. 0 out of 5 stars :/
Date published: 2017-08-19
Rated

1

out of

5
by
old reduced formula
from
What were they thinking ?
I have loved nestle iced tea mix for 3 decades. The 50% sugar reduced iced tea mix was my favour drink. I tried the new formula. It was horrible. It left a strange aftertaste. I really don't understand why the old sugar reduced formula was discontinued. The new formula was so bad I actually threw out the product as I wouldn't serve it to a friend and couldn't stand having any more glasses
Date published: 2017-05-31
Rated

1

out of

5
by
Jonathan
from
Bring back the 50% less sugar mix!
Like many other Nestea fanatics leaving reviews on this product and on the Liquid concentrate, I was very disappointed by the taste of this new mix. It's a tad too sour and it lacks the prominent tea flavor of the original mix. I've been drinking the 50% less sugar mix for years and I loved it. There was nothing else like it on the market and now it's discontinued... Why!? Instead of changing the recipe and lose longtime clients such I myself, why not simply rebrand it and bring it back to the market?
Date published: 2017-06-24
Rated

1

out of

5
by
Pkcar
from
The New Concentrated product tastes horrible
I have been drinking nestea ice tea mix since I was a little girl. It has always been a great drink to serve. The new concentrated product leaves a really bad aftertaste. It's like it is made with Stevia now or something. I am so disappointed. Me and my family will no longer be buying nestea powder mix. I can understand new packaging but not changing the recipe. I sure hope they realize their error and bring back the old recipe for nestea. Really sad and disappointed.
Date published: 2017-06-10
Rated

1

out of

5
by
Brian
from
New formula Sucks
I've been having your iced tea powder for a good part of 20 years... you changed to these terrible bags now. At first I thought it was just a packaging change but the flavour is blah now. And if I make it stronger it leaves a terrible aftertaste. You should change back so you don't loose all your customers.
Date published: 2017-06-04
Rated

1

out of

5
by
saskbuyer
from
Strange aftertaste - Bring back the 50% sugar.
After years of being a loyal Nestea consumer, I regret to say that I will be switching brands. The 50% less sugar was my all time favorite, but when I could get it no longer, I switched to the new Regular Iced Tea with lemon. What a huge disappointment!!! It is awful and leaves a strange aftertaste. I will not be purchasing Nestea again (unless the 50% sugar comes back).
Date published: 2017-11-13
Rated

1

out of

5
by
MikeR
from
Bring back the 50% sugar Nestea product
My favorite iced tea was by far the 50% sugar Nestea.. This new product is not even as nice as the previous regular Nestea and tweaking how much product you use does not improve the end result. Please bring back the 50% sugar Nestea..
Date published: 2017-06-24
Rated

1

out of

5
by
buggie50
from
WHY DID YOU PUT SALT IN OUR ICE TEA MIX
I have bought your ice tea for 20 years and when i purchased the new product it had a funny taste, so i compared the products and guess what i found that the new product has salt in it. I will be returning all my product to the store. I am very disappointed in nestle for adding salt when it is bad for you.
Date published: 2017-07-27