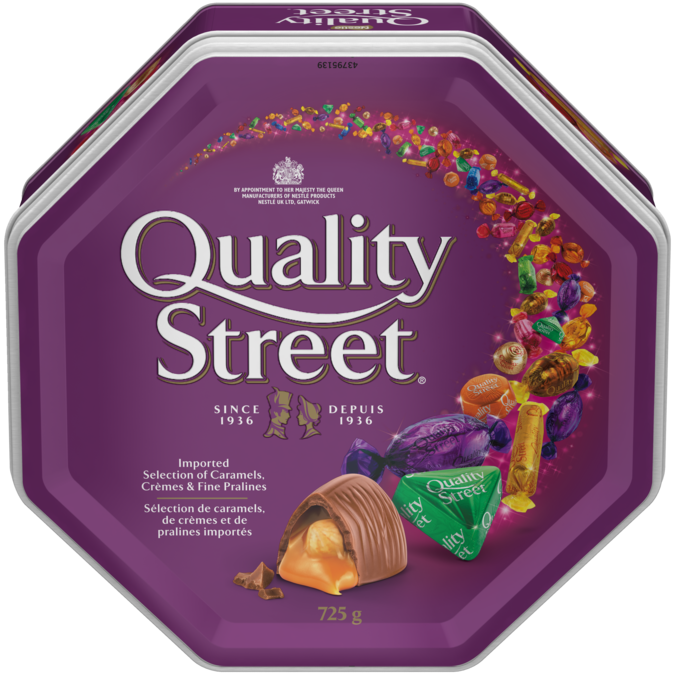 QUALITY STREET Tin
Celebrate the holidays with a tin full of tradition. QUALITY STREET Imported Caramels, Crèmes & Pralines are a decadent mix of imported candies that make for a perfect gift to delight your friends and family. Shake, search and sort for your favourite.
Shop Now
Features and Benefits
Nutrition Information
Ingredients
QUALITY STREET Tin
Features and Benefits
Assorted caramels, crèmes, and pralines imported from England

A Canadian favourite for over 75 years

Beautifully designed and reusable 725 g tin

Made with natural flavours

Perfect as a holiday gift to delight family and friends

Individual wrappers are made from compostable film
Description
Features and Benefits
QUALITY STREET Tin
Nutrition Information
In the event of any discrepancy between the information listed on this website and on each individual package, please refer to the information listed on package.
QUALITY STREET Tin
Ingredients
,
Modified Milk Ingredients
,
,
,
,
,
Coconut and Vegetable Oils
,
,
,
,
,
,
,
,
,
,
.
May contain peanuts and other tree nuts.
QUALITY STREET Tin
is rated out of
5
by
23
.
Rated

1

out of

5
by
Mb4mmb
from
Feel cheated!
I love quality street and have since I was a small girl. -a long time ago- I have bought 3 tins in the last 6 months and each time been very disappointed with the lack of selection. There was only 1 hazelnut in caramel, 1 toffee finger, the rest were coconut eclair and caramel cup. Not one hazelnut triangle which is my all time favourite and the biggest reason I buy quality street, no toffee penny or milk chocolate block. Not sure I will buy any again, unless I go to the UK, maybe I won't get short shrifted on the selection that has been a big part of the quality in Quality Street.
Date published: 2016-01-20
Rated

1

out of

5
by
Lazlo
from
Lower Quality Smaller Quantity Higher Price
Nice Nestle. I'm embarrassed that I bought a tin of these for a British friend after receiving a tin myself. First you took the quality out of Quality Street. Messy wrapping and cheap ingredients. Second, your greedy strategy of decreasing the size while raising the price hasn't gone unnoticed. Three strikes. I won't be buying these again. I quit buying your chocolate bars years ago for the same reasons.
Date published: 2016-12-28
Rated

3

out of

5
by
King
from
Sell your chocolate individually and in assortment
Based on a few of the other reviews of your chocolates, most people have their favourite chocolates from 'Quality Street.' So, I think it would be a profitable idea to sell each type individually in a small size. This way, people can get their favourite kinds without having to pick through ones they may not enjoy as much.
Date published: 2018-01-02
Rated

2

out of

5
by
Lisa73
from
Okay
Received a can of chocolates for Christmas and three different kinds were missing. How can you sell a product and have a legend card showing the different kinds and not have them in the can. Disappointed.
Date published: 2015-12-26
Rated

5

out of

5
by
Javed10
from
Delightful
Quality Street! The best part about them is when I try to find my favourite one :D They are really good but my best are Hazelnuts in Caramel and Orange chocolate Crunch.
Date published: 2016-12-05
Rated

5

out of

5
by
parisgirl
from
A gift that keeps on giving!
I recently purchased a tin of Quality Street for a friend's special birthday . She was so delighted with the high quality chocolates with their delicious fillings and the tasty toffees as well. Best of all, she passed them around to me as well, and I loved them as well. I plan to give Quality Street Chocolates as Christmas gifts this year.
Date published: 2016-10-17
Rated

5

out of

5
by
Bexi
from
A Family Favorite!
I look forward to having quality street every Christmas. I remember my grandmother purchasing them for us when I was younger. It has always been a favorite of mine. The quality is always fresh and perfectly made. My favorite is the coconut or the chocolate fudge.
Date published: 2016-12-04
Rated

1

out of

5
by
Beau
from
Random selection
Was pleased to receive a 180 g box as a house gift. Was very disappointed there were no hazelnut triangles nor truffle blocks which are two of my favourites. There were eight with orange flavouring which are my least favourites.
Date published: 2018-03-06