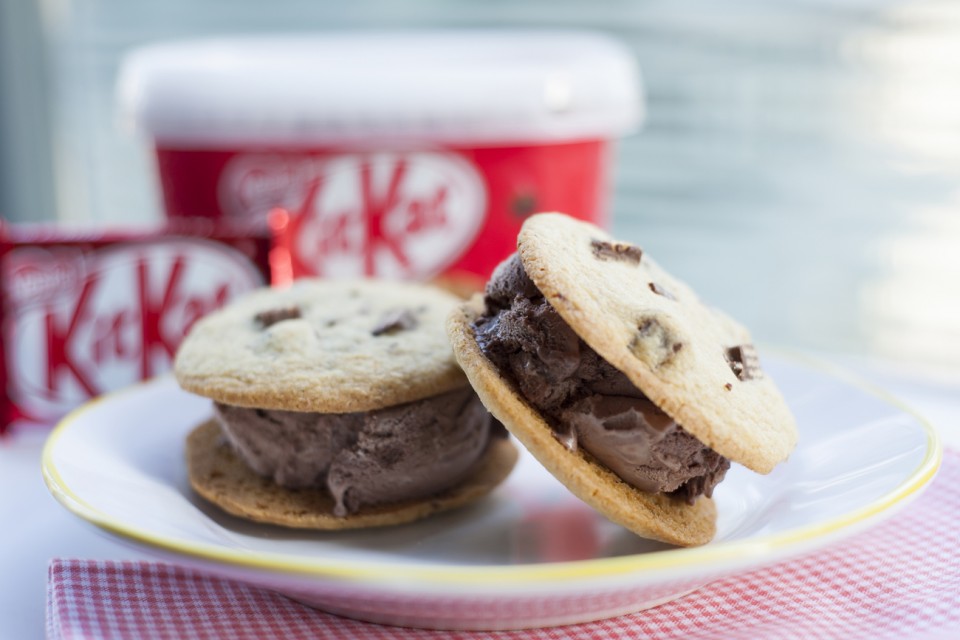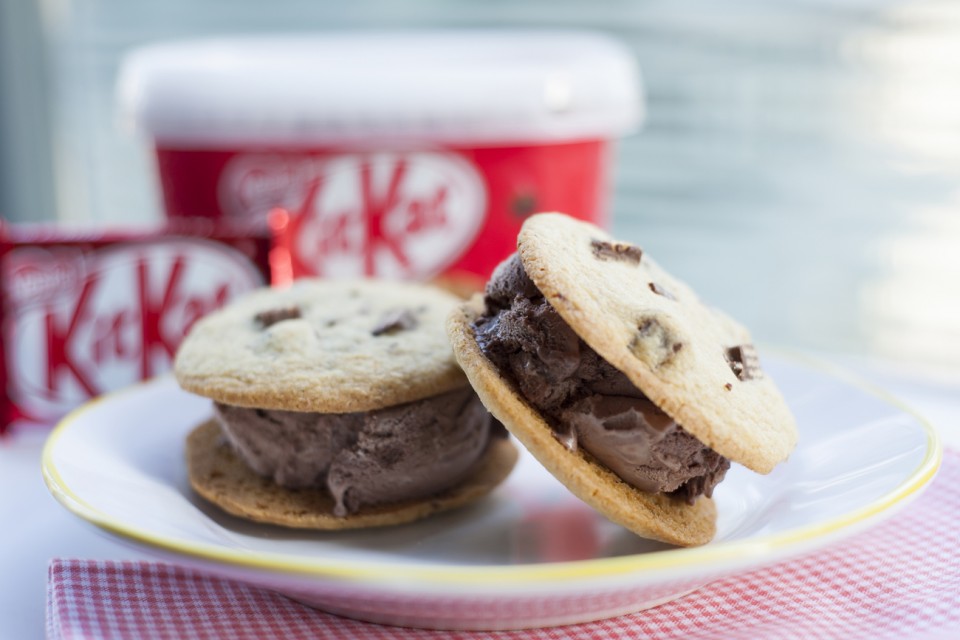 The Ultimate Sweet Treat Made with Nestlé KIT KAT Frozen Dessert
Servings:
20 Cookies (10 Sandwiches)
Skill level:
Intermediate
What you need
COOKIES
3 bars (45 g each)
KIT KAT
2 ¼ cups (525 ml)
all-purpose flour
1 cup/2 sticks (250 ml)
unsalted butter, softened
¾ cup (175 ml)
granulated sugar
1 tsp (5 ml)
vanilla extract
FILLING
1 tub (1.5 L)
Nestlé KIT KAT Frozen Dessert
How to prepare
Instructions
Preheat oven to 375°F.
Chop KIT KAT bars into teeny tiny bits, about 1/4 inch.
Combine flour, baking soda and salt in small bowl.
Beat butter, granulated sugar, brown sugar and vanilla extract in large mixer bowl until creamy. Add eggs, one at a time, beating well after each addition. Gradually beat in flour mixture. Stir in half the KIT KAT morsels, saving the other half to add to tops of cookie dough prior to baking.
Drop the dough by rounded tablespoon onto ungreased baking sheets. Bake for 9 to 11 minutes or until golden brown. Let cookies cool on baking sheets for 2 minutes and remove to wire racks to cool completely.
Place one scoop of Nestlé Kit Kat Frozen Dessert between 2 freshly baked cookies and enjoy. Your KIT KAT dreams have come true!
Tips
Keep 'Em Cool!
To keep your treats from melting quickly, cool your cookies fully before making your sandwiches.
Extra Cookies, Please
Try this recipe with KIT KAT Cookies & Cream bars for a double-dose of cookie.