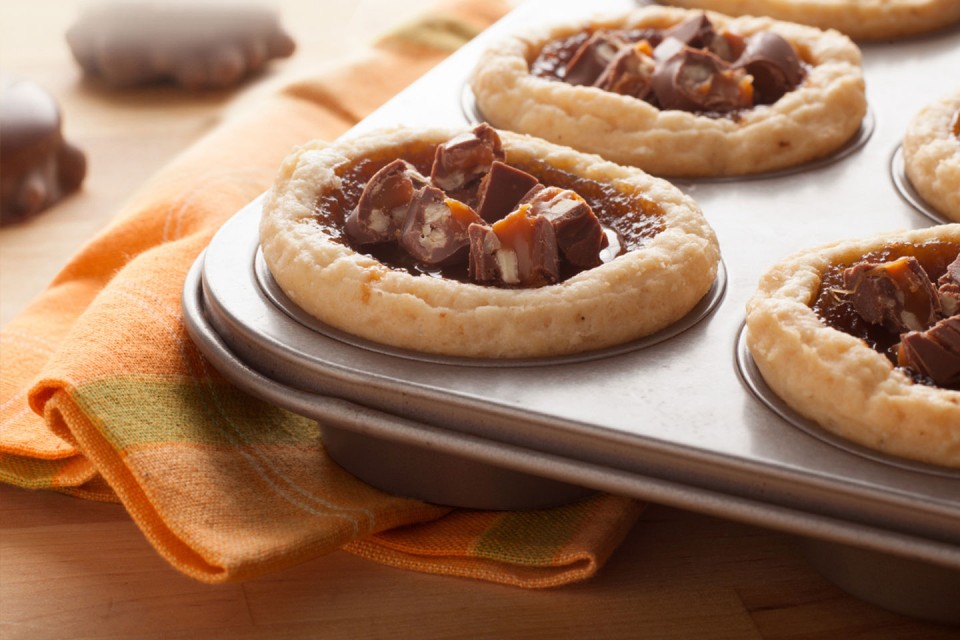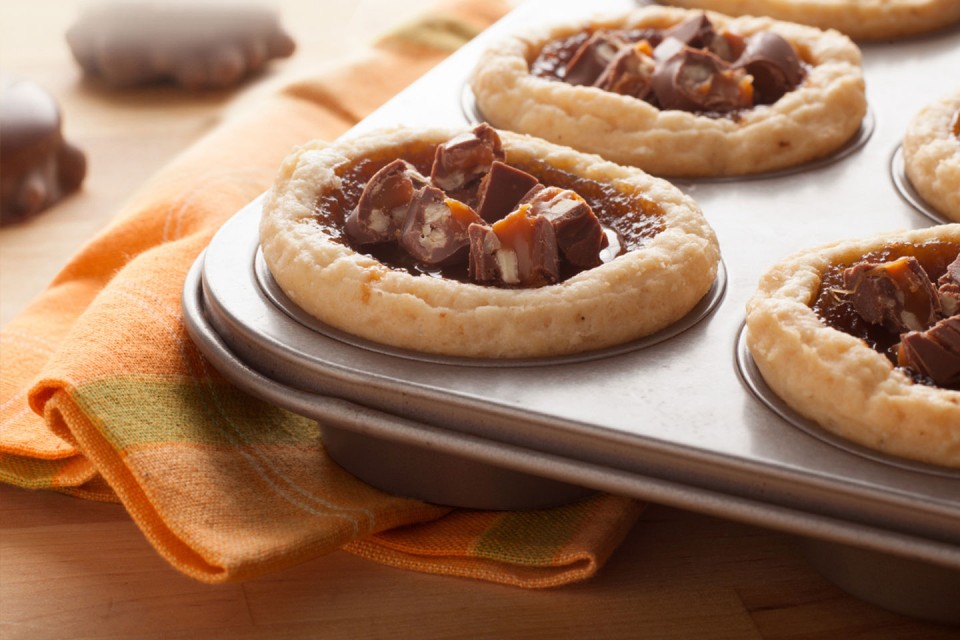 How do you turn butter tarts into better tarts? TURTLES, of course.
What you need
Crust
1-1/2 cups
all-purpose flour
1/4 cup
cold butter, cubed
1/4 cup
lard or butter, cubed
How to prepare
Instructions
Crust: In large bowl, whisk flour and salt. With a pastry blender or two knives, cut in butter and lard until mixture resembles coarse crumbs with a few larger pieces. In liquid measure, whisk egg yolk with vinegar; add enough ice water to make 1/3 cup. Sprinkle over flour mixture, stirring briskly with fork until pastry holds together. Press into disc; wrap in plastic wrap and refrigerate until chilled, about 1 hour. Make-ahead: Refrigerate for up to 3 days.
Filling: In bowl, whisk together brown sugar, corn syrup, egg, butter, vanilla, vinegar and salt until blended; set aside. On lightly floured surface, roll out pastry to 1/8-inch (3 mm) thickness. Using 4-inch (10 cm) round cookie cutter (or empty 28 oz/796 ml can) cut out 12 circles, re-rolling scraps once if necessary. Fit into 2-3/4- x 1-1/4-inch (7 x 3 cm) muffin cups then pour filling into each tart.
Bake in bottom third of 450 F oven until filling is puffed and bubbly and pastry is golden, about 12 minutes. Let stand on rack for one minute. Run metal spatula around tarts to loosen; carefully slide spatula under tarts and transfer to rack to let cool. Add chopped TURTLES on top.
Tips
Dinner party tricks
For dinner parties, serve with TURTLES frozen dessert!
Pinch of salt
Try this recipe with Pecan Praline TURTLES for a saltier taste!