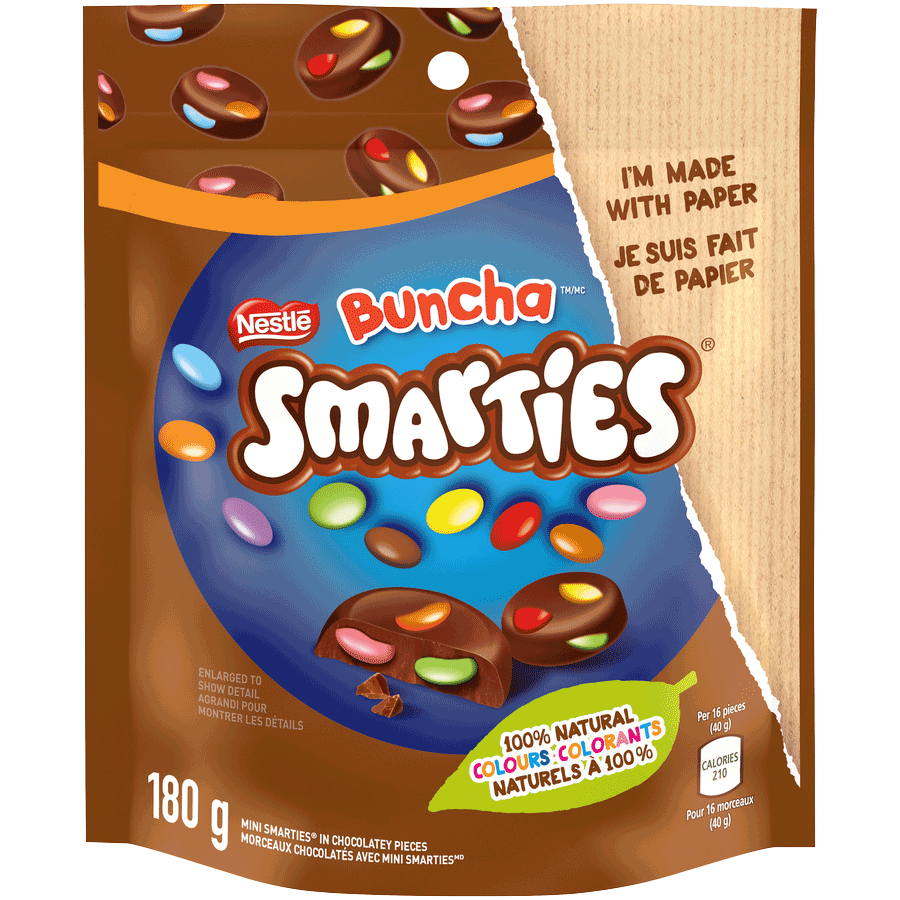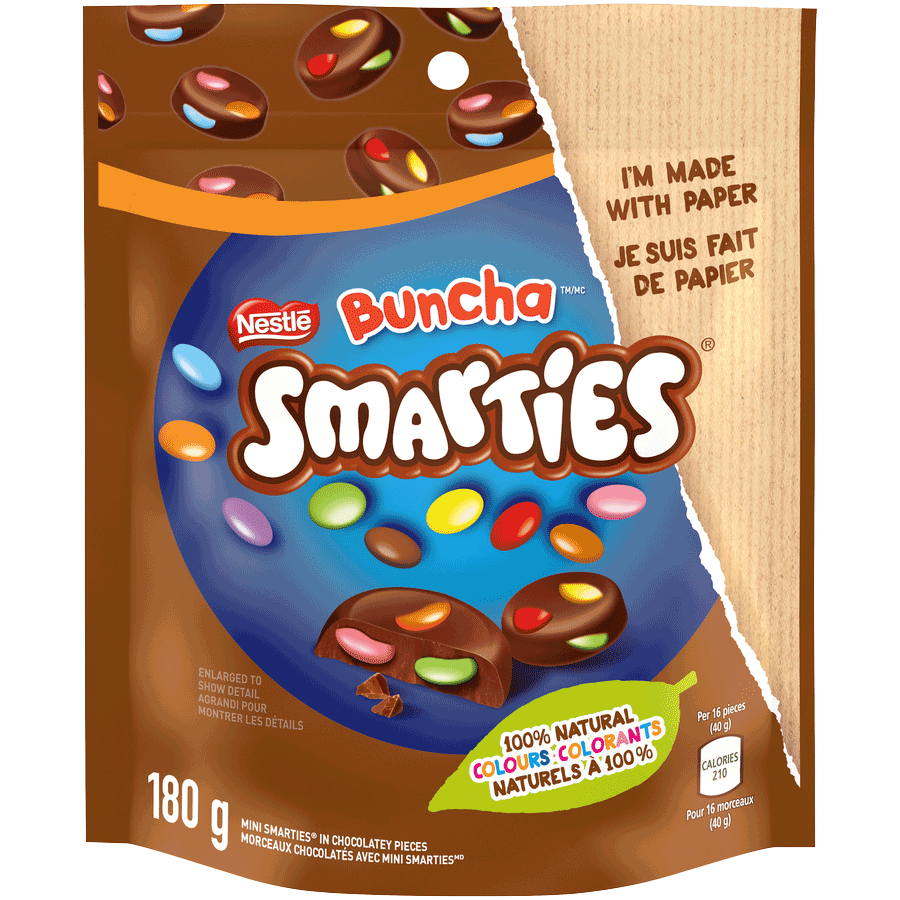 Buncha SMARTIES Pouch
Enjoy the delicious colourful fun of our NEW Buncha SMARTIES (180 g)! Each pouch contains yummy smooth milk chocolatey buttons filled with colourful mini SMARTIES – the classic, crunchy, candy-coated chocolate pieces you know and love. This convenient-sized pouch makes it easy to share with family or friends or take on-the-go when you're looking for that perfect snack to treat yourself and others. Not only are our new Buncha SMARTIES made with sustainably sourced cocoa, they're also made with 100% natural colours and flavours. All Smarties packaging is now made with paper, as part of the SMARTIES initiative to create a more colourful world for our children. Our new packaging will help remove up to 26 tonnes of plastic packaging in Canada, the equivalent of 26 million paperclips!
Buncha SMARTIES Pouch
Features and Benefits
Milk chocolatey bite-sized pieces filled with classic mini, colourful, candy-coated SMARTIES

Grab-and-go pouch — perfect for sharing with friends, or taking along on a family trip

This SMARTIES packaging is now made with paper from responsible sources, certified by Forest Stewardship Council, helping to remove up to 26 tonnes of plastic in Canada

We purchase Rainforest Alliance Certified cocoa, as part of the NESTLÉ COCOA PLAN, working with Rainforest Alliance and farmers to help improve their products and strengthen their communities
Buncha SMARTIES Pouch
Nutrition Information
Per 16 piecies (40 g)
*5% or less is a little, 15% or more is a lot.
Buncha SMARTIES Pouch
Ingredients
Sugar, Modified Milk Ingredients, Cocoa Butter*, Unsweetened Chocolate*, Palm and Vegetable Oils, Cocoa*, Sunflower Lecithin, Rice Starch, Gum Arabic, Shellac, Carnauba Wax, Anthocyanins, Beet Juice Concentrate, Beta-Carotene, Sodium Copper Chlorophyllin, Turmeric, Beeswax, Citric Acid. *Rainforest Alliance certified.