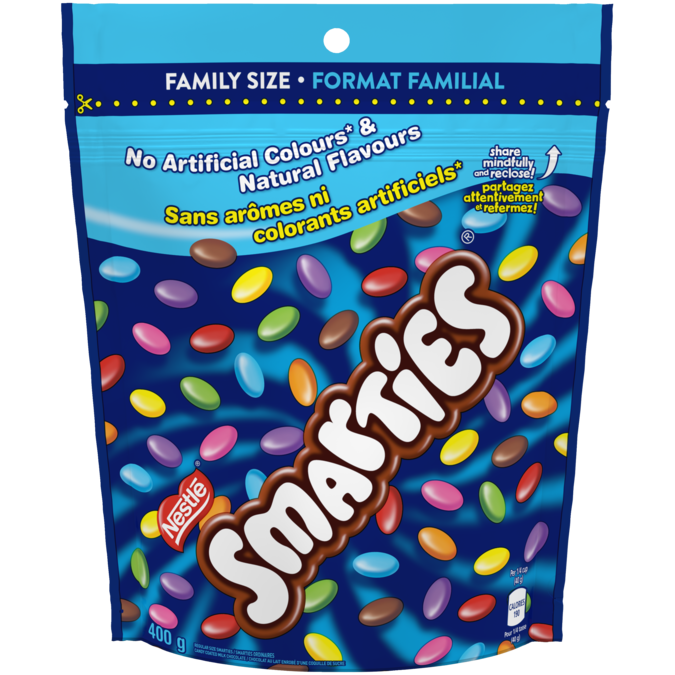 SMARTIES Resealable Bag
It doesn't matter how you sort'em, eat'em, or bake'em into your own creation. Each NESTLÉ® Smarties® Resealable Bag opens up a world of imagination and creativity. The classic, colourful, and crunchy candy-coated sweets come in this perfectly sharable resealable bag. Great for portioning a treat, baking, or taking on a trip. The only question is, will you eat the red ones last?
Features and Benefits
Nutrition Information
Ingredients
SMARTIES Resealable Bag
Features and Benefits
Lots of pieces to play, sort, or inspire with vibrant colours

Resealable package to share, seal, and carry around. It's a perfect choice for baking, bowl servings, or a treat on a long trip.

Not only are they as vibrant as ever, but they're made with natural flavours and no artificial colours.

Delicious milk chocolate pieces coated in a crunchy candy shell.

We put tremendous effort into ensuring each piece is made using quality ingredients sourced in a responsible way.
Description
Features and Benefits
SMARTIES Resealable Bag
Nutrition Information
In the event of any discrepancy between the information listed on this website and on each individual package, please refer to the information listed on package.
SMARTIES Resealable Bag
Ingredients
Milk chocolate (
,
modified milk ingredients
,
,
,
,
polyglycerol polyricinoleate
,
) ,
,
,
,
,
.
Small candies may pose a chocking hazard
.
SMARTIES Resealable Bag
is rated out of
5
by
29
.
Rated

4

out of

5
by
Elizabeth580
from
Some now, some later.
I have with me a 400g bag of SMARTIES in a Reclosable Pouch. I love that this bag recloses to save some for later. The resealable bag helps keep the Smarties fresh. Smarties taste yummy and are good for a quick sweet treat. The crunchy outer shell is crisp for biting into, or for sucking on for a short bit. The chocolatie inside is equally delicious, and sweet. I think the selling feature of this specific product is the resealable bag. It is very handy. Innovative from the old style boxes. I recommend this product to anyone who loves smarties and has some self control to eat some now and reseal the bag to save some for later. ENJOY!
Date published: 2018-03-21
Rated

5

out of

5
by
Amie926
from
Yumy and easy to open and close
I purchased the family pack so we could all share. My kids thought it was great being able to take a handful put it in a bowl and close it back up. The next day i was able to open it and try one and it was fresh as if it was just opened. I was able to put a few in a lunch container and send them to school with the kids with out sending too much. Being able to seal the pack back up and put it away so the kids cant find it was great. I did find it so tempting to try and eat more then i should lol This would be prefect for anyone with more then 1 child. I do think the pack could be a little bigger for a family pack and for the cost.
Date published: 2018-04-04
Rated

5

out of

5
by
Marlyn424
from
Good chocolate but prefer softer outer shell
This product is right for kids that love chocolate and kids at heart. Pros and cons for this product. I like the resealable packaging. Great for on the go and need to keep the chocolate from going stale. My kids like the taste. Great original smarties taste. However, if prefer to have a softer outter shell. The outter shell of this smarties chocolate is to "crunchy" if you will. I'd like to bite into a peice of candy coated chocolate and just have it softly melt with every bite. Compared to other candy coated chocolate, I would rather buy the competitors chocolate.
Date published: 2018-04-04
Rated

5

out of

5
by
Alice671
from
Delicious smarties for snacking or baking!
This is a large format family pack for sharing snacks or for baking. I will be using it for family snacking as well as for decorating cookies and brownies. It comes in a large resealable pouch for protection and freshness and I hope it will last a bit longer in my pantry than the smaller containers. It is suitable for all members of my family. The only disadvantage I can see is that you could overindulge on these. I also like that there are no artificial colours and that natural flavours are used to make these smarties. The cocoa is 100% sustainably sourced.
Date published: 2018-03-21
Rated

5

out of

5
by
Shannon481
from
Smarties for Everyday
I've had a lifelong relationship with Smarties. The crunchy-shelled bites of chocolate have always been a little bit of heaven. The 400 gram re-sealable package offers a quantity of Smarties you can work with! I sampled some (the classic Smarties taste that I know and love), used some for a big batch of Monster cookies, and saved enough for a "Easter bunny trail" for an Easter egg hunt. I love that Smarties have no artificial colours or flavours, just the classic Smarties milk chocolate and shell. They are truly a product for all ages, and many uses.
Date published: 2018-03-21
Rated

5

out of

5
by
Darla530
from
Lots of Smarties!
This is a family size pouch of Smarties. They have no artificial colors and natural flavours with lots of bright colors on the outer shell. This is a nice sized stand up pouch that is resealable and can be kept as a snack to go back to when you have a chocolate craving or the munchies. Sometimes it is difficult to stop though which makes such a big bag a bit tempting. Kids love reaching in for a handful and getting a treat. This is good for a movie night, in the pantry or to take to work. The pouch resealed well to keep the product fresh.
Date published: 2018-03-21
Rated

5

out of

5
by
Ms Direction
from
Love Smarties!
Love these. Great package :) Worlds better than the USA version with the fruity tart buttons!
Date published: 2017-09-14
Rated

4

out of

5
by
Lindsay192
from
Resealable and Delicious
This is a bag full of happiness for sure! Smarties are a staple treat in our house. I love how they have no artificial colours or flavours. The mix of the crunch of the smarties shell mixed with the yummy milk chocolate center is a great combination. Plus all the colour choices make my kids happy. The bag is resealable which is a great feature as the candy inside will stay fresh longer and I don't have to worry about tipping the bag over and having Smarties all over my counter. The sizing is definitely good for multiple people to share. There are 4 of us in my household and a bag this size could provide us chocolate treat portions for the week. The pricing for the size was also very reasonable. A great snack to travel with or simply snack and store at home.
Date published: 2018-03-21