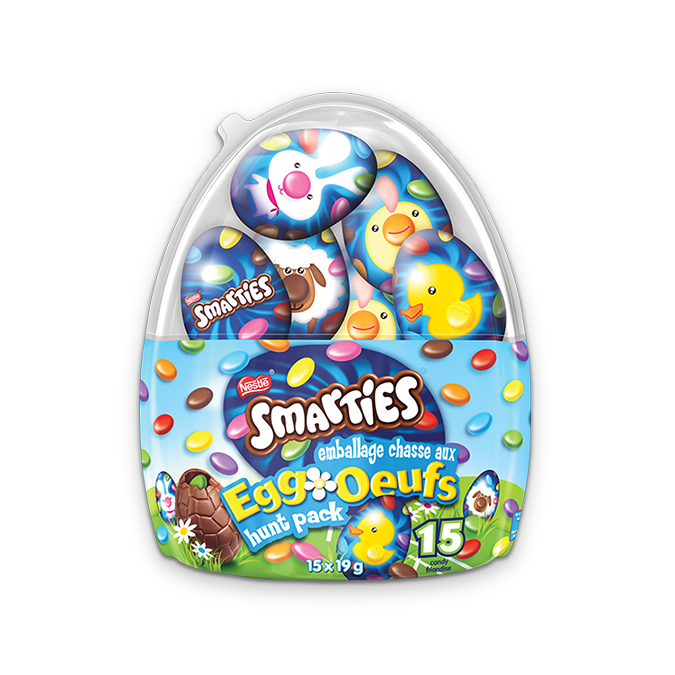 Seasonal
SMARTIES Egg Hunt Pack
15 chocolatey eggs filled with SMARTIES
Features and Benefits
Nutrition Information
Ingredients
SMARTIES Egg Hunt Pack
Features and Benefits
15 foil wrapped chocolate hollow eggs filled with SMARTIES

4 cute Easter designs to collect

Perfect for egg hunts!
Description
Features and Benefits
SMARTIES Egg Hunt Pack
Nutrition Information
In the event of any discrepancy between the information listed on this website and on each individual package, please refer to the information listed on package.
SMARTIES Egg Hunt Pack
Ingredients
,
modified milk ingredients
,
,
,
,
,
,
polyglycerol polyricinoleate
,
,
,
,
, lemon and carrot concentrates (
)
,
, carnauba wax,
,
,
,
.
May contain peanuts,. Small candies may pose a choking hazard.
Colour Mix May Vary.
SMARTIES Egg Hunt Pack
is rated out of
5
by
27
.
Rated

5

out of

5
by
Shannon678
from
Eggstravaganza
Every wished that you could just buy one Easter product and have your whole Easter egg hunt covered? Or ever wanted to take a little Easter treat into the office to share with everyone? These are just two of the scenarios I thought I might use the Nestle Smarties Egg hunt pack for when I opened it up. The kit contains 15 (!!) Nestle milk chocolate eggs, with sweetly decorated Easter-themed wrappers. And to add to the delight is the classic Nestle Smarties on the inside. It's a treat inside of a treat. They were a huge hit my child audience. And a few adults as well! I only wished there were a few more Smarties inside of each egg.
Date published: 2018-03-21
Rated

4

out of

5
by
Monica459
from
Good for egg hunts!
These will be great for hiding for the kids... had to try one before Easter Sunday however! Great chocolate taste (probably same as what the smarties are made of) for the shell with mini smarties hidden inside! A great combo... I like them better than other eggs that might have toys inside that the kids will just push aside after a few minutes. Way as well just have chocolate! :) A little disappointed that they still have wheat in them and my child with celiac disease can't have them though as they still contain wheat. Hoping that some day they remove wheat from Smarties.
Date published: 2018-04-04
Rated

4

out of

5
by
Lindsay358
from
Great for Easter Hunts & Chocolate Lovers
This is a great pack of eggs for any Easter hunt! It comes with 15 eggs inside all with colourful wrapping which is sure to catch the eye of all the kids. Once unwrapped there is a milk chocolate hollow egg. The milk chocolate is pretty tasty and is nice and smooth. Once that egg is cracked open there is 5 smarties inside for an added treat. I personally think there could have been at least a few more smarties packed inside each egg, but otherwise was pleased with the product. It's an easy pack to pick up and get the hunt going!
Date published: 2018-04-04
Rated

4

out of

5
by
Crystal465
from
Really good chcocalate
It's cute the little eggs filled with smarties I like the size of them because they are not to big and would be easy to hide in the house for he kids. It's good the chocolate taste good I am picky about chocolate cause some times they don't taste good but this was, I tried one before my daughter snagged it from me and even she was enjoying it. They are an okay price of 9.98 at Walmart come in a plastic container that is easy to open and can be reseated once you take one out. Easy to break open to get to the smarties and delicious.
Date published: 2018-03-21
Rated

5

out of

5
by
Shawn899
from
Good product
These are cute and hollow smartie filled chocolate eggs, I like that there are 15 of them, I like that they are easy to break open and eat. I also like that they are not to big I'm not a big chocolate eater so these are a good size. They are a little bit more then I would like to pay for them but I guess having two chocolate in one helps with the cost. They are not to sweat so that's a good thing. I like that they are small enough that I can take them with me in my lunch or just when I'm on the go. Great little product.
Date published: 2018-03-21
Rated

5

out of

5
by
Tim962
from
Easter Bunny Favorite
Smarties Easter Egg Hunt pack comes with fifteen individually wrapped eggs making it a great choice to fulfill your duties as the Easter Bunny. The eggs are each wrapped in foil and have a cute Easter theme. The designs are helpful because there are several of each so you can assign each child a design or two to find so the hunt is fair and equal. Each egg is made of milk chocolate and is filled with Smarties so it's like two treats in one. The eggs come in a large plastic case that protects them pretty well.
Date published: 2018-03-21
Rated

4

out of

5
by
Lysianne332
from
Great chocolate egg with treat inside
I'm not going to lie, my husband and I fought over who would get to eat the SMARTIES Egg Hunt Pack (285 gram) (we are planning on using the rest for our Easter egg hunt!), in the end we shared one and it was delicious! The chocolate of the egg was thick and creamy and there was a bunch of smarties inside (I believe it was 4 of them). I think my kids are going to love them and I can't wait for them to get them on Easter! I would highly recommend and I hope they bring them back next year! Great product!
Date published: 2018-04-04
Rated

5

out of

5
by
Lauren395
from
Cute Easter Treats!
Very cute set of hollow chocolate eggs filled with Smarties. Perfect size for a small treat for kids, and fun that they're filled with Smarties. Very cute Easter designs on the packaging of the eggs themselves, very festive and kid friendly. I would prefer it to be an even number of treats in the package so they could be divided evenly between two children. Otherwise great! I do love that they come in a hard plastic case as so the eggs don't get crushed or cracked during transport.
Date published: 2018-03-21