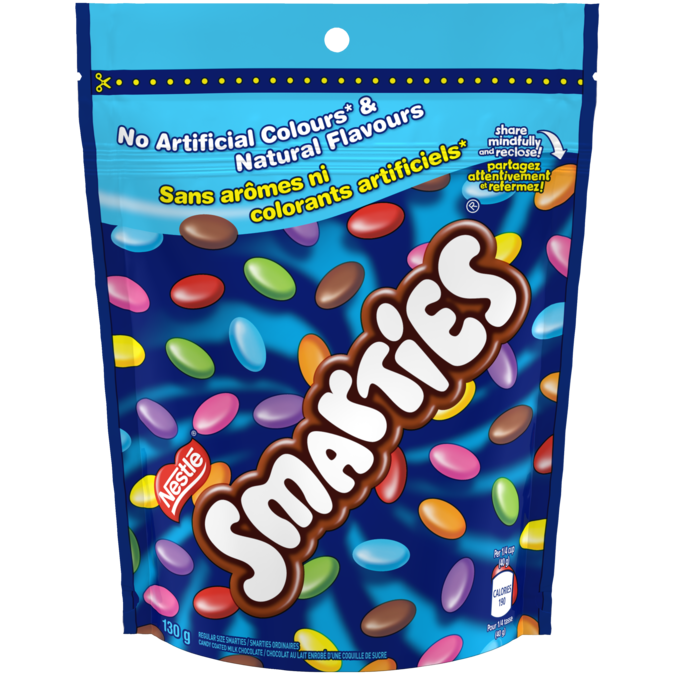 SMARTIES Resealable Bag
It doesn't matter how you sort'em, eat'em, or bake'em into your own creation. Each NESTLÉ® Smarties® Resealable Bag opens up a world of imagination and creativity. The classic, colourful, and crunchy candy-coated sweets come in this perfectly sharable resealable bag. Great for portioning or carrying on a trip. The only question is, will you eat the red ones last?
Features and Benefits
Nutrition Information
Ingredients
SMARTIES Resealable Bag
Features and Benefits
Lots of pieces to play, sort, or inspire with vibrant colours

Resealable package to share, seal, and carry around. It's a perfect choice for baking, bowl servings, or a treat on a long trip.

Not only are they as vibrant as ever, but they're made with natural flavours and no artificial colours.

Delicious milk chocolate pieces coated in a crunchy candy shell.

We put tremendous effort into ensuring each piece is made using quality ingredients sourced in a responsible way.
Description
Features and Benefits
SMARTIES Resealable Bag
Nutrition Information
In the event of any discrepancy between the information listed on this website and on each individual package, please refer to the information listed on package.
SMARTIES Resealable Bag
Ingredients
MILK CHOCOLATE (
,
MODIFIED MILK INGREDIENTS
,
,
,
,
POLYGLYCEROL POLYRICINOLEATE
,
) ,
,
,
,
,
.