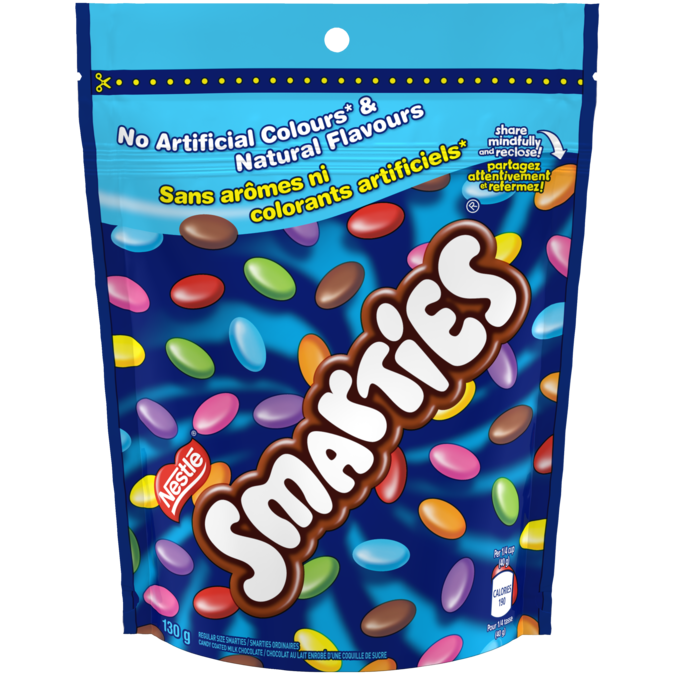 SMARTIES Resealable Bag
It doesn't matter how you sort'em, eat'em, or bake'em into your own creation. Each NESTLÉ® Smarties® Resealable Bag opens up a world of imagination and creativity. The classic, colourful, and crunchy candy-coated sweets come in this perfectly sharable resealable bag. Great for portioning or carrying on a trip. The only question is, will you eat the red ones last?
Shop Now
Features and Benefits
Nutrition Information
Ingredients
SMARTIES Resealable Bag
Features and Benefits
Lots of pieces to play, sort, or inspire with vibrant colours

Resealable package to share, seal, and carry around. It's a perfect choice for baking, bowl servings, or a treat on a long trip.

Not only are they as vibrant as ever, but they're made with natural flavours and no artificial colours.

Delicious milk chocolate pieces coated in a crunchy candy shell.

We put tremendous effort into ensuring each piece is made using quality ingredients sourced in a responsible way.
Description
Features and Benefits
SMARTIES Resealable Bag
Nutrition Information
In the event of any discrepancy between the information listed on this website and on each individual package, please refer to the information listed on package.
SMARTIES Resealable Bag
Ingredients
MILK CHOCOLATE (
,
MODIFIED MILK INGREDIENTS
,
,
,
,
POLYGLYCEROL POLYRICINOLEATE
,
) ,
,
,
,
,
.
SMARTIES Resealable Bag
is rated out of
5
by
30
.
Rated

5

out of

5
by
Kathy403
from
SMARTIES Reclosable Pouch (130 gram)
The Smartie contains no artificial colours and contains natural flavours. Love the fact the package is resealable, you can take what you need and seal back up. These are a creamy button chocolate covered with a hard candy coating. This product is made with 100% sustainable sourced cocoa. Smarties are also Canadian made. Very easy for an adult to give a child as they can portion control. I would recommend to anyone but being this small might become a choking hazard. I can never eat just one Smartie so this 130 gram package is the perfect size if you want a little bit more than the smaller packages.
Date published: 2018-03-21
Rated

5

out of

5
by
Lysianne927
from
Great resealable pouch!
I've always loved Smarties, but I never wanted to eat a whole box in one shot (or rather I told myself that it would be better if I didn't the whole box in one shot) and it was always hard to keep the candies inside the box once it was open so the SMARTIES Reclosable Pouch (130 gram) is a great option for those who, like me, want to eat just a little bit of candy at the time. Although I miss the bright colors of the original Smarties, I am happy that they no longer have artificial colors (it doesn't change the taste). I love the resealable pouch, it's a great concept. I also found that 130g was the perfect size. Overall, great product and I will definitely be buying it again.
Date published: 2018-03-21
Rated

4

out of

5
by
Lynda151
from
duller in colour but sweeter in taste
to me its not a big deal if the Smarties come in a resealable bag or not, but for some its great and I can see why...if you don't eat them all in one sitting, seal them up...I have yet to hear if smarties can go bad, as they have a hard coating on them and they get eaten up very quickly... I know the chocolate inside can go soft and melt and having them in a resealable bag would confined the mess of it...but I don't see any recycling symbols on it to say I can recycle it, more has to be done by these corporations....also i find the smarties in colour are not as bright, rather dull looking and they are more sweeter than I remember ...I have to say the last time I had smarties might be 10 years ago when my kids were younger
Date published: 2018-04-04
Rated

4

out of

5
by
Susanne811
from
Perfectly Portable Treat = Smarties Resealable Bag
Nestle Smarties Resealable Bag is a cool way to enjoy this classic treat! The pouch can be zipped shut allowing these tiny treats to be stashed in a purse, diaper bag, carry-on bag or other secret hiding place without spilling & making a mess. Great for keeping Smarties fresh and handy for decorating baked goodies. A nice change from the Smarties box we had when we grew up. Easy closing, easy opening ....great for all ages! Share some or keep them all to yourself this is a nice size portion and the perfect way to enjoy everyones fave candy coated treat!
Date published: 2018-03-21
Rated

4

out of

5
by
Monica862
from
Same great smarties taste!
More smarties than in a box, but less than the bigger bags... great to sneak in to your bag to take with you as it's not huge... and it's resealable, so shouldn't open in your bag... just sneak some... no need to share with the kids! A "take to the movies and not share" bag! Most in our family are able to eat Smarties and we love their taste, but are disappointed that they still contain Wheat and therefore our child with Celiac disease is still unable to eat them. The rest of us still enjoy them though!
Date published: 2018-04-04
Rated

5

out of

5
by
Ashley191
from
Delicious snack and stays fresh!
A delicious treat for my family. The re-closable bag is a great feature as we are able to snack on a few and then put the bag away knowing the smarties will still be fresh. We were able to enjoy some for our St.Pattys Day party and still have lots left for our Easter EggHunt coming up. The product bag size was hard to find with my local stores, but once found the price was great for the amount of smarties you get! Highly recommend and will purchase again.
Date published: 2018-03-21
Rated

5

out of

5
by
Robin634
from
Convenient, Resealable Take Along Smarties
I enjoyed the 130g Smarties Resealable pouch as it was very convenient to use, share, and not worry about spilling out in my bag. The portion size was perfect for sharing amongst colleagues with a little left aftertoa bring home. I was definitely satisfied withthwi price point as well. It was very appropriate for the amount of product received. I would highly recommend this product for the convenoconv of on-the-go portion control of goodness.
Date published: 2018-03-21
Rated

4

out of

5
by
Darla524
from
Have some, Save some
This is a nice sized resealable bag of colorful classic candy-coated sweets. The bag is easily ripped or cut open at the top with lots of room to open and reseal with resealable feature. This is a good size designed bag for taking in the car, to work or on road trips to have as a snack size pack and have bits at a time. The smarties were tasty with a hard crunchy shell and soft chocolate centre. Fun for kids and adults alike!
Date published: 2018-03-21