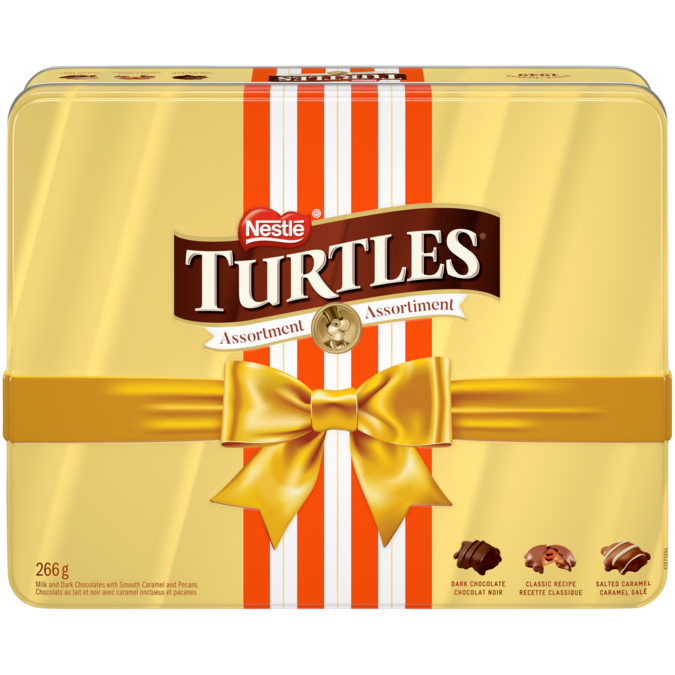 TURTLES Assorted Holiday Gift Chocolates Tin
Indulge this holiday season with a special tin of TURTLES Assorted Holiday Gift Chocolates Tin. Filled with a mix of Salted Caramel, Dark Chocolate, and the Classic Recipe TURTLES, each bite has that irresistible, slow pull of caramel and the crunch of pecans that makes for a delightful experience to share with family and friends. Guaranteed, this is one box of deliciousness that will have everyone saying, "Mmm… I love TURTLES."
Features and Benefits
Nutrition Information
Ingredients
TURTLES Assorted Holiday Gift Chocolates Tin
Features and Benefits
Assortment of three irresistible TURTLES flavours: Salted Caramel, Dark Chocolate, and Classic Recipe

TURTLES are made with only quality, natural flavours – gluten-free!

This limited-edition tin is a perfect gift for all chocolate lovers, and TURTLES fanatics

We purchase 100% Sustainably Sourced Cocoa certified by UTZ, as part of the NESTLÉ COCOA PLAN. We work with UTZ and farmers to improve the quality of their products and strengthen their communities

TURTLES has been a Canadian favourite since 1949!
Description
Features and Benefits
Did You Know…
We eliminated corrugate shroud wrap on our Costco pallets in 2014, reducing shroud use by 1,145 kgs!
TURTLES Assorted Holiday Gift Chocolates Tin
Nutrition Information
In the event of any discrepancy between the information listed on this website and on each individual package, please refer to the information listed on package.
TURTLES Assorted Holiday Gift Chocolates Tin
Ingredients
,
,
,
modified milk ingredients
,
,
,
,
,
,
,
.
May contain peanuts and other tree nuts
.