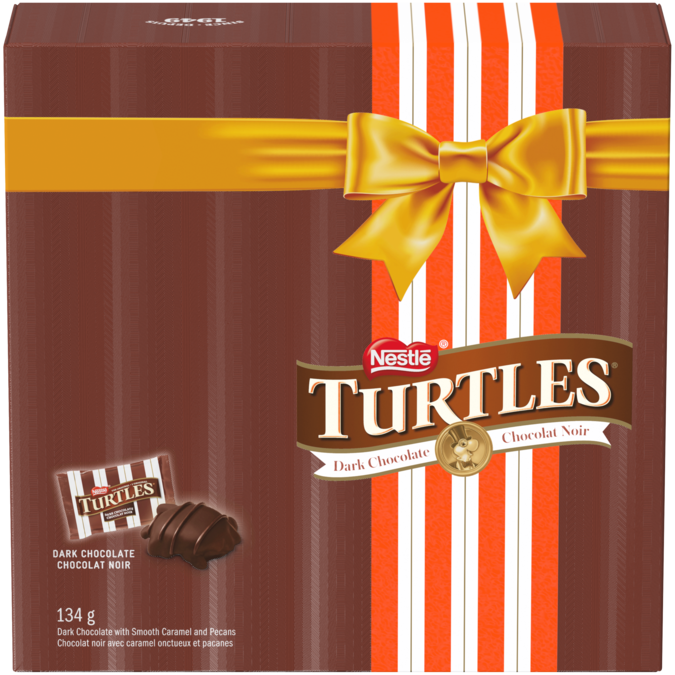 New
TURTLES Dark Chocolate Holiday Gift Box
It's the classically indulgent taste of TURTLES, with a dark side. TURTLES Dark Chocolate Holiday Gift Box (134 g) is a specially decorated box and full of individually-wrapped TURTLES – perfect for giving to that special someone. There's no denying the rich dark chocolate, smooth caramel, and pecan pieces. The slow pull of creamy caramel and the crunch of pecans all covered by a dark chocolate layer is nothing less than pure delight. Maybe if you're lucky, the person you gift this to will share a piece back, and have you saying, "Mmm… I love TURTLES!".
Features and Benefits
Nutrition Information
Ingredients
TURTLES Dark Chocolate Holiday Gift Box
Features and Benefits
Individually-wrapped, this delicious, chewy mouthful is the perfect combination of delectable rich dark chocolate filled with creamy caramel and crunchy pecans

TURTLES are gluten free, made with quality ingredients and all natural flavours

A holiday favourite chocolate, this festively-decorated box is easy to gift to your loved ones

Perfect for sharing a warm, indulgent bite to make your special holiday moments magical

We purchase 100% Sustainably Sourced Cocoa certified by UTZ, as part of the NESTLE COCOA PLAN. We work with UTZ and farmers to improve the quality of their products and strengthen their communities
Description
Features and Benefits
Did You Know…
Nestlé is a proud partner of Food Banks Canada.
TURTLES Dark Chocolate Holiday Gift Box
Nutrition Information
In the event of any discrepancy between the information listed on this website and on each individual package, please refer to the information listed on package.
TURTLES Dark Chocolate Holiday Gift Box
Ingredients
Sugars (
,
) ,
,
,
modified milk ingredients
,
,
,
,
,
.