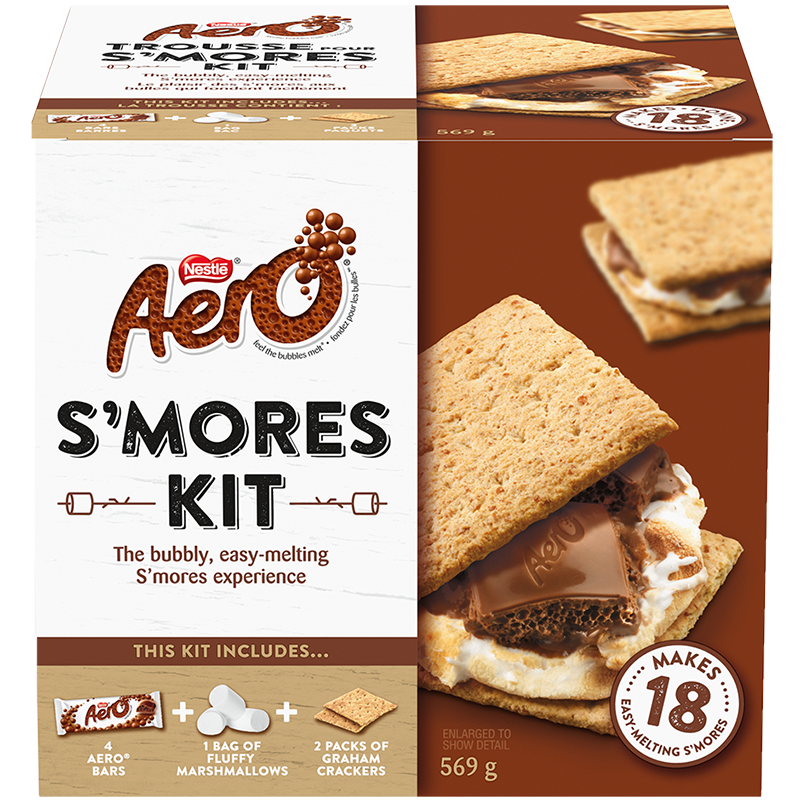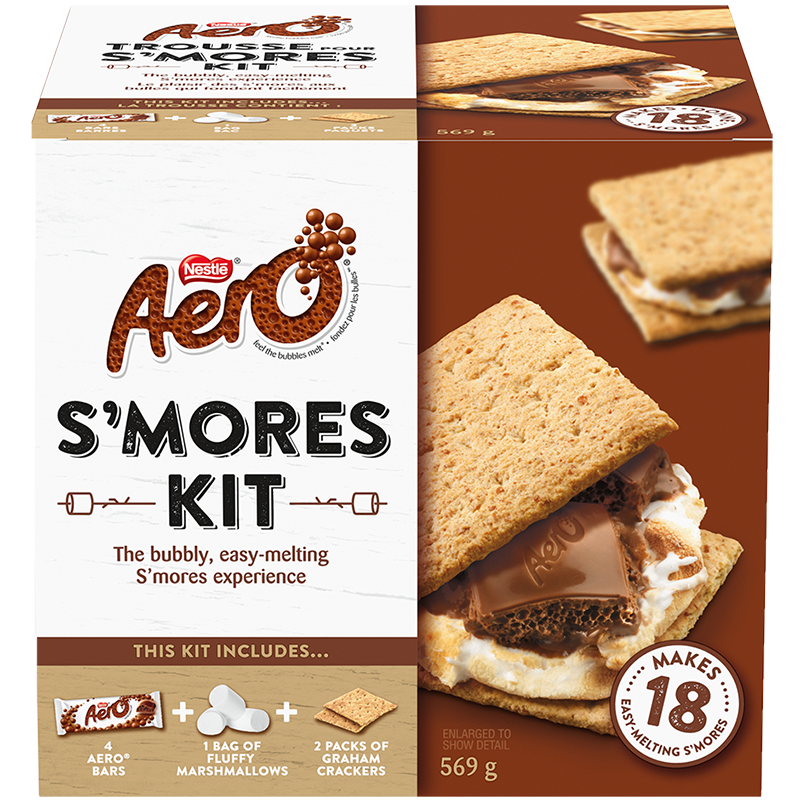 AERO S'mores Kit
Two loves have come together: the irresistible, melt-in-your-mouth bubbles of AERO® and the rich and delicious crunch of S'mores. NESTLÉ AERO® S'mores Kit (569 g) enhances the experience of making S'mores around the fire by introducing AERO®'s signature bubbles that provide a superior melt and make each bite extra delicious. Complete with fluffy marshmallows and graham crackers, this kit is all set for sharing the ooey-gooey goodness with friends and family. Either around a campfire, a BBQ, at the cottage, or just at home, take a moment to just indulge while you FEEL THE BUBBLES MELT™. With bubbly AERO® there is clearly S'more to love!
AERO S'mores Kit
Features and Benefits
A complete s'mores kit with graham crackers, fluffy marshmallows, and AERO® Milk Chocolate bars to create the bubbly, easy-melting S'mores experience

This convenient kit has everything you need to share 18 delicious AERO® S'mores with family and friends

Simply place 2 pieces of AERO® over a toasted marshmallow, and sandwich between two graham crackers halves. But why stop there? Try exciting twists on the classic by adding your own creative toppings

Great for camping, at the cottage, BBQs, or even simply at home

Kit includes 4 AERO® 42 g Milk Chocolate bars, 1 bag of fluffy marshmallows, and 2 packs of graham crackers

With bubbly AERO® there is clearly S'more to love!
AERO S'mores Kit
Nutrition Information
NESTLÉ® AERO® Milk Chocolate Bar 42g
Per 1 bar (42 g)
Marshmallows
Per 4 pieces (28 g)
Graham Crackers
Per 2 full cracker sheets (31 g)
AERO S'mores Kit
Ingredients
NESTLÉ® AERO® Milk Chocolate Bar 42g
Milk Chocolate (Sugar, Modified Milk Ingredients, Cocoa Butter, Cocoa Mass, Soy Lecithin, Polyglycerol Polyricinoleate, Natural Flavour).
Marshmallows
Corn syrup, sugar, modified corn starch, gelatin, dextrose, natural flavour, tetrasodium pyrophosphate.
Graham Crackers
Wheat flour, sugar, graham flour, vegetable oil, glucose-fructose, honey, baking soda, salt, ammonium bicarbonate, monocalcium phosphate, soy lecithin, artificial flavour.