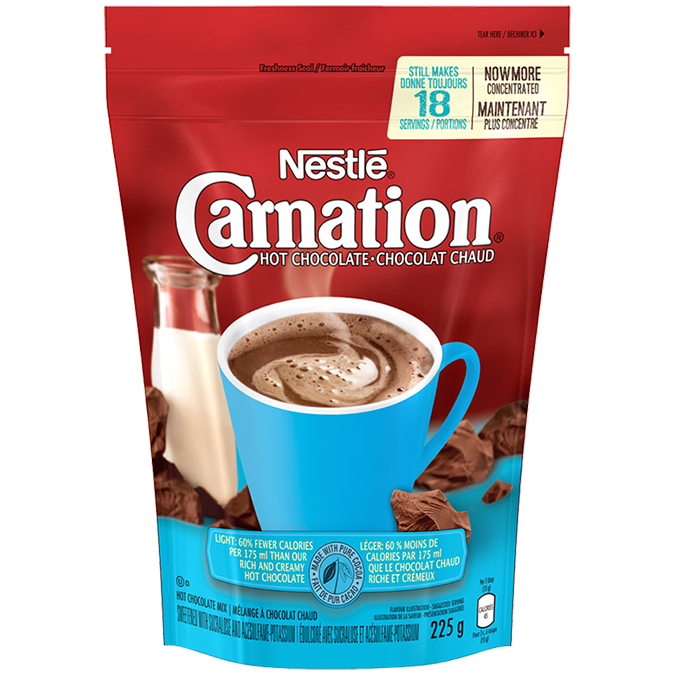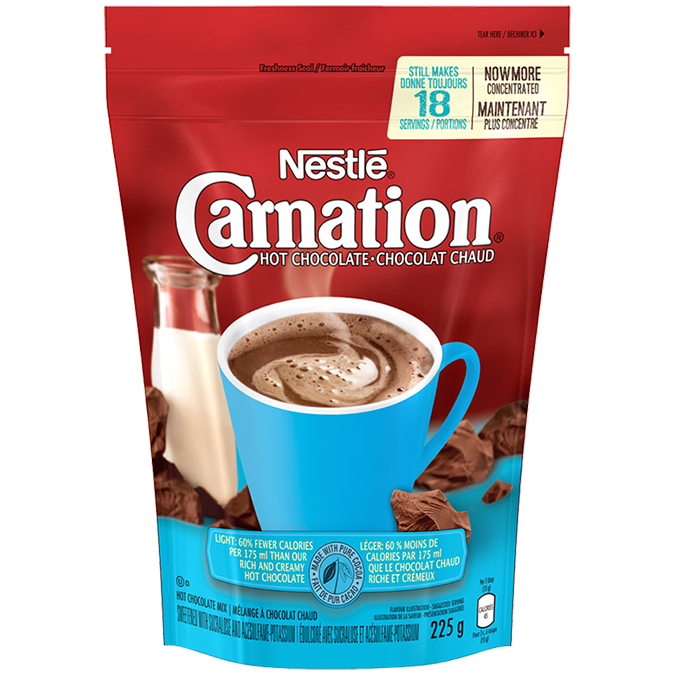 CARNATION Hot Chocolate Light
Enjoy the delicious taste of CARNATION® Light Hot Chocolate with 60% fewer calories per 175 ml serving than our original flavour. Without compromising any taste, you'll still get the sweet and creamy taste of hot chocolate with a lighter sip.
CARNATION Hot Chocolate Light
Features and Benefits
Canada's #1 hot chocolate brand* *Nielsen Market Track 2016

Easily made by mixing with hot water, or mix with steaming hot milk for an extra creamy cup

NEW pouch packaging! Easy open and close seal; locks in freshness and easy to store

45 calories per 175 ml serving (60% less energy than CARNATION® Hot Chocolate Rich and Creamy)

CARNATION® is perfect for enjoying fond moments with friends and family at the cottage or on a ski trip as you take a break and sip some delicious hot chocolate

CARNATION® is your warm hug on a cold day putting a smile on your face even on the chilliest days
CARNATION Hot Chocolate Light
Nutrition Information
CARNATION Hot Chocolate Light
Ingredients
Modified Milk Ingredients, Skim Milk Powder, Cocoa, Carrageenan, Salt, Artificial Flavour, Sucralose, Acesulfame-Potassium. Contains 20 mg Sucralose and 5 mg Acesulfame-Potassium per 13 g serving.
May contain Soy and Wheat.
RECIPES
Carnation Frozen Hot Chocolate
Create the perfect summer indulgent treat, frozen hot chocolate. Simply blend with ice and milk, then enjoy!
RECIPES
Bite-Size Chocolate Cinnamon Pets de Soeur
Pets de sœur, literally translated as Nun farts, and also known to some as "Croxignolles" is a French-Canadian dessert that is often made up from left over pie dough; at times from Tourtière. This quick and easy dessert was can be craft to avoid food waste and ensure that every last ingredient and bite is enjoyed and devoured. This take on a classic French-Canadian treat is rolled with an irresistible Carnation Hot Chocolate and cinnamon filling, then baked instead of fried.