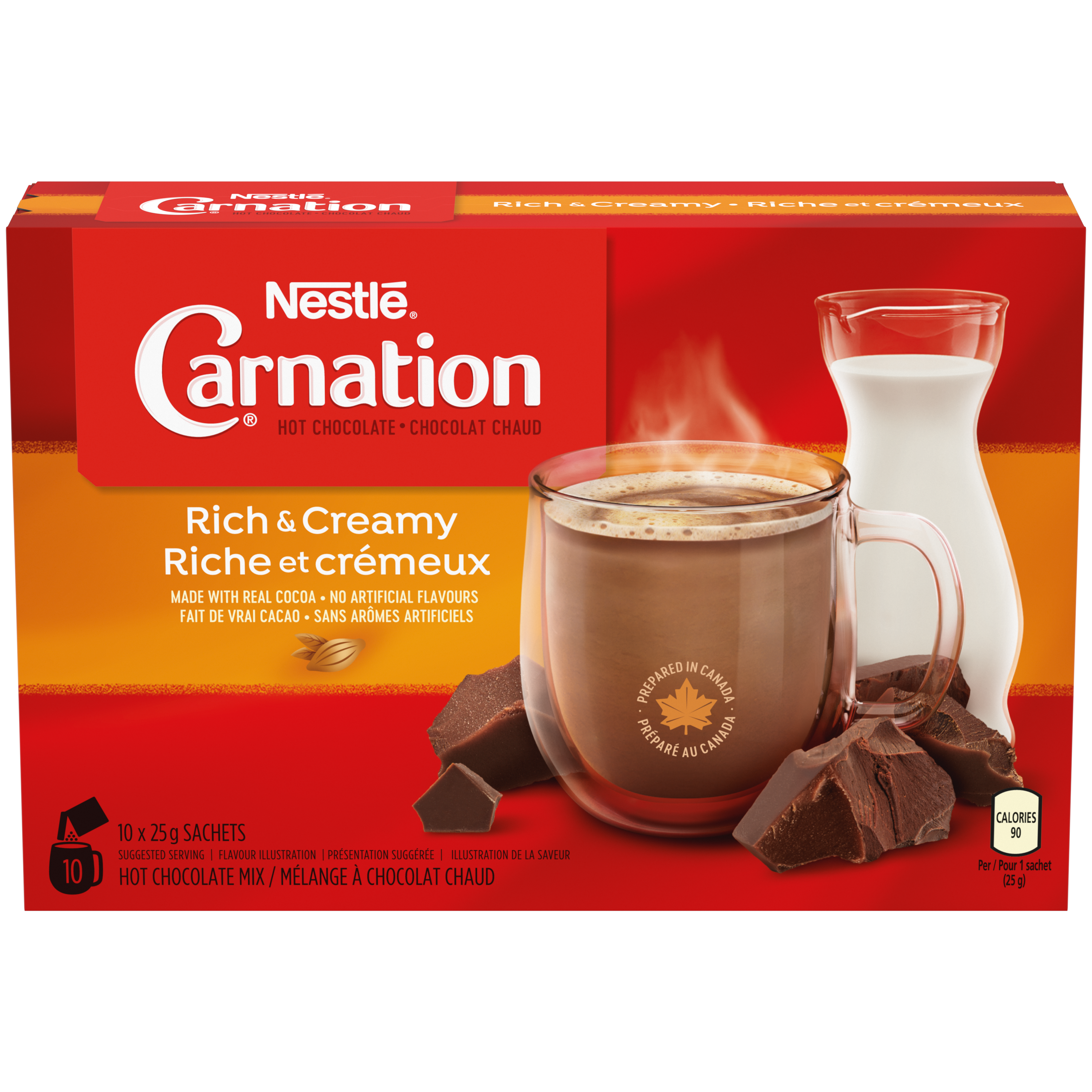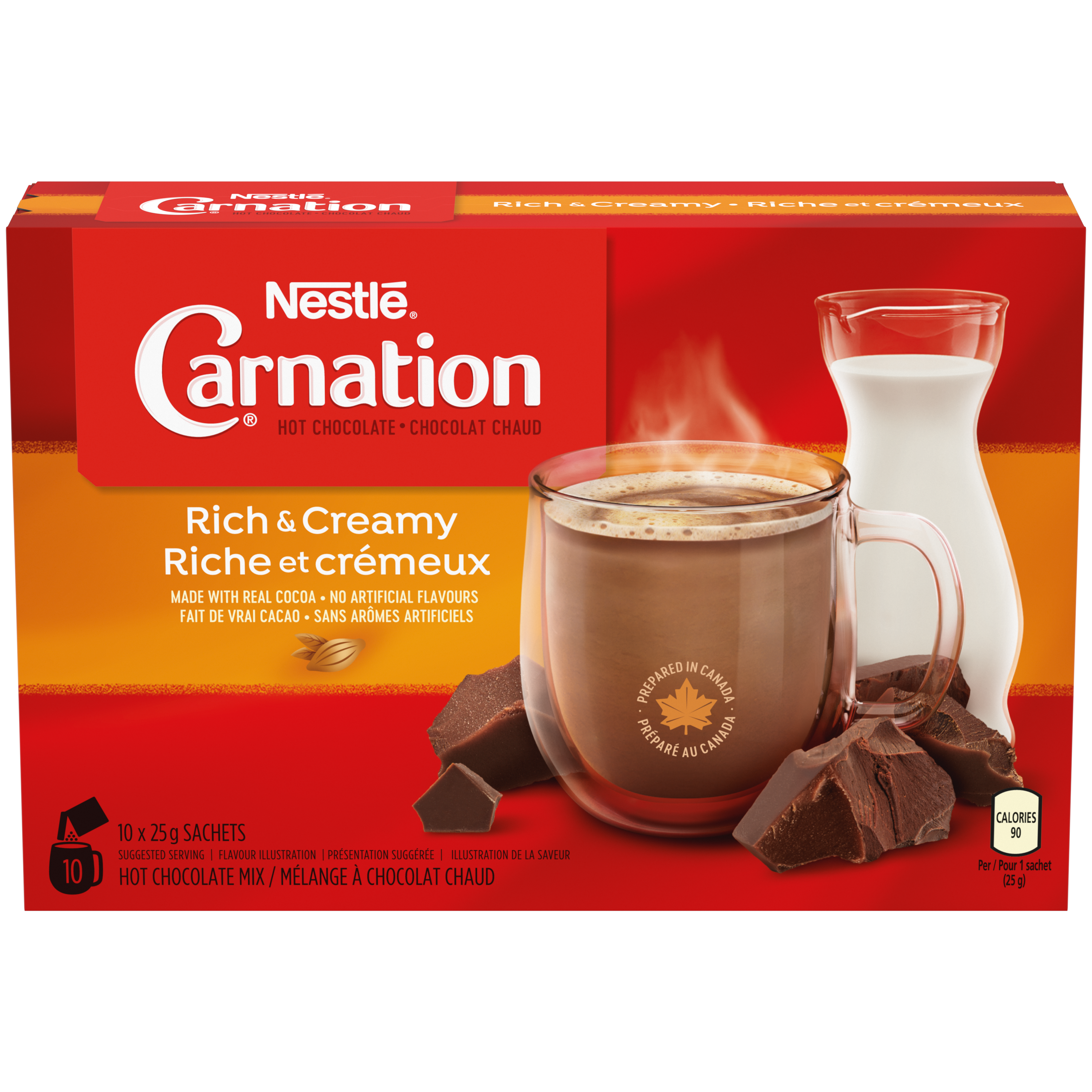 CARNATION Rich and Creamy Hot Chocolate
Sip some good with CARNATION Rich & Creamy Hot Chocolate (10 x 25 g); NEW recipe & look; with the same great taste! Made with real and 100% sustainably sourced cocoa*, with no artificial flavours. CARNATION is committed to sustainable cocoa farming practices and helping farmers build a sustainable future for their communities. Proudly prepared in Canada, each carton contains 10 individual envelopes that mixes up a rich and creamy cup of hot chocolate you know and love. Perfect for sharing on a cold day, at the cottage, around a campfire, or taking a moment by yourself at home.
*Rainforest Alliance Certified, as part of the NESTLÉ COCOA PLAN
CARNATION Rich and Creamy Hot Chocolate
Features and Benefits
10 Envelopes of delicious Rich & Creamy hot chocolate

Made with Real Cocoa & No Artificial Flavours

We purchase 100% Sustainably Sourced Cocoa certified by Rainforest Alliance, as part of the NESTLÉ COCOA PLAN

Pre-dosed, easy-to-mix packets

Perfect to mix with hot water or steaming hot milk for an extra creamy cup
CARNATION Rich and Creamy Hot Chocolate
Nutrition Information
Per 1 sachet (25 g)
*5% or less is a little, 15% or more is a lot
CARNATION Rich and Creamy Hot Chocolate
Ingredients
Sugar (sugar, glucose solids, lactose), Modified milk ingredients, Cocoa*, Hydrogenated vegetable oil (coconut and/or palm kernel and/or soybean), Carrageenan, Salt, Potassium chloride, Dipotassium phosphate, Mono- and diglycerides, Silicon dioxide, DATEM, Natural flavour.

*Rainforest Alliance Certified
Remember, small kids have small tummies, so serve a smaller portion.
Add ¾ cup (175 ml) hot water to mix. For extra rich, creamy goodness, replace water with steaming hot milk. Stir & enjoy!
RECIPES
Bite-Size Chocolate Cinnamon Pets de Soeur
Pets de sœur, literally translated as Nun farts, and also known to some as "Croxignolles" is a French-Canadian dessert that is often made up from left over pie dough; at times from Tourtière. This quick and easy dessert was can be craft to avoid food waste and ensure that every last ingredient and bite is enjoyed and devoured. This take on a classic French-Canadian treat is rolled with an irresistible Carnation Hot Chocolate and cinnamon filling, then baked instead of fried.
RECIPES
Carnation Frozen Hot Chocolate
Create the perfect summer indulgent treat, frozen hot chocolate. Simply blend with ice and milk, then enjoy!