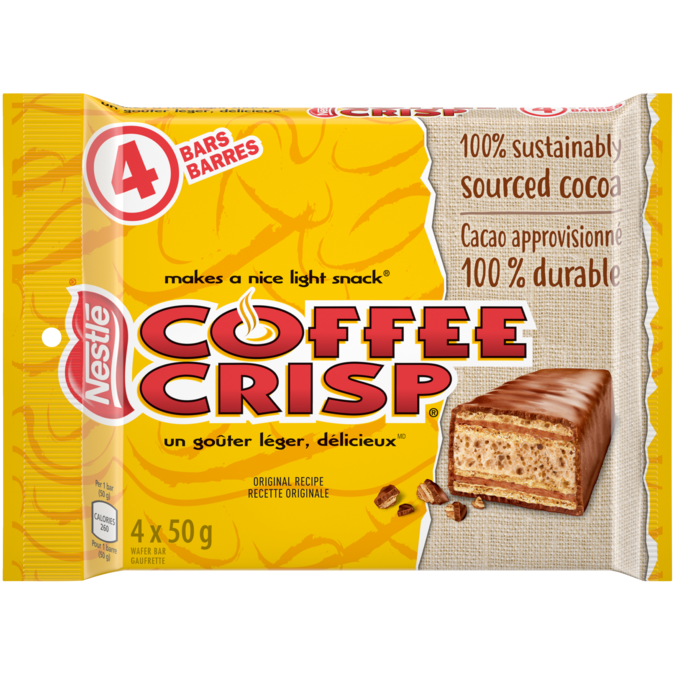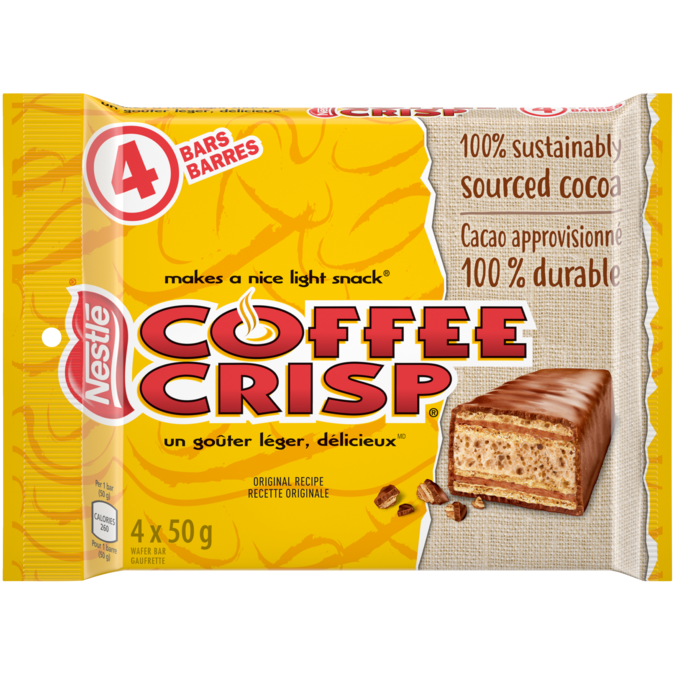 COFFEE CRISP 4-Pack
Savour the airiness and crunch that Canadians agree makes a nice, light snack. This 4-Pack of COFFEE CRISP Milk Chocolatey Wafer Bars is perfect for sharing the satisfying harmony of crispy vanilla wafer, coffee-crème filling, and a thin chocolatey coating. Proudly produced at our Sterling Rd. factory in Toronto, Ontario, each bar is made with naturally-sourced ingredients like cocoa, coffee, and natural flavors for that real coffee taste. Plus, we use only 100% sustainably sourced cocoa, to ensure the best quality, and strengthen the communities of our farmers. It's no wonder why COFFEE CRISP has been a uniquely Canadian treat and a shared fan favourite for decades.
COFFEE CRISP 4-Pack
Features and Benefits
4-Pack bars of crispy vanilla wafers with a coffee-crème filling, and a thin, chocolatey coating

Made with quality, natural flavours in a peanut-free facility

4 full-sized bars – perfect for sharing the delicious coffee taste and aroma with family and friends

We purchase 100% Sustainably Sourced Cocoa certified by UTZ, as part of the NESTLÉ COCOA PLAN. We work with UTZ and farmers to improve the quality of their products and strengthen their communities

COFFEE CRISP has been a Canadian favourite since 1938 – proudly produced in Toronto, Ontario
COFFEE CRISP 4-Pack
Nutrition Information
COFFEE CRISP 4-Pack
Ingredients
Sugar, Wheat Flour, Modified Milk Ingredients, Palm Oil, Modified Palm and Vegetable Oils, Cocoa Butter, Cocoa Mass, Soy Lecithin, Coffee, Cocoa, Baking Soda, Yeast, Polyglycerol Polyricinoleate, Natural Flavours.
RECIPES
COFFEE CRISP Birthday Cake
A new take on a classic cake. There's no better way to celebrate than with this delicious birthday cake recipe. A COFFEE CRISP lover's dream!
RECIPES
COFFEE CRISP Canada Day Birthday Shot
What better way to say cheers for Canada's 150th than with your favourite Canadian wafer bar? Wow your guests with this quick and easy recipe!