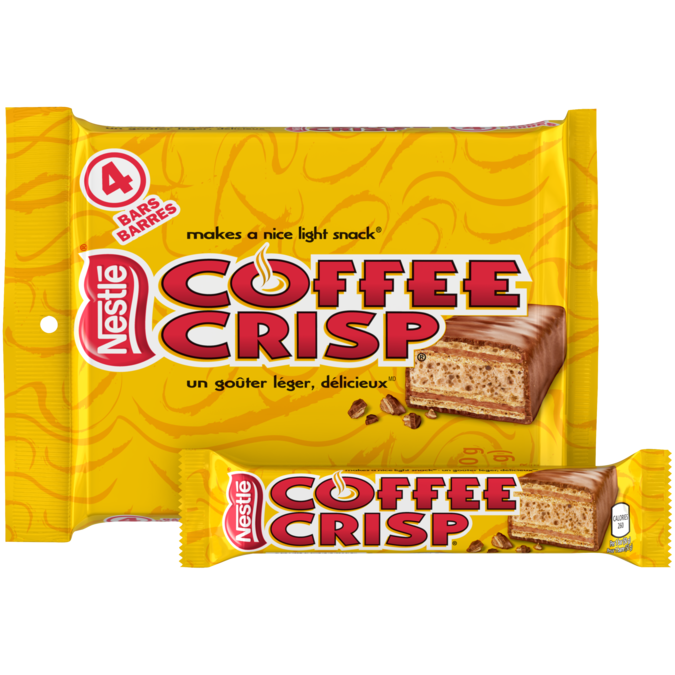 COFFEE CRISP 4-Pack
Refresh your taste buds with a COFFEE CRISP. The harmonious blend of crispy wafer, thin chocolatey coating, and subtle coffee aroma, makes for a nice, light snack®. Not too heavy, not too sweet – perfectly balanced.
Shop Now
Features and Benefits
Nutrition Information
Ingredients
COFFEE CRISP 4-Pack
Features and Benefits
We put tremendous effort into ensuring they're made using quality ingredients sourced in a responsible way

We purchase 100% Sustainably Sourced Cocoa certified by UTZ, as part of the NESTLÉ COCOA PLAN. We work with UTZ and farmers to improve the quality of their products and strengthen their communities

COFFEE CRISP is filled with alternating layers of vanilla wafer and delicious coffee cream covered with an outer layer of chocolatey goodness

COFFEE CRISP has been a uniquely Canadian treat that's been a favourite for decades, produced at the Sterling Rd. factory in Toronto, Ontario

Includes 4 bars to share with friends or loved ones. Things are always better when you share!
Description
Features and Benefits
COFFEE CRISP 4-Pack
Nutrition Information
In the event of any discrepancy between the information listed on this website and on each individual package, please refer to the information listed on package.
COFFEE CRISP 4-Pack
Ingredients
,
,
Modified Milk Ingredients
,
,
Modified Palm and Vegetable Oils
,
,
,
,
,
,
,
,
Polyglycerol Polyricinoleate
,
.
COFFEE CRISP 4-Pack
is rated out of
5
by
84
.
Rated

3

out of

5
by
Truthinadvertising1
from
Favorite but light
So a regular bar is 50 g. I bought a package that says 2 Pack. It was a surprise to see that in small print it was a 75 g bar (king size). Should it not be clearly a marked as king size not 2 pack. The way it is marked the total should be 100 g total not 75g.
Date published: 2017-07-30
Rated

5

out of

5
by
amos25
from
Great Taste
I always buy this coffee crisp on our vending machine in my company. After i ate my lunch this is my favorite snack. And it never fails me when it comes to coffee taste and texture
Date published: 2016-11-05
Rated

5

out of

5
by
Vanilla
from
Crisp Coffee <3
Coffee Crisp is a treat I indulge in embarrassingly frequently! In fact, it's my favourite candy bar. The crunchy wafer, subtle and smooth coffee flavour, and chocolate to bring everything together is what I like most about it. It's no wonder why Coffee Crisp is one of Canada's favourite treats (seriously, America, you need to catch up). Overall, the Coffee Crisp is a delightful candy bar for anyone, young or old.
Date published: 2016-11-27
Rated

4

out of

5
by
coffee crisper
from
A perfect chocolate bar!
Coffee crisp is one of my absolute favorite chocolate bars. It has a perfect mix of crisp, chocolate and most important - coffee. And that is maybe on of the only minuses i can find. There is not enough coffee taste. I know that a lot of persons dont like the too strong taste of coffee. But maybe it was an idea to make another version with dark chocolate and stronger coffee. I would definitely love it!
Date published: 2016-10-31
Rated

5

out of

5
by
scutie88
from
One of the best Canadian chocolate bars ever made
Coffee Crisp is one of the best chocolate bars ever! It has a great crunch to it, and you can most definitely taste the coffee flavor. It's not overly powering, and it's not so subtle that you can't taste it. It is a great balance between the chocolate and the coffee. The wafers add a great crunch! Definitely one of the best chocolate bars sold in Canada. I was told it's not sold outside of Canada!
Date published: 2016-11-01
Rated

5

out of

5
by
lulu9999
from
Just amazing!
Every year during halloween I try and get my hands on a bunch of coffee crisp bars. They are so delicious. The perfect blend of flavours. You taste the chocolate, the cookie and the coffee flavour. Nothing is overpowering. It doesn't leave you with a heavy feeling after eating it.
Date published: 2016-11-05
Rated

5

out of

5
by
Amy C
from
Yummmmy and Crispy
I picked up a 4 pack of Yummmmy and Crispy Coffee Crisp the other night. Coffee Crisp never last long in my house. I have a house full of Coffee Crisp eaters. I love the first bite, as you sink your teeth into the chocolaty goodness. Coffee Crisp is a very yummmmy chocolate bar.
Date published: 2016-11-20
Rated

3

out of

5
by
RodneyDickson
from
Slightly sweet coffee wafer in milk chocolate
Coffee Crisp is a candy bar that features wafer with a slightly sweet coffee cream, all covered in milk chocolate. No other candy bar has come close to imitating the unique and enjoyable taste of Coffee Crisp: truly an original.
Date published: 2016-12-17