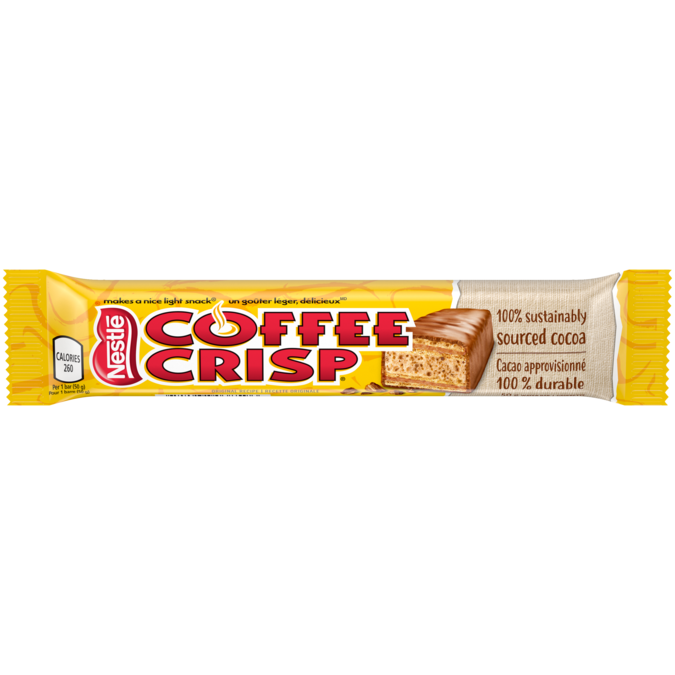 COFFEE CRISP (50g)
Refresh your taste buds with a NESTLÉ COFFEE CRISP. The harmonious blend of crispy wafer, thin chocolatey coating, and subtle coffee aroma, makes for a nice, light snack™. Not too heavy, not too sweet – perfectly balanced.
Features and Benefits
Nutrition Information
Ingredients
COFFEE CRISP (50g)
Features and Benefits
We put tremendous effort into ensuring COFFEE CRISP is made using quality ingredients sourced in a responsible way

We purchase 100% Sustainably Sourced Cocoa certified by UTZ, as part of the NESTLÉ COCOA PLAN. We work with UTZ and farmers to improve the quality of their products and strengthen their communities

This delicious chocolatey bar is made with naturally-sourced ingredients like cocoa, coffee and only natural flavours for a real coffee taste

COFFEE CRISP is filled with alternating layers of vanilla wafer and delicious coffee cream covered with an outer layer of chocolatey goodness

COFFEE CRISP has been a uniquely Canadian treat that's been a favourite for decades, produced at the Sterling Rd. factory in Toronto, Ontario
Description
Features and Benefits
COFFEE CRISP (50g)
Nutrition Information
In the event of any discrepancy between the information listed on this website and on each individual package, please refer to the information listed on package.
COFFEE CRISP (50g)
Ingredients
,
,
Modified Milk Ingredients
,
,
Modified Palm and Vegetable Oils
,
,
,
,
,
,
,
,
Polyglycerol Polyricinoleate
,
.