Cup of Respect
Learn how a cup of Nescafé impacts the future of coffee
Our coffee is grown, made and packaged in a way that respects the environment and the people who farm the coffee beans. Our hope is that when you learn what we are doing around the world, you will see how it will impact the future of coffee.
The Nescafe Plan – A Decade of Progress
We are committed to sourcing every cup of NESCAFÉ coffee responsibly, improving the economic and social wellbeing of farmers and their communities, and setting higher environmental standards in our value chain.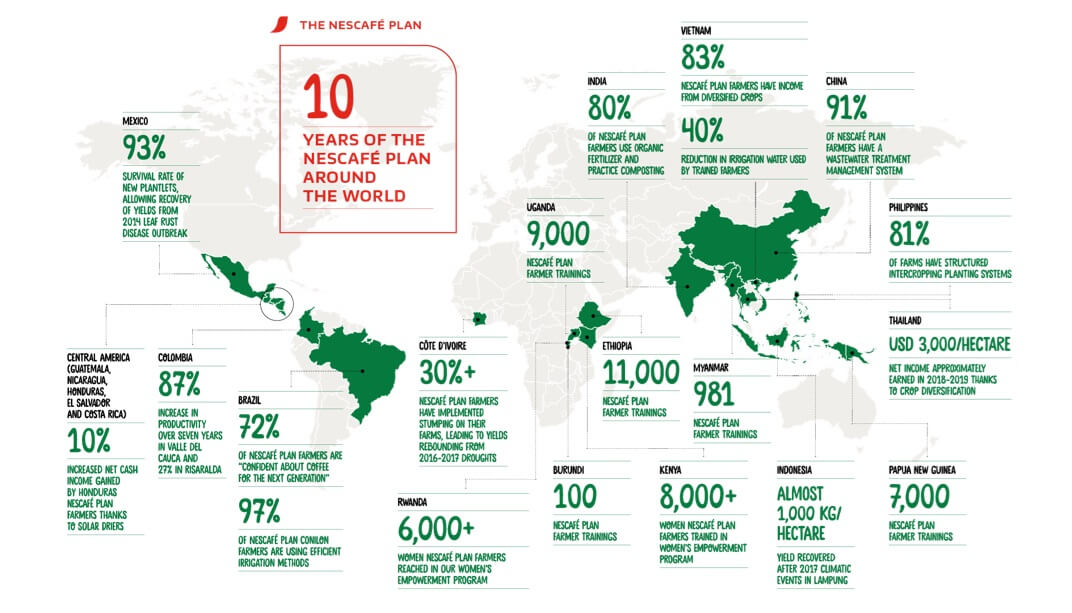 We have invested $475 million to date in activities that we believe are essential to making coffee more sustainable. Achieving our initial goals has only marked the beginning of our journey.
NESCAFÉ Plan 2020 Targets
2020 Achievements
Responsible sourcing
70% of total Nescafé coffee supplies to be responsible sourced

75%

Improving livelihoods
Improving the quality, quantity and sustainability of our coffee supply chain by distributing 220 million coffee plantlets

235 M

Improving coffee farm economics in at least four coffee-sourcing countries
Mexico, Côte d'Ivoire, Honduras and Vietnam
Monitering and improving labor rights in at least two coffee-sourcing countries
Mexico and Philippines
Reduce our environmental impact
Reducing by 35% (vs. 2010) GHG emissions (scope 1 and 2) per metric ton of soluble coffee

46%

Reducing by 35% (vs. 2010) direct water withdrawal per metric ton of soluble coffee

53%

We partner with the Rainforest Alliance to monitor and evaluate the progress of our work in farm economics, as well as social and environmental impact. With this vital data we are able to adapt and improve our work, helping to bring long-term sustainability to thousands of coffee farmers.