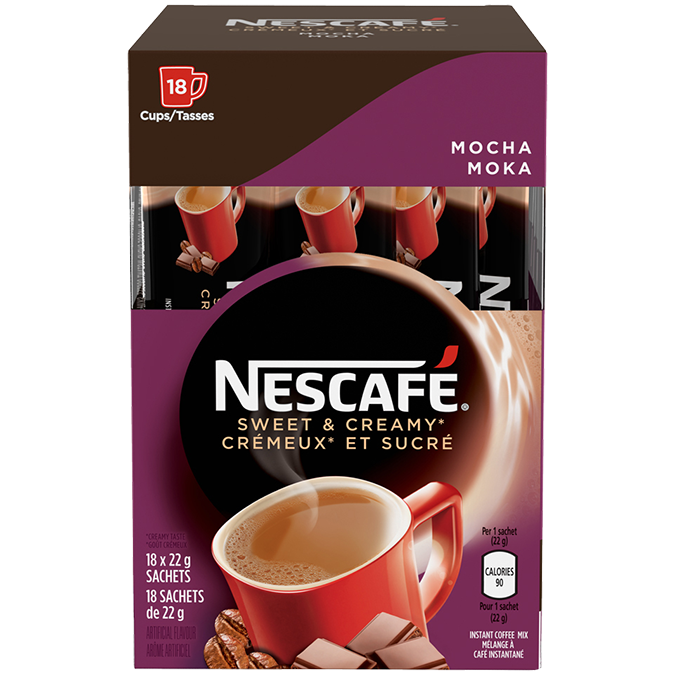 NESCAFÉ Sweet & Creamy Mocha
18 x 22 g sachets
18 x 22 g sachets
Having a sweet and creamy cup of Café Mocha has never been so easy! Delicious, effortless and perfectly balanced every time. Just rip a sachet into a mug, stir, sip and LOVE it.
Features and Benefits
Nutrition Information
Ingredients
NESCAFÉ Sweet & Creamy Mocha
Features and Benefits
Portable package

Simple to make

No cream or sugar required
Description
Features and Benefits
NESCAFÉ Sweet & Creamy Mocha
Nutrition Information
In the event of any discrepancy between the information listed on this website and on each individual package, please refer to the information listed on package.
NESCAFÉ Sweet & Creamy Mocha
Ingredients
,
,
,
,
hydrogenated palm kernel oil
,
,
flavour and artificial flavour
,
,
,
,
,
,
,
,
,
,
.
NESCAFÉ Sweet & Creamy Mocha
is rated out of
5
by
7
.
Rated

1

out of

5
by
DeeDee4444
from
not so creamy but very sweet
I haven't been able to find the mocha cappuccino sachets so thought the packaging changed and bought this. Just a watery super sweet beverage with no flavour. not happy that I have 17 more sachets of this in my cupboard
Date published: 2017-05-05
Rated

4

out of

5
by
CaffieneForInflamation
from
Functional and Yummy
The reason I bought this product was for a quick drink that I could bring with me t work (physical labour), instead of always going to a coffee shop for a pick-me-upper. The individual packs are easy enough to open without scissors, but do not have a 'begin tear here.' Each pack makes a whole cup (which is nice). The powder dissolves very easily in hot water, which is also great. It tastes very good in my opinion--a balanced coffee / chocolate flavor that is a bit sophisticated. I honestly don't think it is too sweet--slightly less sweet than most sweet drinks at popular coffee shops. It does not dissolve properly in cold water, and tasted very weird for that reason in cold water. ;( I do not have easy access to hot water at my work site. I know, gross. As a consumer, I have to say that it would be awesome if the caffeine quantity was listed on the package information. To me that information is much more interesting than '2% of my daily calcium value.'
Date published: 2017-06-29
Rated

4

out of

5
by
missmiranda
from
Make it more available!!
The market for 3-in-1 coffee mixes has increased to 10X with influx of asian coffee mixes we can find in asian markets. My favorite brand is hard to find, but this comes very close to the taste I'm used to. I noticed Canadians are selling this online for crazy prices because Nestle will not make this available in the U.S. That's just not good business. MAKE THIS AVAILABLE IN AMERICA!
Date published: 2018-06-06
Rated

5

out of

5
by
6BabyPandas
from
Perfect
I recieved a sample through the mail and immediately loved that flavor. Now I need to go buy some as it was really good Best coffee in a long time
Date published: 2017-10-07
Rated

4

out of

5
by
Windex
from
Caffeine content please
each day. I have to cut down on caffeine and need to know how much caffeine is in each packet. Anyone know?
Date published: 2018-03-20
Rated

5

out of

5
by
samwing6
from
Awesome taste
I've been puchasing this since it first came out and love it. However my last package was short by 4 packets.
Date published: 2018-04-12
Rated

1

out of

5
by
deemun
from
yuck
I do not like this flavour! will be sticking to original and french vanilla from now on!
Date published: 2018-01-27