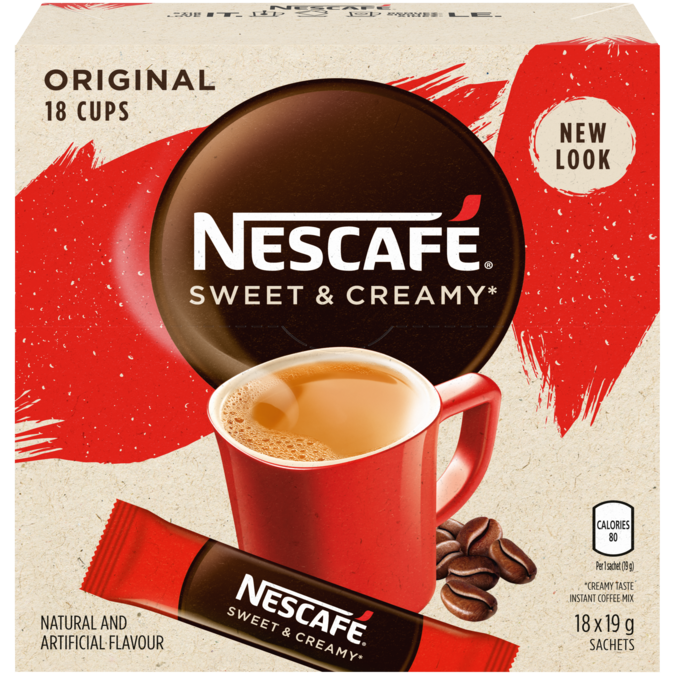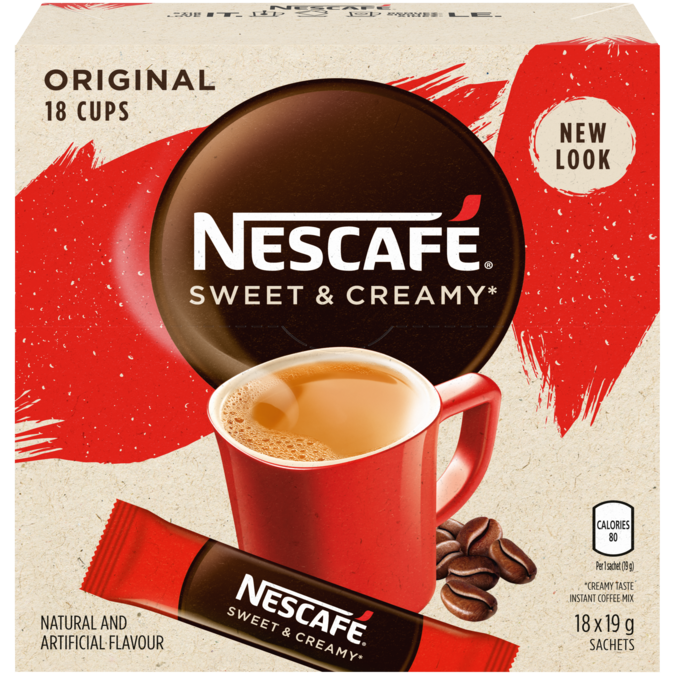 NESCAFÉ Sweet & Creamy Original Instant Coffee
NESCAFÉ Sweet & Creamy Original Instant Coffee Mix (18 x 19 g) is a range of all-in-one coffees made in an instant, using our convenient single serve packets. Each NESCAFÉ Sweet & Creamy packet includes all the coffee, creamer, and sugar you need to create a delicious cup that you can have at home or when you're on the go. Crafted using medium-dark roasted coffee beans, each cup has a smooth and creamy coffee taste, with rich coffee aroma. NESCAFÉ Sweet & Creamy is simple to prepare, all you need to add is hot water.
Also available in French Vanilla, Mocha and Caramel flavours.
NESCAFÉ Sweet & Creamy Original Instant Coffee
Features and Benefits
Convenient All-In-One Solution: Sweet and Creamy is in a simple format that is quick and easy to make

Incorporate Into Any Routine: Perfect pick me up at any point of the day, for at home or while on the go

Consistent Taste: There is no guesswork in making a cup of Sweet and Creamy, resulting in the same taste from cup to cup

Committed to being Grown Respectfully: All coffee beans are responsibly sourced, and a part of sustainable farming practices

Created by Coffee Experts: Nescafé is an expert in coffee innovations, and have used their knowledge to create a product that doesn't require sugar, coffee-creamer or coffee whitener
NESCAFÉ Sweet & Creamy Original Instant Coffee
Nutrition Information
NESCAFÉ Sweet & Creamy Original Instant Coffee
Ingredients
Sugars (sugar, glucose syrup), hydrogenated palm kernel oil, instant coffee, modified milk ingredients, salt, dipotassium phosphate, calcium carbonate, sodium citrate, graham's salt, mono- and diglycerides, DATEM, sodium triphosphate, natural and artificial flavour.
RECIPES
Middle Eastern Cauliflower Bites with Coffee Tahini Dip
Tahini, or toasted ground sesame seeds, comes from Persia, where it was called "ardeh." For hundreds of years, only the aristocracy and wealthy could obtain the ingredients to make tahini – in some cultures, tahini was used as currency! Enjoy this delicious healthy appetizer that gets extra depth of flavor from Nescafé Gold.
RECIPES
Coffee-Marinated Korean Short Ribs
Korean short ribs, otherwise known as "galbi," refers to a strip of beef cut across the bone from the chuck end of the short ribs. Unlike American- and European-style short ribs, which include a thick slice of bone-in beef, Korean-style short ribs are cut lengthwise across the rib bone. The lengthwise cut helps to soak up the rich, Korean flavor–infused coffee marinade and serves to help grill it up quickly.