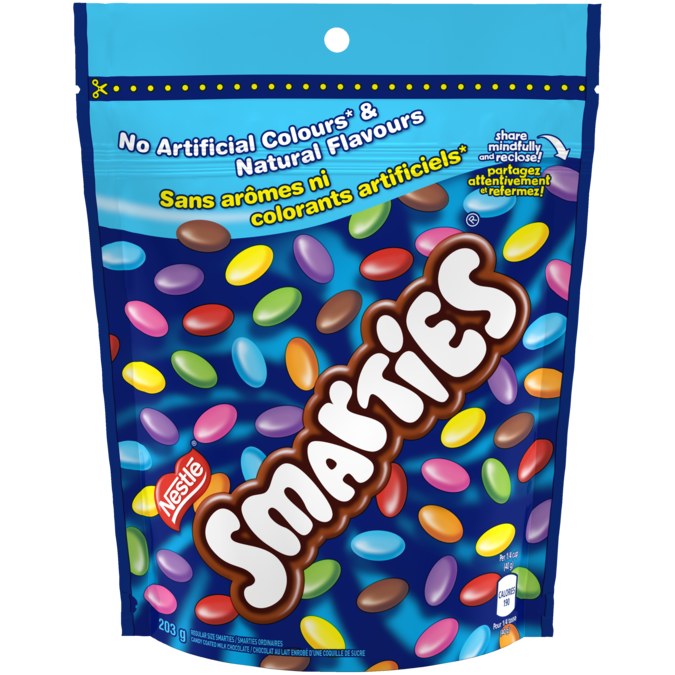 SMARTIES Resealable Bag
It doesn't matter how you sort'em, eat'em, or bake'em into your own creation. Each NESTLÉ® Smarties® Resealable Bag opens up a world of imagination and creativity. The classic, colourful, and crunchy candy-coated sweets come in this perfectly sharable resealable bag. Great for portioning or carrying on a trip. The only question is, will you eat the red ones last?
For more MINIS, click here!
Shop Now
Features and Benefits
Nutrition Information
Ingredients
SMARTIES Resealable Bag
Features and Benefits
Lots of pieces to play, sort, or inspire with vibrant colours

Resealable package to share, seal, and carry around. It's a perfect choice for baking, bowl servings, or a treat on a long trip.

Not only are they as vibrant as ever, but they're made with natural flavours and no artificial colours.

Delicious milk chocolate pieces coated in a crunchy candy shell.

We put tremendous effort into ensuring each piece is made using quality ingredients sourced in a responsible way.
Description
Features and Benefits
SMARTIES Resealable Bag
Nutrition Information
In the event of any discrepancy between the information listed on this website and on each individual package, please refer to the information listed on package.
SMARTIES Resealable Bag
Ingredients
MILK CHOCOLATE (
,
MODIFIED MILK INGREDIENTS
,
,
,
,
POLYGLYCEROL POLYRICINOLEATE
,
) ,
,
,
,
,
,
.
SMARTIES Resealable Bag
is rated out of
5
by
28
.
Rated

5

out of

5
by
Jessica564
from
Reclosable is super!
I have two small sons and Smarties are a favourite candy in our house. We recently has to travel, and I brought the Smarties reclosable pouch (203 gram) package as a treat for us to eat in the car. It was the perfect size for our family. I loved that I could share the candies and then reclose the pouch for later. I also enjoy knowing that this is a treat that fits safely in little mouths so I had no fears about eating these Smarties in the car. I will definitely purchase Smarties in a reclosable pouch again for future car trips and as a potty training tool for me Smarties-loving toddler!
Date published: 2018-04-04
Rated

5

out of

5
by
Monique167
from
Delicious and Functional
I was pleased with the Smarties Resealable Bag. It was easy to tear open -- some other resealable bags require scissors, or only tear half way. Very easy to reseal the bag and be confident that it is sealed properly. The Smarties themselves were delicious - larger than I recall and a great crunch to them. The price was reasonable for this size of bag. Great idea to have it as a resealable bag, but, who are we kidding, something this tasty doesn't need to stay in the bag that long. :-)
Date published: 2018-03-21
Rated

5

out of

5
by
Ashley557
from
So yummy and will stay fresh!
My family already loves Smarties and finding out they have a package that can reclose made me so happy! We used this bag to put smarties in plastic eggs for our egg-hunt coming up and my daughters thoroughly enjoyed getting to snack on them during. The smarties themselves taste just like the ones in the box and the few remaining will stay fresh thanks to the bag. Product was easy to locate in the candy aisle and the price point was just as I would expect and not too much at all. Big fans here!
Date published: 2018-03-21
Rated

5

out of

5
by
Melissa252
from
Delicious and Convenient
This was my first time trying Smarties in the resealable pouch. I found this product easy to find in the first store that I checked. I loved that I could go grab a small handful of smarties and then close the bag again. There were no problems with spilling them, like I have done when trying to hang on to a box of smarties. This was fast and convenient. The candy also tasted delicious and did not lose any of its freshness after the bag was opened. This is a great product.
Date published: 2018-03-21
Rated

5

out of

5
by
Kim915
from
I Eat the Purple Ones Last!
Nestle Smarties 203g resealable pouch is great for sharing. Made with no artificial colours and natural flavours these are a tasty, fun treat. Milk chocolate wrapped in bright, crunchy coated shells that make you smile! Smarties are a long time family favourite in our household and Nestle is a trusted brand. I like to bake Smarties cookies and also use Smarties to decorate celebration cakes. Another plus...these Smarties are made with 100% sustainably sourced cocoa.
Date published: 2018-03-21
Rated

5

out of

5
by
Lesley578
from
Love the pouch idea
Hello I bought and tried the smarties resealable pouch and I must say that I love smarties. This new pouch idea is a great one, and it works. Usually when you open resealable products they never reseal but this did. It makes it easy for me to open and share with my grandson then close and put away for later, no need to eat them all at once. And as expected the smarties were delicious, the perfect amount of crunch and then a delicious smooth chocolaty center.
Date published: 2018-03-21
Rated

4

out of

5
by
Julie280
from
Handy Sharing Size in Easily Resealable Packaging
Candy and chocolate treats are a regular feature in our house so it's always good to have something with no artificial colours or flavours. These Smarties still provide the great taste and crunch that we have grown up with and it's great that they are available in a larger bag for easy sharing and portioning out. I was impressed at how easily the resealable bag sealed, opened and resealed - not always the case! We will definitely buy these again
Date published: 2018-03-21
Rated

5

out of

5
by
Andreane798
from
loved it
Loved this reclosable pouch, very handy ! Unless I have a veeeery big craving, its impossible to eat all the bag in a sitting. I loved the fact that I could close it and come back to it when i wanted. I feel like the smarties are going to stay fresh like that, and that it helps me to eat less since I know they won't be falling everywhere if I let the bag unsupervised. Would buy it again
Date published: 2018-03-21