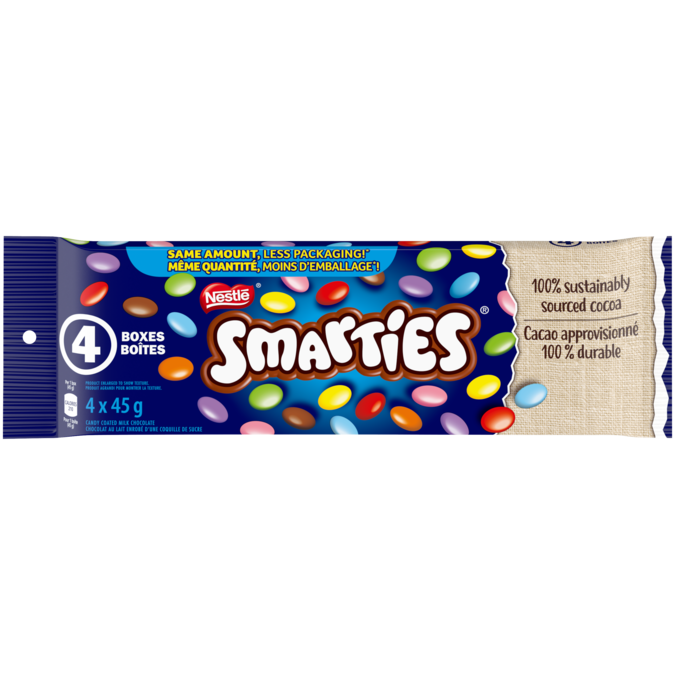 SMARTIES Multipack
Make your day more colourful with NESTLÉ SMARTIES® Candy Coated Milk Chocolate Multipack (4 x 45 g). Each box contains the delicious, classic combination of milk chocolate covered in a vibrant candy shell. Made with sustainably sourced cocoa, these treats are naturally flavoured and contain no artificial colours. Plus, they're produced in a peanut-free facility. You can share the joy with family and friends, or bake them into creative homemade treats – the possibilities are endless. The only question is, DO YOU EAT THE RED ONES LAST?®
SMARTIES Multipack
Features and Benefits
The same amount of vibrant, candy coated milk chocolate pieces

Made with natural flavours and no artificial colours in a peanut-free facility

Contains 4, full-sized SMARTIES® cartons

100% Sustainably Sourced Cocoa certified by UTZ, as part of the NESTLÉ® COCOA PLAN®

SMARTIES® have been a Canadian favourite for over 80 years!
SMARTIES Multipack
Nutrition Information
SMARTIES Multipack
Ingredients
Milk chocolate (sugar, milk ingredients, cocoa butter, cocoa mass, whey powder, lactose, soya lecithin, polyglycerol polyricinoleate, natural flavour), sugar, wheat flour, modified corn starch, carnauba wax, colour. Small candies may pose a choking hazard.