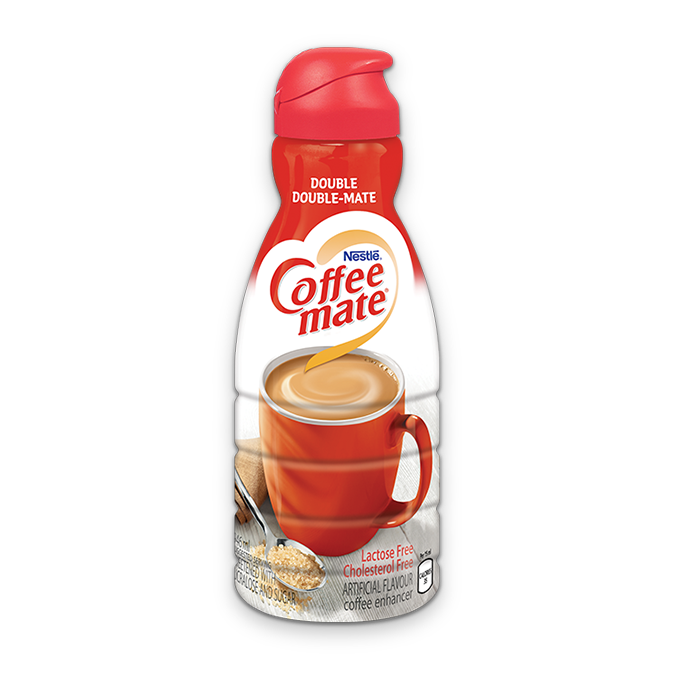 COFFEE-MATE Double Double-mate
Rich and creamy coffee with a splash of Canadian pride. It's a win-win, eh?
Features and Benefits
Nutrition Information
Ingredients
COFFEE-MATE Double Double-mate
Features and Benefits
Lactose free
Cholesterol free
Description
Features and Benefits
COFFEE-MATE Double Double-mate
Nutrition Information
In the event of any discrepancy between the information listed on this website and on each individual package, please refer to the information listed on package.
COFFEE-MATE Double Double-mate
Ingredients
,
,
, sodium caseinate (
) ,
,
,
,
,
,
flavour and artificial flavour
,
,
.
2 mg sucralose per 15 ml serving
.
COFFEE-MATE Double Double-mate
is rated out of
5
by
56
.
Rated

5

out of

5
by
missybing
from
Tastes gross I want the origional double double
I am a huge fan of the "ORIGINAL" look forward to am coffee, not now, the taste of the Double Double Mate in the more white bottle is gross, has a horrible after taste and cannot drink it at all. Please bring back the sweet original in the all red bottle. I was buying 3-4 of these a week and it is a huge seller, not the double double in the white bottle. I have told everyone to try it, have my family hooked. I am so sorry but I cannot drink the stuff that has the new oils in it, the only way to describe it is gross. I am a huge fan of the original...thank you for listening to me complain.. the original was not broke so please don't fix something that is not broken. Please bring back the original.
Date published: 2016-08-14
Rated

1

out of

5
by
Tone
from
New recipe is bad!
Finally I had an alternate for putting cream and sugar in my coffee. When I ran out one day, my wife brought home one in new packaging and was disgusted when I tried it. The new recipe has a weird sharp taste, and is not the sweet and creamy taste we long for from the old packaging. Not sure why you changed it since the old one was lactose free as well. Please bring it back, it was the only coffee whitener worth buying that was similar to the real thing. Thanks.
Date published: 2016-09-19
Rated

5

out of

5
by
lynn26
from
double double oridignal
All I can say is PLEASE bring back the original double double the new lactose free is so gross. I don't even drink coffee any more, and I use to look forward to my cup of coffee. Please ...Please bring it back
Date published: 2016-08-26
Rated

5

out of

5
by
Twiggs
from
The best coffee creamer by far
We have tried alot if coffee creamers and the original Double-Double Mate by far is the best one out there!! Very disappointed that Nestlé is considering on discontinuing this product...the replacement is absolutely horrible and will never buy again! Atleast keep both products so we can decide for ourselves whether or not to buy the disgusting fake sugar stuff or the delicious original.
Date published: 2016-06-15
Rated

1

out of

5
by
niknodder
from
Was great, now terrible!
I have been using this product for two years, but not anymore. Recently the bottle packaging changed and with it the product itself. I don't know what one has to do with the other but the liquid has changed. It now tastes awful and I can't even drink my coffee with Double Double Mate in it. I used to prefer my homemade coffee to any coffee shop coffee. I don't like flavoured coffee and Double Double Mate was beyond five stars!! I just bought two large bottles and I will be giving them away or throwing them out and going back to blend cream (10%) and sugar.
Date published: 2016-11-04
Rated

1

out of

5
by
MarinaA
from
New recipe isn't good at all
I am not sure if it is the new "high oleic soy oil" as stated before, or the sucralose to replace a portion of the sugar, most artificial sweeteners leave bad after taste, and that is the exact case with this new recipe. At first I thought it was the "sugar free" version we got weeks ago, it was so bad that I had to throw away the whole bottle and coffee after taking a sip. Then we got this double double and while it is drinkable, it is not as good as it used to be. Please bring the old recipe back, it was so much better and really made the morning coffee a treat. Also quite an over look to not list the Sucralose on the website, it is splattered at the front of the bottle, also on the ingredients list, but missing on the site database.
Date published: 2016-12-14
Rated

5

out of

5
by
catcal
from
Love it
I buy this one every time I grocery shop.I can only find it in one grocery store in my town, and was told they are discontinuing this flavour.
Date published: 2016-05-28
Rated

5

out of

5
by
AutumnC
from
Absolute Best
I discovered this product just over a year ago. I wonder how the heck I ever lived without it. I fear going to the store and them being out of stock so I try to buy a few days before I run out. There is no other product to replace this. Nothing else even comes close to the taste I love with Double Double. I didn't drink coffee for years because I just did not enjoy it. Thanks to this I am once again enjoying a nice hot cup of brew! It is very creamy and has the perfect ratio of cream to sweet! Thank you so much for something I truly enjoy!
Date published: 2016-12-06