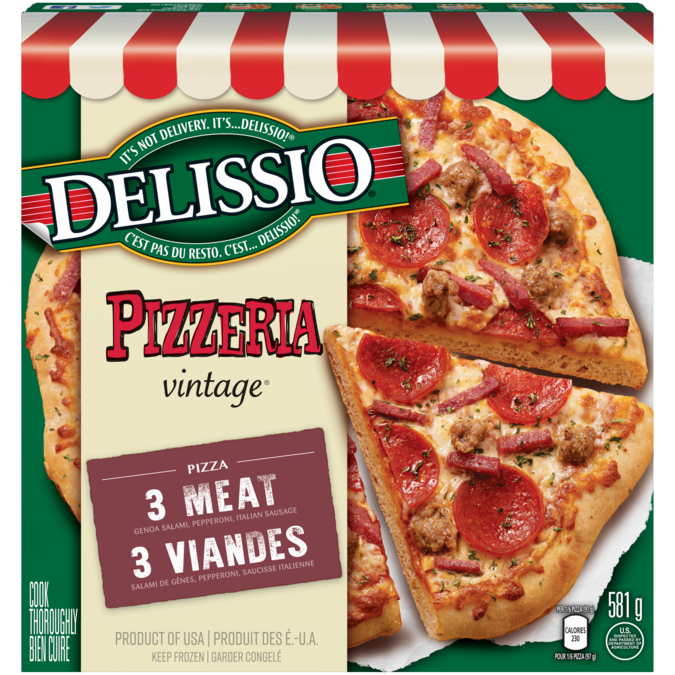 DELISSIO Pizzeria Vintage 3 Meat
DELISSIO® Pizzeria Vintage 3 Meat is an irresistible pizza for any meat lovers! Topped with our finest tomato sauce, mozzarella cheese, Genoa salami, thin-sliced pepperoni, and Italian sausage, you'll satisfy your craving with this delicious pizza.
Features and Benefits
Nutrition Information
Ingredients
Instructions
DELISSIO Pizzeria Vintage 3 Meat
Features and Benefits
Crisp and airy pizzeria style crust

No artificial colours or flavours

Made with high quality ingredients

Easy to bake

Authentic Vintage Pizzeria flavour

Try it on the BBQ for a summertime pizza night
Description
Features and Benefits
DELISSIO Pizzeria Vintage 3 Meat
Nutrition Information
In the event of any discrepancy between the information listed on this website and on each individual package, please refer to the information listed on package.
DELISSIO Pizzeria Vintage 3 Meat
Ingredients
(
,
,
,
,
,
,
),
(
Part-Skim Mozzarella Cheese
(
,
,
,
),
(
,
,
,
,
,
,
Fat,
,
,
),
(
,
,
,
,
,
,
,
,
,
,
[Mustard]),
(
,
,
,
,
,
Stock,
,
,
,
, Smoke
,
[Mustard]),
,
),
(
,
, Canola and
s,
,
,
,
,
,
,
,
).
DELISSIO Pizzeria Vintage 3 Meat
Instructions
Cook thoroughly. For food safety and quality, product must be cooked thoroughly to a minimum internal temperature of 160°F (71°C). Your oven temperature may vary so adjust cooking time and temperature as necessary. Keep pizza frozen until ready to bake. Caution: Pizza will be very hot.
BBQ Instructions:
Pre-heat the barbeque to medium-low heat or approximately 400°F (205°C).
Place frozen pizza directly on grill. Close lid and cook for 8 minutes, rotate 90°, and cook for an additional 8 minutes or until the crust is golden brown and the cheese is melted. Let stand for 2 minutes before serving
DELISSIO Pizzeria Vintage 3 Meat
is rated out of
5
by
43
.
Rated

3

out of

5
by
AllyB
from
Vintage 3 Meat changed!!
We loved the Vintage 3 meat - especially the salami! However, the last one we bought was not the same...our delicious salami was replaced by thinly sliced ham and the sauce seemed different- not as good...We were disappointed...:(
Date published: 2018-03-03
Rated

3

out of

5
by
Sopwith
from
Great Pizza, Bad Ham
I've loved this type of pizza for years. However within the last six months it seems they've changed the source of their ham and every time it tastes like the ham is rancid, bad, or otherwise far too pungent. A few times it's gotten so bad I've had to pick the ham off. But otherwise, great pizza. And before the ham switch, was super amazing. Because of the Ham, I now prefer Deluxe.
Date published: 2017-11-12
Rated

5

out of

5
by
Pompom196301
from
Delicious pizza
These pizzas are delicious. There is really nothing I would change except maybe more cheese.
Date published: 2016-11-17
Rated

5

out of

5
by
sylvyocem
from
sublime
Dès la première bouchée de cette délicieuse pizza je savais que je l'adopterait :)
Date published: 2016-10-26
Rated

1

out of

5
by
JP525
from
Changed Meats .. No Longer A Favorite.
The Genoa Salami is suddenly Ham now?? Bad Choice :(
Date published: 2018-02-09
Rated

3

out of

5
by
MSAlexander
from
It used to be a 5 star pizza!
This has been our "go to pizza" for over a year. One day we made a pizza, noticed it looked and tasted different, and were very disappointed to find out it was ham. The salami was the best topping, and was what made it so different and above all the rest in the aisle. We will be shopping around for another type of 3 meat pizza.
Date published: 2018-03-11
Rated

5

out of

5
by
Judokast
from
Better then Delivery!
This is one of the Vintages I buy the most, the salami pieces are probably my favourite. The toppings taste high quality, the crust is buttery and flavourful and thinner then the regular, so you want to eat every piece. If you have not tried any of the Vintage, I would recommend trying this one first, as it is the best in my opinion.
Date published: 2016-11-22
Rated

2

out of

5
by
Disappointed fan
from
Bring back the salami
The replacement ham has ruined my favourite frozen pizza! Please bring back the salami, the ham changes the taste. We won't be buying this pizza again until the salami back!
Date published: 2018-03-13