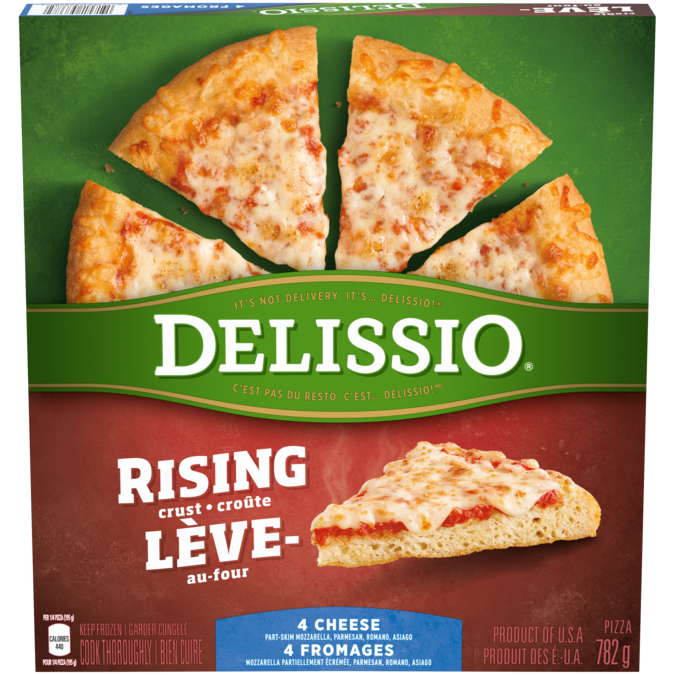 DELISSIO Rising Crust 4 Cheese
There's nothing quite like a classic rising crust pizza topped with your favourite ingredients. DELISSIO® Rising Crust Pizza 4 Cheese (782 g) tops a high-rising, thick crust with part-skim mozzarella, parmesan, Romano, and asiago – a cheese-lovers paradise! Whether treating yourself or pleasing a crowd, the soft and fluffy crust with a crispy outside makes every night an irresistible pizza night. Made with high quality ingredients, it's no wonder DELISSIO® is the Most Trusted Frozen Pizza Brand in Canada*. It's easy to cook up a delish pizza that tastes just like delivery. It's not delivery, It's DELISSIO!®
*BrandSpark International inc. 2017/2018
DELISSIO Rising Crust 4 Cheese
Features and Benefits
A classic, thick crust with a fluffy inside, topped with part-skim mozzarella, parmesan, Romano, and asiago cheeses

Made with only quality ingredients, DELISSIO is the Most Trusted Frozen Pizza Brand in Canada*

Quick and easy way to turn any night into a mouth-watering pizza night – perfect for a night in, pleasing the crowd, or a tasty appetizer

Add your favourite ingredients for your own pizza personalization

The only door you need to open is your oven. It's not delivery, it's DELISSIO!
DELISSIO Rising Crust 4 Cheese
Nutrition Information
Per 1/4 pizza (195 g)
*5 % or less is a little, 15% or more is a lot
DELISSIO Rising Crust 4 Cheese
Ingredients
Crust (Wheat Flour, Water, Sugar, Corn Meal, Wheat Gluten, Soya Oil, Yeast, Salt, Modified Palm Oil, DATEM, Baking Soda, Mineral Oil, Sunflower Lecithin, Ascorbic Acid, Glucoamylase, Glucose Oxidase, Xylanase), Part-Skim Mozzarella, Parmesan, Asiago and Romano Cheeses (Milk Ingredients, Bacterial Culture, Salt, Microbial Enzyme, Lipase, Cellulose), Sauce (Water, Tomato Paste, Soya Oil, Salt, Garlic, Spices and Herbs).