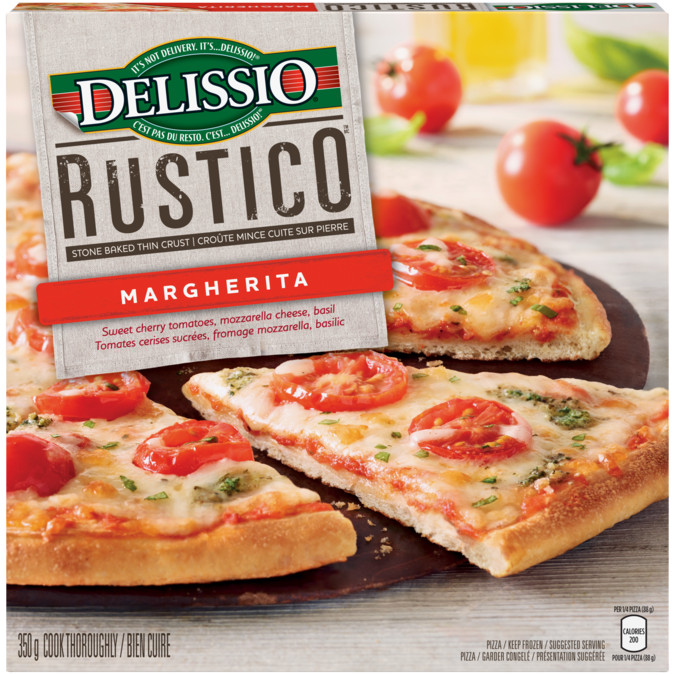 DELISSIO Rustico Margherita
A simple "me-time" pizza night deserves a simple and delicious slice of pizza. Sun-ripened tomatoes, our finest mozzarella, and aromatic basil, all on a stone-baked thin sourdough crust.
Features and Benefits
Nutrition Information
Ingredients
Instructions
DELISSIO Rustico Margherita
Features and Benefits
Inspired by the authentic Italian experience
Perfect for a "me time" moment
200 calories per quarter pizza (88 g)
Balance your plate with a side salad and fruit for dessert

Cook it on the BBQ for a summertime #pizzanight!
Description
Features and Benefits
DELISSIO Rustico Margherita
Nutrition Information
In the event of any discrepancy between the information listed on this website and on each individual package, please refer to the information listed on package.
DELISSIO Rustico Margherita
Ingredients
Crust (
,
,
,
,
,
,
,
malted barley and wheat flours
,
,
,
,
,
,
,
,
,
,
) , mozzarella and provolone cheeses (
,
,
,
,
) , sauce (
,
,
,
,
,
) , cherry
,
,
,
,
,
,
,
,
.
,
,
,
.
DELISSIO Rustico Margherita
Instructions
Cook thoroughly. For food safety and quality, product must be cooked thoroughly to a minimum internal temperature of 160°F (71°C). Your oven temperature may vary so adjust cooking time and temperature as necessary. Keep pizza frozen until ready to bake. Caution: Pizza will be very hot.
Instructions:
(1) Preheat oven to 425°F (220°C).
(2) Remove frozen pizza from all packaging.
(3) Place frozen pizza directly on middle rack of preheated oven. Bake for 14-16 minutes or until cheese is melted and crust is golden brown. Let stand for 2 minutes before serving.
BBQ Instructions:
Preheat the barbeque to medium heat, approximately 400°F.
Remove the pizza from all packaging and place the frozen pizza on a baking sheet. Place the baking sheet on the barbeque and close the lid.
Cook for 7 minutes and then rotate the pizza 90 degrees and cook for another 8-10 minutes until crust is golden brown and cheese is melted.
DELISSIO Rustico Margherita
is rated out of
5
by
20
.
Rated

5

out of

5
by
MargheritaPizzaFan
from
this is the best one Delissio makes
I love this Pizza. It's delicious. I recommend the Margherita pizza to anyone who is thinking about getting some pizza at the grocery store. It's great. Maybe Delissio will give me some of these for free for being so positive about it. Be smart Delissio, it would be good for business
Date published: 2016-08-09
Rated

5

out of

5
by
kelly0726
from
Family Favorite!
When this pizza first hit the shelves in the freezer of our supermarket, we were hooked. Makes having a family pizza night so affordable. Bakes up amazing and you can add extra ingredients if you desire. This is a weekly tradition in our house!
Date published: 2016-11-29
Rated

3

out of

5
by
trinity_too
from
Good taste, gypped on the tomatoes
The box photo looks like there are a lot of cherry tomatoes - extrapolating here - perhaps 14 halves on the whole pizza. Mine had 6. I know that usually box photos are never accurate, but that's less than half the suggested amount. And tomatoes aren't an expensive item. At least the 6 tasted nice! I would buy this pizza again, but know in advance I would need to add my own tomatoes. The mushroom rustico pizza was much nicer and will definitely be bought again.
Date published: 2016-09-21
Rated

3

out of

5
by
Sam Blues
from
Very Good for a frozen pizza
When my children look for a quick snack or meal, I try to always have a variety of frozen pizzas on hand. What is nice about the Margherita pizza is that you see the chunks of cherry tomatoes and the drizzle of pesto. The rustic brand in general, is a thin crust pizza so that you feel you are eating more than just bread. this is an added bonus for me. At least I know my children are getting some of their veggies for the day!
Date published: 2016-10-18
Rated

5

out of

5
by
cathygrace
from
Sophisticates dining in
I had this pizza last evening and is at the top of my frozen pizza list . I usually have 2 in my freezer . Wonderful , subtle mix of flavours that always taste summer fresh . A veggie pizza that will impress meat eatters too. I have told my friends to add this one to their shopping . Watch out though for burning , keep the temperature as recommended or slightly less .
Date published: 2017-07-22
Rated

5

out of

5
by
Sdzammie
from
Great taste!
I love margherita pizza and this one amazed me with how great it tastes. The thin crust is a perfect thickness and the ingredients taste fresh - you would never guess it was frozen.
Date published: 2017-10-28
Rated

4

out of

5
by
Zazzy59
from
Great Pizza!
This is my favourite thin crust pizza. I often add fresh garlic for more zip but it is not necessary. One thing I enjoy about this pizza is that you can taste all the ingredients.
Date published: 2016-12-10
Rated

5

out of

5
by
smdd
from
cripy bottom, chewy top
this is the best frozen pizza on the market. simple, quick to make, and delicious. b(but you need to eat it quickly, or the bottom gets soggy)
Date published: 2016-11-15