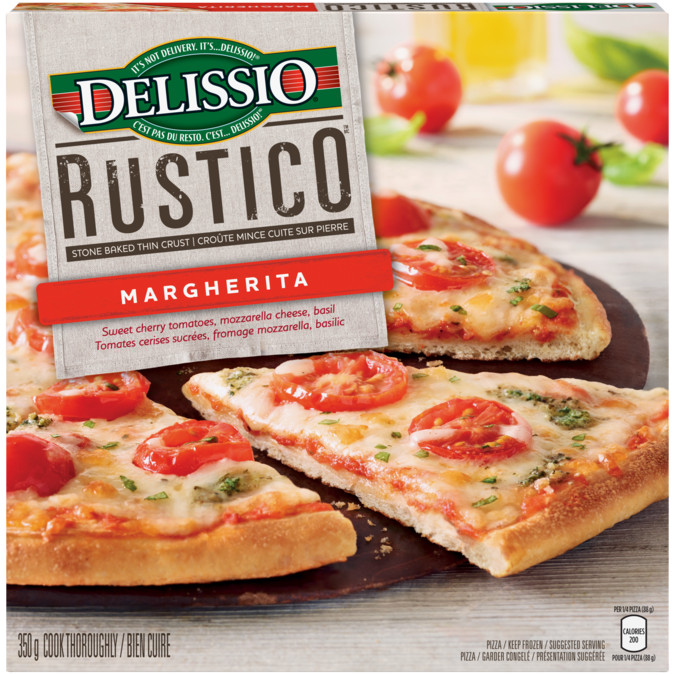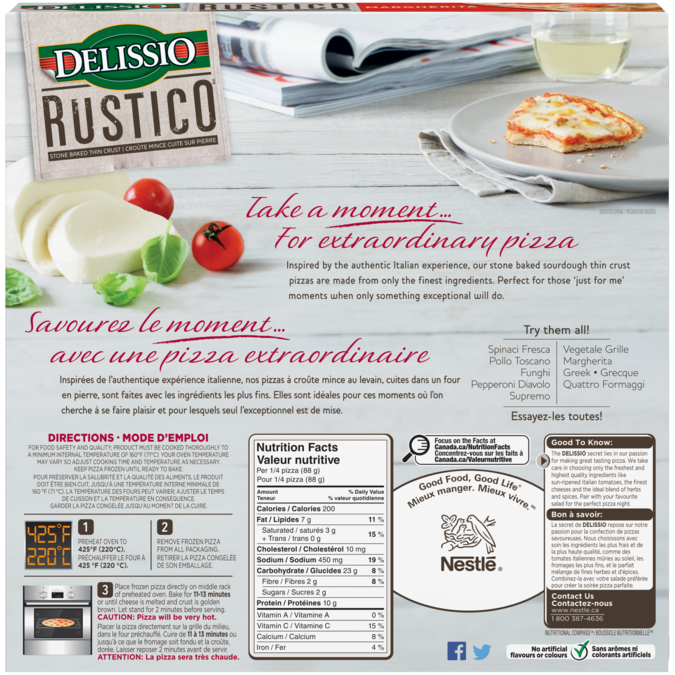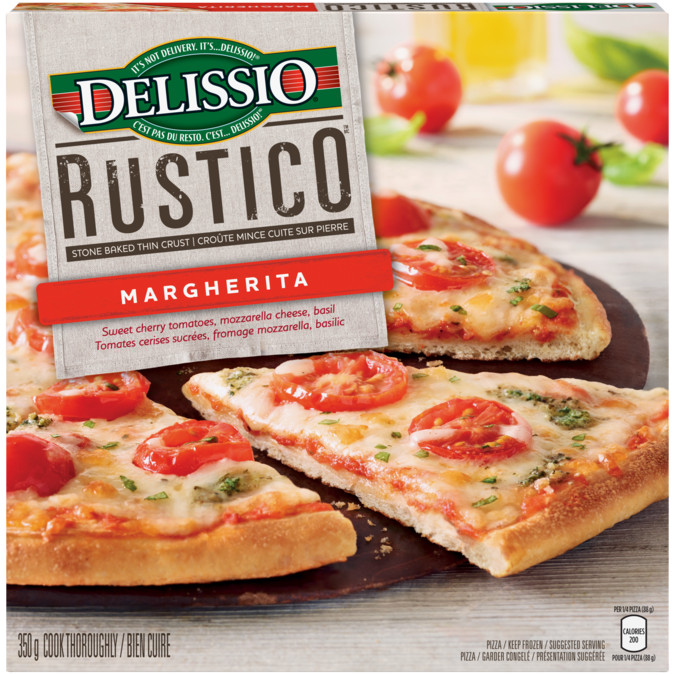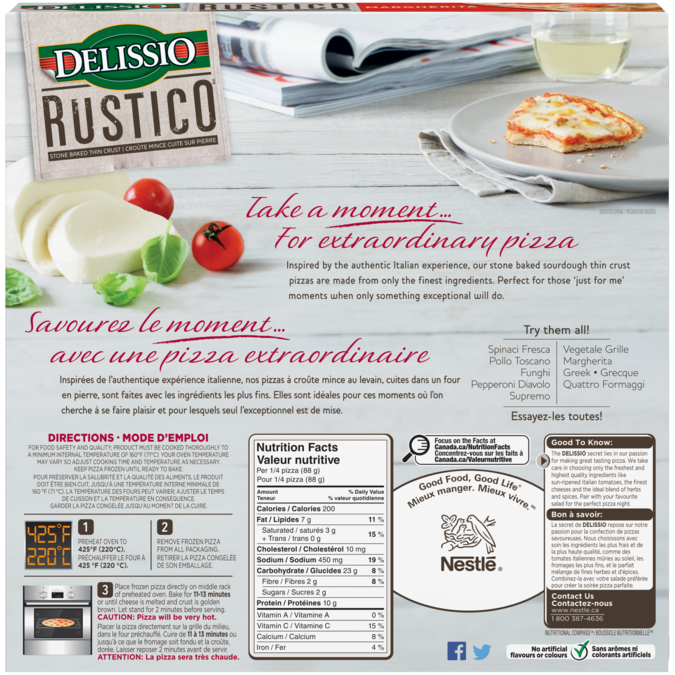 DELISSIO Rustico Margherita
A simple "me-time" pizza night deserves a simple and delicious slice of pizza. Sun-ripened tomatoes, our finest mozzarella, and aromatic basil, all on a stone-baked thin sourdough crust.
Features and Benefits
Nutrition Information
Ingredients
Instructions
DELISSIO Rustico Margherita
Features and Benefits
Inspired by the authentic Italian experience
Perfect for a "me time" moment
200 calories per quarter pizza (88 g)
Balance your plate with a side salad and fruit for dessert

Cook it on the BBQ for a summertime #pizzanight!
Description
Features and Benefits
DELISSIO Rustico Margherita
Nutrition Information
In the event of any discrepancy between the information listed on this website and on each individual package, please refer to the information listed on package.
DELISSIO Rustico Margherita
Ingredients
Crust (
,
,
,
,
,
,
,
malted barley and wheat flours
,
,
,
,
,
,
,
,
,
,
) , mozzarella and provolone cheeses (
,
,
,
,
) , sauce (
,
,
,
,
,
) , cherry
,
,
,
,
,
,
,
,
.
,
,
,
.
DELISSIO Rustico Margherita
Instructions
Cook thoroughly. For food safety and quality, product must be cooked thoroughly to a minimum internal temperature of 160°F (71°C). Your oven temperature may vary so adjust cooking time and temperature as necessary. Keep pizza frozen until ready to bake. Caution: Pizza will be very hot.
Instructions:
(1) Preheat oven to 425°F (220°C).
(2) Remove frozen pizza from all packaging.
(3) Place frozen pizza directly on middle rack of preheated oven. Bake for 14-16 minutes or until cheese is melted and crust is golden brown. Let stand for 2 minutes before serving.
BBQ Instructions:
Preheat the barbeque to medium heat, approximately 400°F.
Remove the pizza from all packaging and place the frozen pizza on a baking sheet. Place the baking sheet on the barbeque and close the lid.
Cook for 7 minutes and then rotate the pizza 90 degrees and cook for another 8-10 minutes until crust is golden brown and cheese is melted.