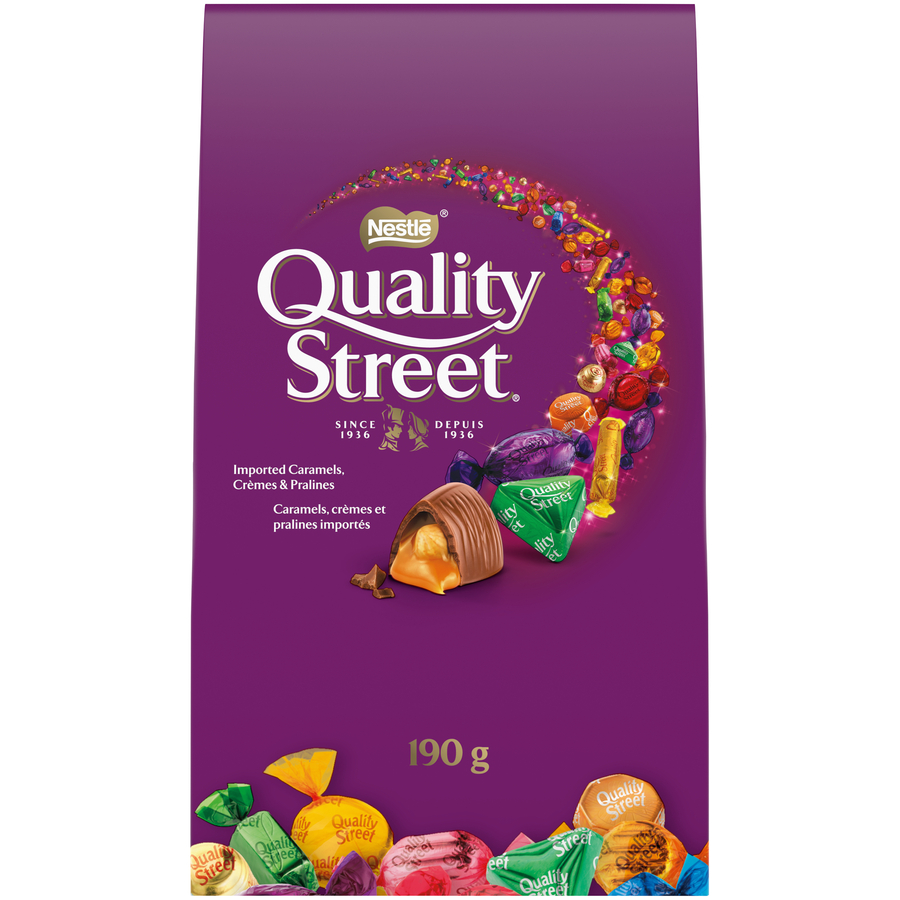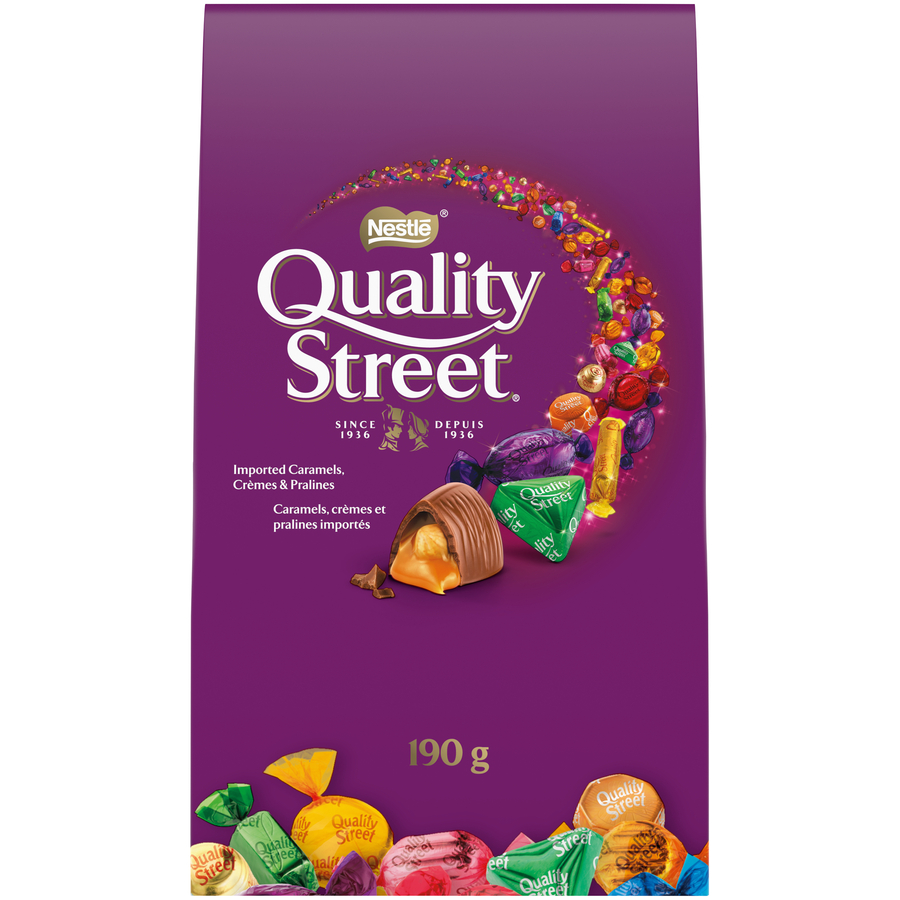 QUALITY STREET Bag 190 g
Gift, share, and celebrate with a bag full of tradition. NESTLÉ QUALITY STREET (190 g) includes a decadent mix of imported caramels, crèmes and pralines that will absolutely delight friends and family. This high-quality selection of treats has been a tradition since 1936. Give it a shake, search, and sort for your favourite, but don't forget to share these exquisite sweets with someone special.
QUALITY STREET Bag 190 g
Features and Benefits
A superior assortment of caramels, crèmes, and pralines imported from England

This boutique bag makes for exceptional treats to share with family and friends

Individually wrapped in colourful wrappers

 

Perfect for gifting
QUALITY STREET Bag 190 g
Nutrition Information
QUALITY STREET Bag 190 g
Ingredients
Sugars (Sugar, Glucose-Fructose, Sweetened Condensed Milk), Modified Milk Ingredients, Unsweetened Chocolate*, Cocoa Butter*, Palm, Coconut and Vegetable Oils, Coconut, Hazelnuts, Sunflower Lecithin, Mono and Di-Glycerides, Natural Flavour, Cocoa Powder*, Salt, Glycerol, Lactic Acid, Citric Acid. *Rainforest Alliance Certified.
RECIPES
Quality Street Khajoor Cake
Perfect for Iftar, this cake is rich with dates that restore energy after a day of fasting. The chocolates add a wonderful depth and flavour to this cake!
RECIPES
Chocolate Hazelnut and Pistachio Burfi
Burfi (also known as barfi) is a popular Indian dessert that is commonly served to celebrate a special occasion, such as a wedding or gathering, and throughout the Diwali festival! This delicious, fudge-like dessert can be made with a variety of toppings and flavourings (such as nuts, spices and floral essences like rose water or saffron). This rendition is made with creamy coconut milk and studded with decadent chocolate for the ultimate holiday indulgence
RECIPES
Quality Street Chocolate Coconut Kulfi
These milky, sweet, and delicious frozen treats are sure please everybody's taste buds! Add cardamom, chocolate, coconut or coffee for a little extra flavour.