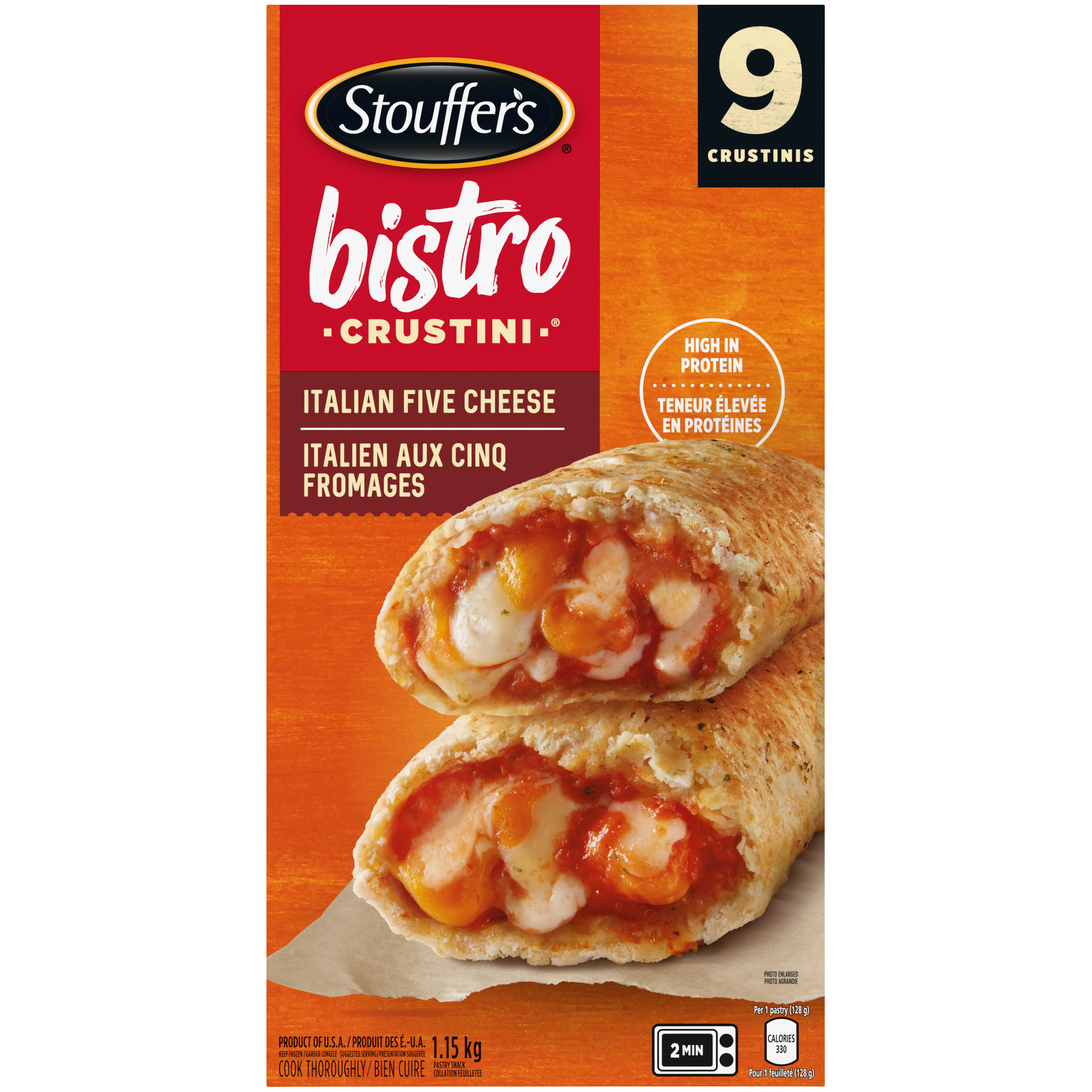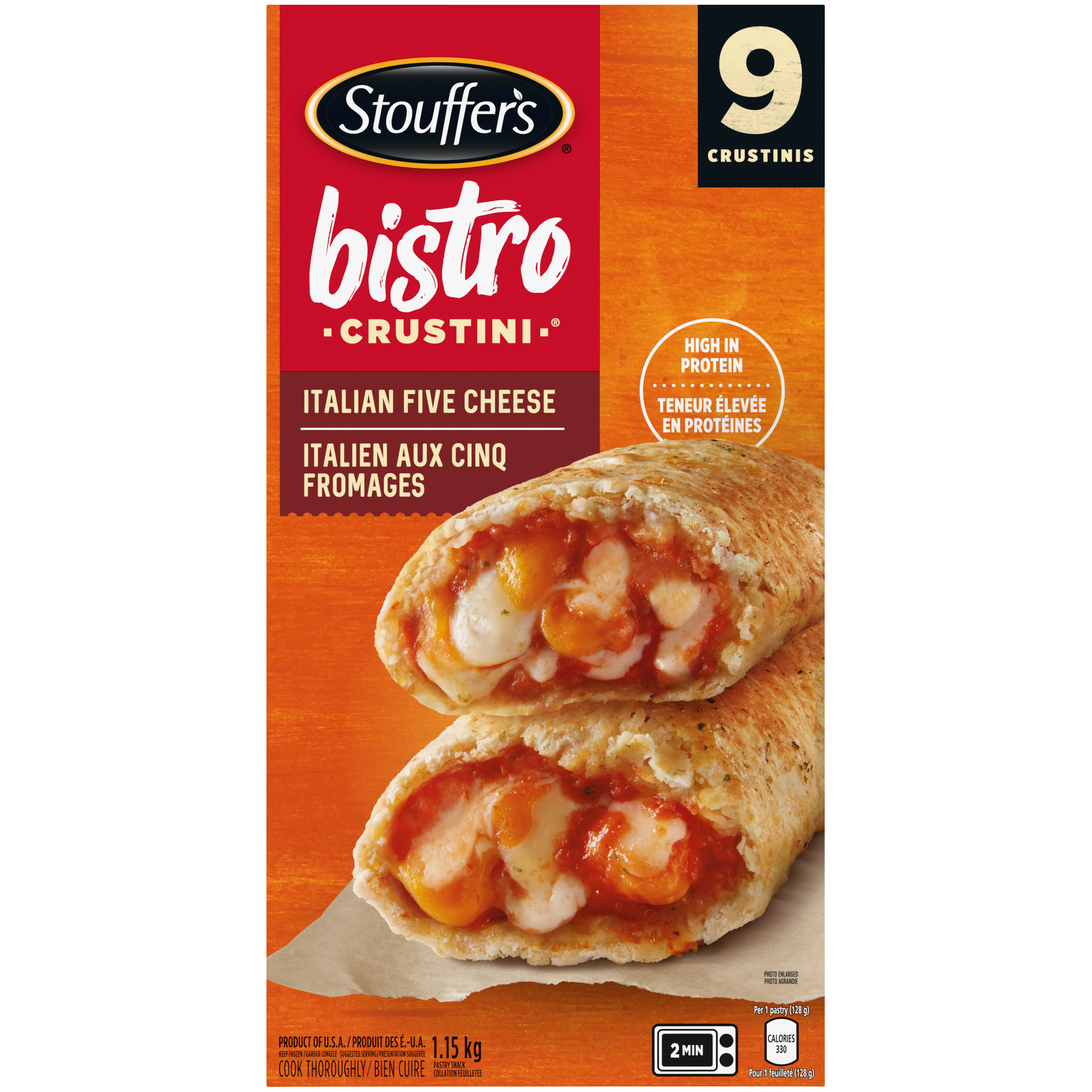 STOUFFER'S BISTRO Crustini Italian Five Cheese
Ciao down on our savoury Italian herbed croissant style crust stuffed with a blend of five cheeses and tomato sauce.
STOUFFER'S BISTRO Crustini Italian Five Cheese
Features and Benefits
Delicious flaky crust
Microwave ready in minutes
Great on the go
STOUFFER'S BISTRO Crustini Italian Five Cheese
Nutrition Information
STOUFFER'S BISTRO Crustini Italian Five Cheese
Ingredients
Crust (wheat flour [barley], water, modified palm oil, palm and soya oil margarine-style product, modified milk ingredients, vegetable oil, yeast, salt, soy flour, egg, white powder, dried garlic, calcium sulphate, sodium stearoyl-lactate, soy lecithin, l-cysteine, amylase, protease, mineral oil, citric acid, seasoning), Mozzarella-style, cheddar, provolone-style, parmesan, and romano-style cheeses (milk ingredients, modified corn starch, bacterial culture, salt, flavour, microbial enzyme, lipase, annatto, cellulose), Water, Tomato paste, Modified corn starch, Sugar, Salt, Potassium chloride, Seasoning.

FOR FOOD SAFETY AND QUALITY, FOLLOW THESE COOKING INSTRUCTIONS: COOK TO A MINIMUM INTERNAL TEMPERATURE OF 165°F (74°C). SINCE APPLIANCES VARY, COOKING TIMES MAY NEED ADJUSTMENT. DO NOT RE-USE SLEEVE. CAUTION: PRODUCT AND FILLING WILL BE HOT.
MICROWAVE (1100 W)
INSERT
COOK 2 min
REST 2 min
FOLD
PEEL
EAT ON-THE-GO
COOKING INSTRUCTIONS: Insert Crustini into crisping sleeve; leaving it open; place on plate. Cook on HIGH 2 MIN. Let stand 2 MIN. Fold and lock the bottom flaps of the sleeve. Peel away the tab as you enjoy your sandwich.
CONVENTIONAL OVEN
Toaster Oven Not Recommended
1. Preheat oven to 350°F (180°C) MAXIMUM! Place Crustini on baking sheet. Do not use crisping sleeve in oven.
2. Bake for 30 minutes.
3. Carefully remove from oven and insert Crustini into folded crisping sleeve. Enjoy.
At Nestlé we are committed to protecting the future of our planet. When it comes to our packaging, we have made a public commitment that 100% of our packaging will be reusable or recyclable by 2025. This commitment is not only applicable here in Canada, but around the globe. To learn more regarding Sustainable Packaging at Nestlé Canada visit: Sustainable Packaging at Nestlé Canada | Nestlé (nestle.ca) https://www.corporate.nestle.ca/en/creatingsharedvalue/environment/packaging
If you are curious about the recyclability of a STOUFFER's product, we recommend you always consult your packaging for the most up to date information and recycling logos.
   1. The mobius loop. This logo helps to determine that the packaging is recyclable. Check with your local municipality to see if materials are recyclable in your region.
  2. SFI Logo. Certified by the Sustainable Forestry Initiative. This logo means that the paper has been certified to the SFI 2022 Certified Sourcing Standard, or comes from recycled content, or from a certified forest. Fiber from non-controversial sources.
More information can be found on : Forest Stewardship Council: What is the FSC and What Do They Do? (tinyecohomelife.com) 
Please recycle the outer box which is made from paper sourced from sustainably managed forests.