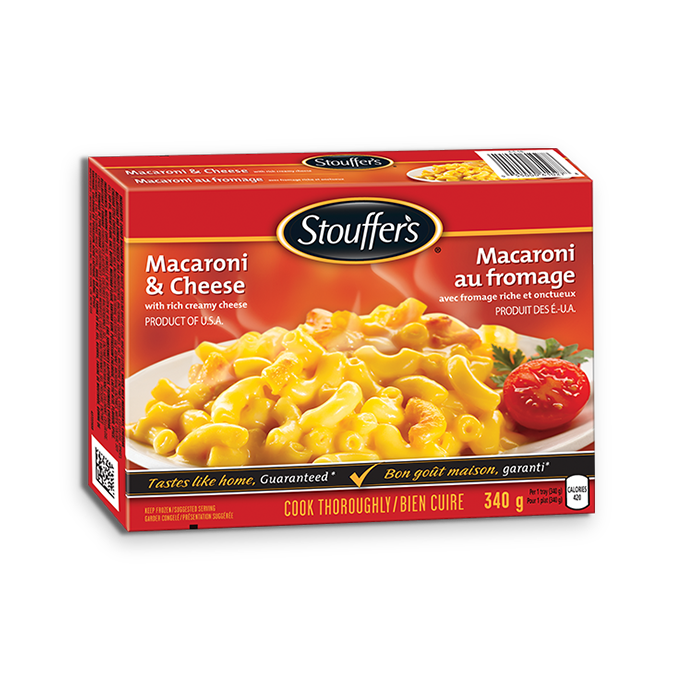 STOUFFER'S Macaroni & Cheese
Rich and creamy macaroni and cheese, made with a sharp cheddar cheese sauce.
Features and Benefits
Nutrition Information
Ingredients
STOUFFER'S Macaroni & Cheese
Features and Benefits
Great taste!
No preservatives
Description
Features and Benefits
STOUFFER'S Macaroni & Cheese
Nutrition Information
In the event of any discrepancy between the information listed on this website and on each individual package, please refer to the information listed on package.
STOUFFER'S Macaroni & Cheese
Ingredients
Cooked macaroni pasta (
,
,
) ,
,
,
, bellavitano and romano cheeses (
,
,
,
,
,
,
) , cheddar style cheese (modified
,
,
,
,
,
,
,
) ,
,
,
,
,
,
,
,
,
,
.
STOUFFER'S Macaroni & Cheese
is rated out of
5
by
11
.
Rated

4

out of

5
by
customer
from
Stouffer's- Macaroni & Cheese
This is the best tasting macaroni & cheese dish out there! Very flavourful. I just wish the company would come up with a way to seal/protect the food better to prevent ice crystals and freezer burns, as these can compromise the taste at times.
Date published: 2016-09-03
Rated

5

out of

5
by
Kathryn_K
from
TWO WORDS - AMAZING TASTE!
I happened to just come upon this product as I've been eating predominately soft foods because of a locked jaw joint on the one side and my chewing ability now is different than it used to be...so I'm always on the look-out for different products/foods to try and let me just say that after my first box (eating this Mac & Cheese) this product has become a go to meal for me, with a boiled cut-up wiener, it's filling and satisfying...it also doesn't have a lot of 'junky' type ingredients like a lot of frozen meals...the macaroni doesn't get limp or break apart after the required cooking time and even if it's left in the oven a little longer than needed, it doesn't get dried out, the sauce stays nice and creamy...I pay $2.97 each at Walmart and I couldn't be happier...it's a great meal, low cost, very tasty, I probably will never make boxed mac & cheese again! LOL...even if my jaw joint was normal functioning I would still be eating this...whoever came up with the recipe, GREAT JOB!...please, please keep making this!
Date published: 2017-02-01
Rated

4

out of

5
by
mariiJJJ
from
This is a staple in my days that don't have enough
I'm so excited I found Stouffer's, because the last 2 years of my life have been an on/off search for a Macaroni & Cheese that I like. My family all love their M&C family dinner's and they're sick of making separate meals for me. Well not NO more! This hasn't happened in 20 years! I tried out the Stouffer's M&C and wow I'm amazed at the quality,how great the cheese sauce was,and how quickly my life has changed forever I've missed out on so much M&C and KD. Thanks Stouffer's for making it right (Y)
Date published: 2016-05-22
Rated

5

out of

5
by
Masha62
from
Mac & Cheese the way Gran use to make it!
The best Mac & Cheese! So good creamy, I put it in my Microwave 6 mins not 5. 6 mins gives you that little cheesey Crust around the edges! Just like my gran use to make in the regular oven! :)
Date published: 2016-10-08
Rated

5

out of

5
by
KellyO
from
THE ABSOLUTE BEST MAC N CHEESE!
I prefer homestyle mac n cheese over KD and this truely is the closest match to it in the freezer section! I wish it had a bit more fibre and less cholesterol, but i guess if it will compromise the taste forget it!! , i love it just as it is :)
Date published: 2018-05-17
Rated

4

out of

5
by
bojac
from
very cheesy!
The best macaroni and cheese I've ever had! Very rich and cheesy! Very filling, too.
Date published: 2016-11-20
Rated

5

out of

5
by
cjworld26em
from
Best Mac & Cheese that Mom didn't make
Amazing something so good can come from a box ! And so easy & quick to make !!
Date published: 2017-01-02
Rated

5

out of

5
by
spot
from
The Best!
Frozen Mac and Cheese in the grocery aisle! Really cheesy and easy to make.
Date published: 2016-12-10