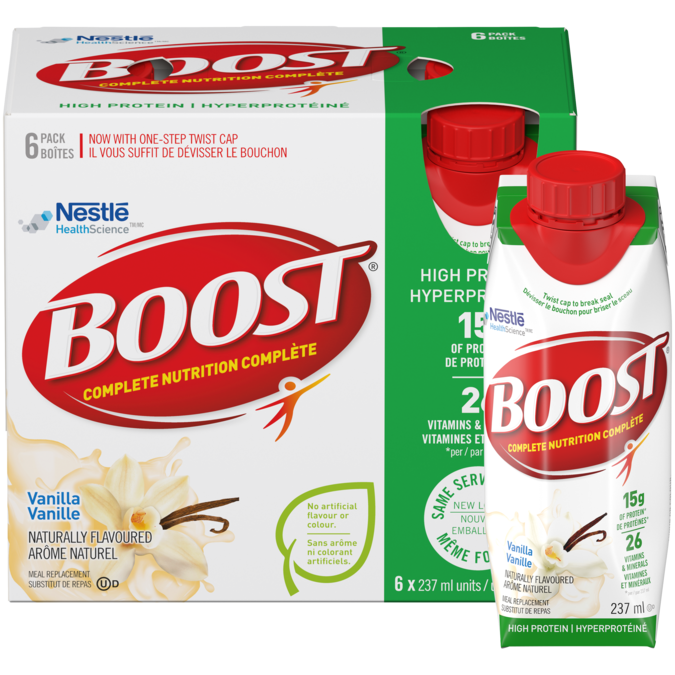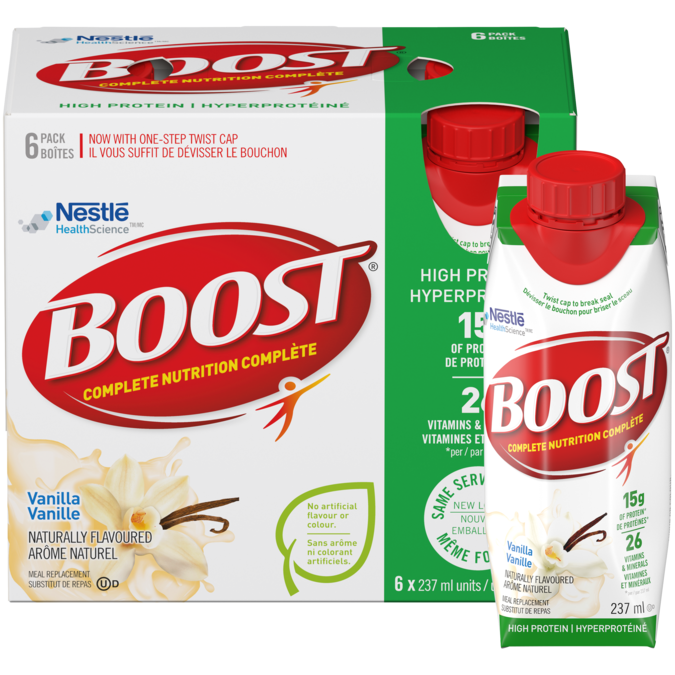 BOOST High Protein - Vanilla
BOOST® High Protein is the perfect option for recharging and refueling -- it's more than just protein, it's complete and balanced nutrition. Packed with 15g of protein and 26 essential vitamins and minerals per 237 ml with a taste you'll love, it's a strong choice for those looking to stay strong.
BOOST High Protein - Vanilla
Features and Benefits
Complete and balanced nutrition

15g of muscle building protein to keep you strong

26 essential vitamins and minerals including Calcium and Vitamin D

Perfect as a nutritious addition to smoothies

Guaranteed great taste or your money back
BOOST High Protein - Vanilla
Nutrition Information
BOOST High Protein - Vanilla
Ingredients
Water, Corn Syrup, Modified Milk Ingredients, Sugar, Vegetable Oils (Canola, High Oleic Sunflower, Corn), Soy Protein Isolate, Salt, Vitamins (Vitamin A Palmitate, Vitamin D3, DL-Alpha-Tocopheryl Acetate, Sodium Ascorbate, Ascorbic Acid, Thiamine Hydrochloride, Riboflavin, Niacin, Calcium Pantothenate, Pyridoxine Hydrochloride, Biotin, Folic Acid, Choline Bitartrate), Minerals (Potassium Citrate, Potassium Hydrate, Potassium Chloride, Tricalcium Phosphate, Magnesium Phosphate, Magnesium Chloride, Ferrous Sulphate, Zinc Sulphate, Manganese Sulphate, Copper Sulphate, Potassium Iodide, Sodium Selenite, Sodium Molybdate, Chromium Trichloride), Artificial Flavour, Cellulose Gel and Gum, Soy Lecithin, Carrageenan, Stevia Extract, Dimethylpolysiloxane.Contains milk and soy.


For complete nutritional information or other questions, please call Nestlé Health Science Customer Service at 1-800-565-1871.